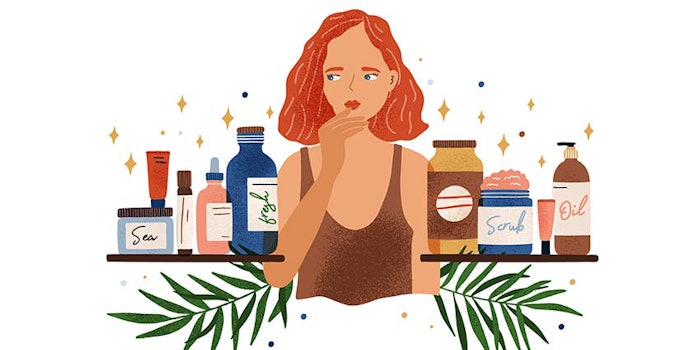 Consumers often see their skin care routine as part of "me" time. To optimize that time, they are willing to dedicate time and resources into finding the right products. Even if they are satisfied with their current regime, 80% say they are still looking for a better product. This article presents five ways brands can get consumers to turn their heads.

Further reading: Beauty Marketing Amid COVID-19
1. Targeting Consumer Needs
What consumers want is constantly changing as trends come and go and the consumer ages. Everyone is an individual, but each generation has its specific concerns. Broadly, these are:
Generation Z: acne/breakouts
Millennials: dark eye circles
Generation X and older: fine lines and wrinkles 
Add to this uneven tone, oily skin, large pores, under-eye bags and sagging skin, and there is a clear demand for products that demonstrate efficacy against a wide variety of consumer concerns. 
2. Efficacy Opportunity
Consumers are willing to experiment and invest in new products that enhance their me time and this creates an opportunity for manufacturers. If they can prove their product answers the needs of a specific group of consumers, they will have a ready-built customer base.
Proving efficacy therefore becomes a vital part of a product's development, but it means nothing if it is not safe.
2. Safety First
U.S. FDA regulations, under the Food, Drug and Cosmetic Act (FDCA), and the EU's Regulation (EC) No. 1223/2009 on cosmetics both share the common goal of ensuring cosmetic products are safe. (Safety is critical in any time, but particularly so in a time of pandemic. -Editor)
Responsibility for proving a product and its ingredients are safe rests with the manufacturer and/or distributor. Neither territory requires pre-market product approval by a regulatory agency, except in relation to color additives in the United States, and color additives, preservatives and sunscreen active ingredients in the European Union.
Procedures differ between markets. In the United States, companies are encouraged to register manufacturing sites, products, ingredients, and any health-related consumer comments under the FDA's Voluntary Cosmetic Reporting Program.
In the European Union, a full technical dossier must be prepared and kept available for inspection. It must include detailed product information regarding formula, manufacturing, safety assessment, labeling and contact information. Adverse consumer experiences must also be recorded.
These territories also take different approaches to required safety testing. The FDCA does not stipulate which tests should be used, only that they should be performed. The only exception relates to the testing of SPF products, under the FDA's 2011 Sunscreen Final Rule.
Under EU rules, products must undergo a variety of tests, including repeat insult patch tests (RIPT) and eye irritation tests. The amount of testing depends on the type of product and its ingredients.
4. Claims Substantiation
Influencers, advertisements and packaging all make claims about specific products, but is there validity to those claims? Brand reputations can be built upon a product's ability to address a consumer's concern.
The U.S. FDA does not specify standard efficacy tests for cosmetic products; the exception being sunscreen products that are subject to the 2011 Sunscreen Final Rule. Instead, efficacy tests are built around the product, its purpose and the claims being made for it.
Products for EU markets must conform to Regulation (EU) No. 655/2013, which lays down the common criteria for the justification of claims used in relation to cosmetic products. This information must also be included in the product information file.
Another difference is a tendency for including control groups in European trials, using either a placebo or no treatment. As in the United States, sunscreen products must be tested using specified standards: ISO 24444, 24442 and 24443.
5. Effectiveness
The starting point in testing efficacy is always the product's purpose and the claims being made. The testing service will create a tailored solution that embraces the same scientific rigor as other clinical assessments.
When challenging the claim to reduce the appearance of fine lines, for example, the study will involve several females aged between 35 and 68, and each with visible signs of mild to moderate facial lines. Trials typically last eight to 12 weeks.
At predetermined stages, specialists will grade the effectiveness of the skin care product on each participant and the latest bioinstrumentation will be used to take objective measurements of improvements to hydration, firmness, texture and wrinkle reduction.
Each participant will also give their opinion.
A comprehensive report will be generated, with each conclusion being backed by scientific evidence. This is then submitted to relevant standards departments, who will assess whether the claims have been substantiated.
Brooke Stephens is director of marketing and sales at SGS Stephens, part of SGS, a testing, verification, inspection and certification company.