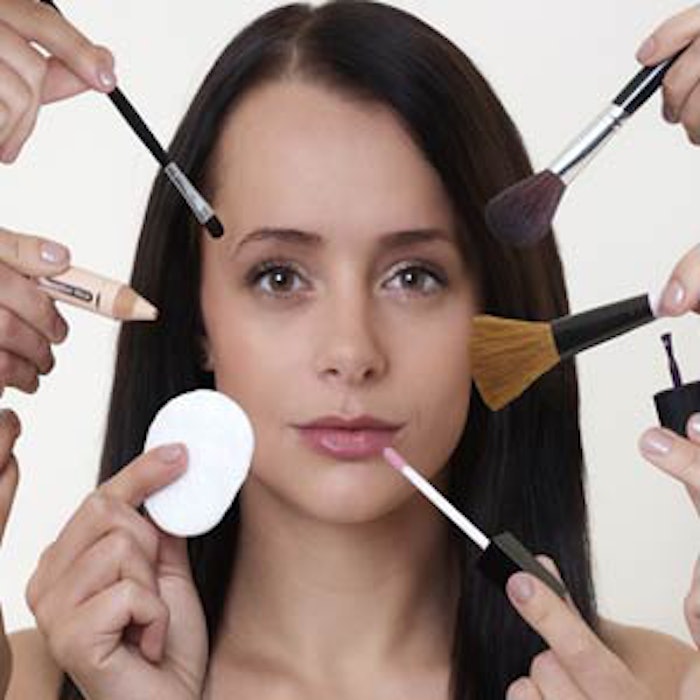 Why buy two separate products when you can get away with only one? This question, consciously or not, is posed to consumers daily everywhere they choose to shop. Whether it's a 2-in-1 household cleaner or a combination shampoo and conditioner they're seeking, shoppers are consistently offered the convenience and practicality of a single product that can provide them with more benefits.
The multifunctional trend took off in 2014, with Mintel noting, "Blurred lines between beauty technology are becoming increasingly common, with overlaps between skincare, hair care and color cosmetics. Combining the most exciting technology and marketing from more than one category, manufacturers are creating new combinations with new products, packaging, marketing and merchandise."
Mintel found that about 70% of U.S. female consumers are interested in multifunctional lip products, while 65% are interested in multifunctional facial coverage products. Exclusive consumer research highlights the popularity of multifunctional make-up in the U.S., with as many as 70% of U.S. female consumers expressing an interest in multifunctional lip products, and 65% showing interest in multifunctional facial coverage products.
About a third of the surveyed Chinese consumers expressed a belief that multifunctional products work as well as single-purpose products. Both U.S. and Chinese consumers noted that multifunctional products' appeal lies in part in their ability to save them money, while U.S. consumers were also overwhelmingly (68%) focused on time-saving aspects.
Whatever market(s) you serve, as a personal care brand you're wise to take a multifunctional tack throughout the development of your line. More than ever, suppliers are positioned to offer ingredients with high performance and multifunctionality, facilitating the creation of products that are more cost- and time-efficient and user-friendly.
Balancing Ingredients and Functionality
Creating multifunctional ingredients can be a challenge, albeit one with great rewards.
"In order to satisfy the growing trend [of multifunctional ingredients] and match label claims, the finished goods manufacturers may face formulating difficulties in the specific pH ranges and increased level of electrolytic actives," explains Lee Roberts, marketing communications manager of Lubrizol. "Therefore, it is essential to develop multifunctional ingredients which offer electrolyte tolerance, enable application in a broader pH range, and allow for the creation of formulations with desirable texture and sensory benefits."
One example of this is Lubrizol's Avalure Flex-6, a multifunctional, water-resistant polymer featuring emulsion efficacy, resulting in a soft, powdery after feel for sun care, skin care and color cosmetics.
Preservation enhancement is another area that can prove to be a challenge for formulators. As a result, Clariant has introduced its Velsan SC co-emulsifier.
"It provides added emulsification and formulation stability while significantly boosting the preservation performance of conventional preservatives," says Anu Desikan, global marketing manager, personal care, Clariant. "This 100% renewable ingredient provides exceptional performance in a safe and efficient way."
Suppliers that specialize in botanicals and plant extracts face their own unique set of challenges, according to Shaheen Majeed, marketing director of Sabinsa.
"Unpleasantly colored or gritty plant extracts need to be blended seamlessly into more pleasing milky or clear creams, lotions and gels," says Majeed. "There is a judicious blend of art and science that is required to do this right. At Sabinsa Corporation, herbal powders are enriched to standardized extracts, validating the chemical profiles and their biological activity. These enriched and validated dermaceuticals offer a better sensory appeal to formulations while providing benefits."
Melalite DC, a natural composite of melanin suppressors that help to lighten the skin tone while eliminating pigmentation problems, comprises three of Sabinsa's proprietary ingredients: SabiWhite, pTeroWhite and licorice extract 40%.
"It has been found to be a potent tyrosinase and melanogenesis inhibitor," says Majeed.
Majeed adds, "This activity has been evaluated against the common skin lightening agent kojic acid, and was found to be more effective."
Naturally Beneficial
Since the dawn of humankind, botanicals have offered a wide range of health and beauty benefits. Draco Natural Products' herbal Sleep and Relaxation D-31 formula helps the user from the inside out.
"This formula is different from other topical anti-aging formulas by addressing two of the root causes of accelerated aging: stress and insomnia," explains Brien Quirk, R&D director of Draco.
Herbs found in Sleep and Relaxation D-31—wild jujube seed, bupleurum root and senega snakeroot—have properties that support serotonin synthesis or serotonin activity to promote relaxation. These botanicals also promote healthy sleep by boosting levels of the brain chemical/neurotransmitter GABA (gamma amino butyric acid), a neurotransmitter that inhibits excessive brain and thought activity.
Caribbean Natural Products likewise offers a range of ingredients that can meet multiple consumer needs in one formulation—and can be applicable to different types of products. For example, the company is launching Caribpure pequi oil, which can be successfully integrated into both skin and hair offerings.
"In hair care products, this oil will reduce frizziness and combat split ends while adding shine," says Loren Miller, founder of Caribbean Natural Products. "Due to its fatty acid composition, it has excellent occlusive properties, enabling it to act as a skin conditioning agent by preventing excessive loss of moisture through the epidermis."
Clariant has also introduced eco-friendly ingredients that deliver results.
"Our GlucoTain sugar-based and sulfate-free surfactants combine expert care with cleaning power that matches consumer needs for mildness and new sensory dimensions for skin and hair care," says Desikan. "We reinforce this by creating caring facial cleansers and baby shampoos that offer a moisturizing after feel with rich and creamy foam, and revitalizing shower products that offer easy rinse-off light and fluffy foams."
Spreading the Multifunctional Message
Your consumers demand to know what makes your product better than the next one on the shelf. As a result, the marketing of multifunctional benefits is as important as the integration of multifunctional ingredients. For instance, Caribbean Natural Products takes care to ensure that the full story behind each ingredient can be shared with brands and, eventually, consumers.
"We compile both technical and folklore dossiers on the natural ingredients based on the medical and cosmetic uses of the exotic fruits and vegetables by indigenous people throughout history," says Miller.
Adds Jennifer Donahue, marketing manager, skin care, for Croda: "Being able to tell a story about the ingredient is key in appealing to the aspirational consumer who is willing to try a lot of new products, but especially those that help create a better future for all of us and the planet as a whole."
Lisa Doyle was formerly the associate editor of GCI magazine and is a freelance writer in the Chicago area. Her work has appeared in Skin Inc. magazine, Salon Today, America's Best, Renew, Modern Salon and Writer's Digest.