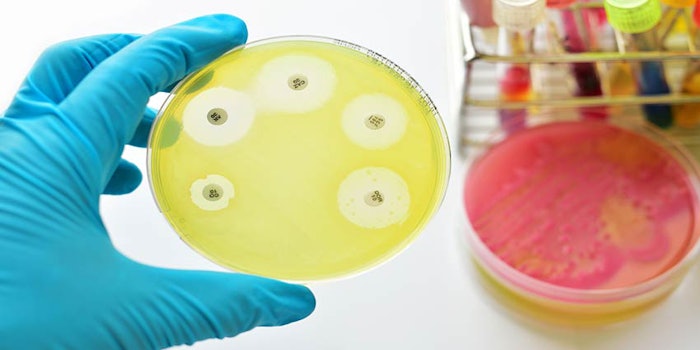 Alternative preservation and free-from concepts were at the forefront of many innovations introduced during in-cosmetics Global, particularly as some alternative preservation is embraced by notoriously picky retailers such as Whole Foods. The range of ingredients offered environmentally friendly alternatives to some conventional ingredients, while providing broad-spectrum antimicrobial activity and additional benefits.
For example, Inolex presented Lexgard, preservation for cosmetic ingredients, which is available as a natural, as well as the Spectrastat Series of broad-spectrum alternative preservatives (Spectrastat G2-N is natural).
Inolex focuses on creating hurdles for microbes, according to the company, and provides broad-spectrum defense, as well as some cold process ingredients. The Lexgard CHA Natural, Lexgard GMCY, Lexgard Natural and Spectrastat G2-N are NSF/ANSI Standard 305-certified.
Meanwhile, Evonik provided a press briefing on its recent acquisition of Dr. Straetmans, a leader alternative preservation. While the companies have already introduced some multifunctional ingredients that offer preservation and additional benefits, Dr. Straetmans is now exploring the design of formulations that comprise the preservative from the very beginning of the process, rather than as a late-stage addition. This, the company explained, could shorten product development times.
Lonza's Geogard Ultra is a moisturizing blend of gluconolactone and sodium benzoate that offers broad-spectrum preservation activity and a wide array of formulation compatibility.
According to the company, "The gluconolactone in this blend works in conjunction with the sodium benzoate to act as an efficient preservative booster, slowly releasing gluconic acid over time, thereby contributing to the broader preservation effect."
The ingredient is in conformance with Ecocert/Cosmos, Natrue and the Soil Association. The supplier is currently developing additional multifunctionals with preservative activity.
Sino Lion presented EverPro LCG, a natural, mild, broad-spectrum antimicrobial anti-corrosion system that has antistatic properties, offers supple conditioning, softens the hair, improves hair gloss, smooths the skin and assists emulsifiers. The mild cationic surfactant is appropriate for hair and skin applications and is biodegradable.
Clariant showcased its Nipaguard SCS, an alternative preservation system comprising anti-bacterial agent Piroctone Olamine, preservative booster Velsan SC, and solubilizers GlucoTain and Hostaphat. The system has a broad tolerance of pH 4~8.
Imerys presented ImerCare Opaline, which can provide a pearlizing effect and opacity in shampoos and gels, while also offering antimicrobial activity. This engineered talk can be used at all pH levels and with all ingredients, including ionic.
Chemyunion presented Hebeatol PS VG, which comprises a functional ester of xylitol and potassium sorbate for broad-spectrum antimicrobial activity in emulsions, gels, serums, shampoos and conditioners.
Meanwhile, Evonik presented its Antil 500 Pellets, a rheology modifier for cleansing formulations. The technology "enables a significant reduction of the active surfactant level in standard cleansing formulations," according to the supplier, while also facilitating the thickening of challenging surfactant systems, including sulfate-free formulas.
Antil 500 Pellets are preservative-free, soluble in water, processable at room temperature, stable against hydrolysis and effective over a wide pH range, and do not inhibit foaming characteristics.