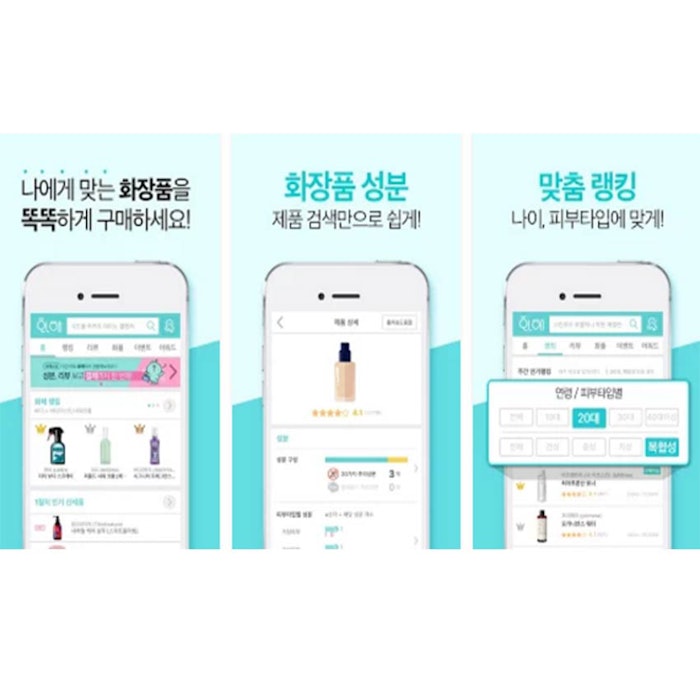 South Korea's beauty industry is valued at about $11.5 billion, according to Mintel analyst Jane Jang, who spoke as part of in-cosmetics Global's marketing trends conference. Jang noted that 90% of the country's new product launches of the last two years have fallen in the makeup and skin care categories.
Further reading: K-beauty goes mass.
South Korean consumers are looking to achieve pure, fair, glowing and dewy skin, often described as "chok chok." Top trends in the market include moisturizing, whitening and anti-aging, said Jang. Younger consumers are also interested in pore care and exfoliating steps.
Consumers leverage technology to better understand ingredients, said Jang. For instance, Korean app Hwahae offers consumers ingredient information for beauty care products, flagging ingredients and allowing users to match products to their specific skin type, age and skin issues.
Market innovations have led to hybrid products, said Jang, including scalp skin care and skin care-foundation products. As for the future, she said, teens and men are next big bb cream market. Stay tuned.
In-cosmetics Global also featured a range of ingredients derived from the rich, unique biodiversity of Korea's Jeju Island.
Musap and Beyond
SK Bioland introduced a range of ingredients derived from the company's factory on Jeju Island, which uses the local magma sea water to produce unique materials. Ingredients included:
Asferm Plus, which offers a whitening-boosting effect when paired with conventional whiteners, as well as improved skin complexion
Musap (Polygonatum odoratum) root extract that offers moisturizing and whitening effects in skin care
Hocox, a natural foaming/cleansing booster and antibacterial agent
Springtheskin, which features anti-wrinkle activity, while strengthening the skin barrier and offering photoprotection
Bio-FRGE Plus, derived from fermented Korean red ginseng extract, which has anti-pollution, anti-aging and anti-inflammatory effects
Jeju citrus AHA, a fermented product rich in natural alpha hydroxy acid, which offers exfoliation
The Great Indoors
According to Clariant, "People are subjected to two to five times more contaminants indoors than outdoors," which can trigger atopic-prone skin conditions with hypersensitivity, dryness, irritation and disruption to the skin barrier function.
As a result, the supplier introduced its indoor pollution control ingredient, Eosidin, during in-cosmetics. An extract of green citrus unshiu from Korea's Jeju Island, the ingredient is rich in synephrine, hesperidin and naringin and defends against accumulated indoor pollutants such as outdoor air, solvents, tobacco smoke, allergens, molds and building materials.
A test formulation containing 2% Eosidin reportedly reduced atopic-prone skin conditions by 44% after eight weeks, while reducing users' itching index by 65%. At the same time, transepideraml water loss was reduced by 30%, while hydration increased 54%.
According to Clariant, 95% of the clinical volunteers noticed a decrease of skin itchiness and 86% decrease in skin dryness. Eosidin is China-compliant, odor-and colorless, water-soluble and appropriate for applications such as face and body creams, serums, lotions, masks, toners and facial mists.