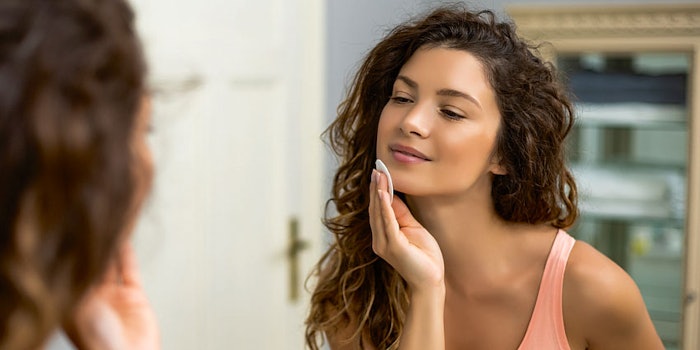 Berg + Schmidt and its manufacturer, CrossChem, announced new findings for the GlyAcid (INCI: Glycolic Acid) product. The ingredient reportedly acts as an effective alpha-hydroxy acid (AHA) for not only damaged skin but healthy skin as well. 
Previously: Berg + Schmidt's BergaMuls ET 1 Wins First for BSB Innovation Award
CrossChem undertook a comprehensive analysis of available studies of the current state of research on the effectiveness and application areas of glycolic acid. The firm published its findings on the active's molecular structure and unique mechanism for improved skin health.
According to the company, being the smallest AHA, glycolic acid can penetrate the skin, enhance the penetration of other active ingredients into the skin, and help to repair fatigued and damaged cells. The 3D structure as well as the chemical composition of the structural units in the uppermost skin layers are well-suited to bond with glycolic acid.
Moreover, glycolic acid weakens the adhesion of dead skin cells, allowing them to be uniformly shed in a controlled manner. Induced repair mechanisms result in a strong exfoliating and cell-renewing effect not only for healthy but also damaged and mature skin.
At the same time, the ingredient can lead to the release of cytokines that promote the production of collagen, elastin and hyaluronic acid. Formulations with glycolic acid are known to promote a rejuvenated, firmer and more even skin appearance, as well as shiny, smooth hair and nail surfaces.
Highly pure and formaldehyde-free GlyAcid is available in either a 70% solution or 99% solid form. Depending on the concentration, its exfoliating, rejuvenating and smoothing effect makes it suitable for creams, facial tonics, conditioners and nail care treatments. Additionally, the ingredient is said to defend against "maskne."
Featured: Expert Opinions on Acne Care: Natural Oils, Customizing Microbe Targets, Quorum Sensing, Modern AHAs and 'Maskne'
"GlyAcid is the current benchmark for glycolic acid products due to its high purity and the absence of formaldehyde," said Florence Olechowski, division manager of cosmetics at Berg + Schmidt. "As the exclusive distributor in Europe, we know that application know-how is also elementary. Thanks to our in-house technology center in Ahrensburg and CrossChem's ongoing research work, we can offer individual service and consultancy on all aspects of product development to formulate in the best possible way."