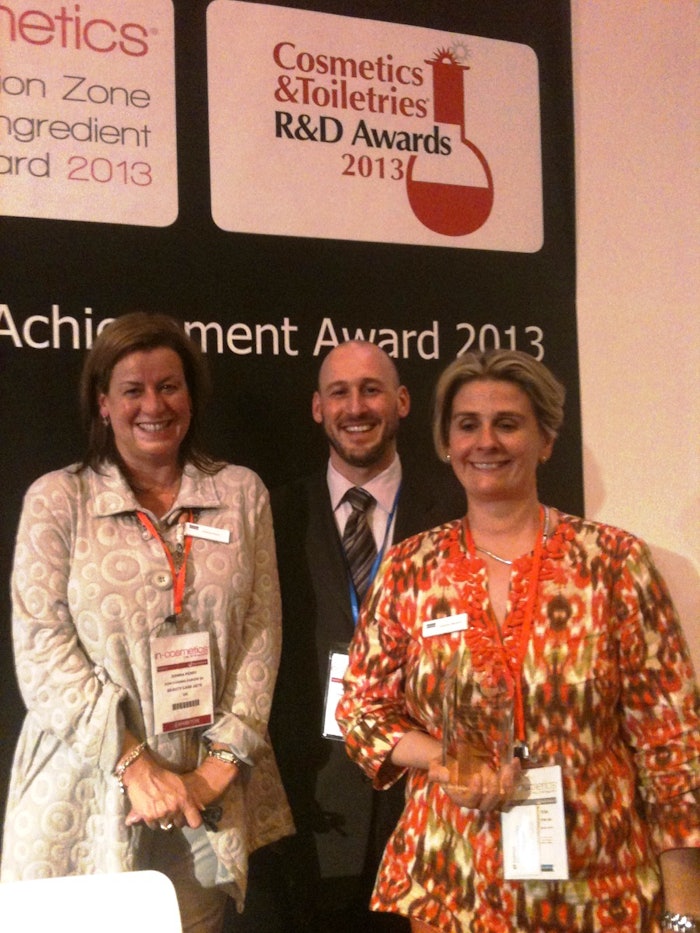 Cosmetics & Toiletries, the sister publication of GCI, announced the winners of its 2013 R&D Awards. Dow Corning Corp. took home the Best New Ingredient award for its Dow Corning EL-7040 Hydro Elastomer Blend, while Yves Saint Laurent Beaute—L'Oréal Luxe won the Most Creative Application award for its Forever Youth Liberator Serum.
The winners were announced at the awards ceremony at in-cosmetics 2013 on Apr. 16, 2013. Jeff Falk, editor in chief of Cosmetics & Toiletries and GCI, presented the awards to the winners, remarking, "Cosmetics & Toiletries is committed to advancing applicable scientific knowledge and strives to build pathways from suppliers to manufacturers—for it is at this supplier/manufacturer junction where innovative ingredients and technologies are given life in the creative applications that become successful products. It is, therefore, our great pleasure to honor these innovators for both their creations and the excellence that elevates the industry as a whole."
Additionally at the event, Induchem was awarded the Gold in-cosmetics Innovation Zone Best Ingredient Award for its new ingredient Neodermyl, and Dr. Karl Lintner was announced as the winner of in-cosmetics Lifetime Achievement Award. Celebrating Induchem's win, Fabrice Lefèvre, R&D and marketing director for the company, said, "Our R&D and marketing teams have worked incredibly hard to create Neodermyl, a product we're extremely proud of. The other finalists this year all had fantastic products, so to have been recognized with this prestigious award is a real honor. 2013 has so far been a very productive year for us and we look forward to the future."
And Lintner commented on receiving the Lifetime Achievement Award, saying, "I am absolutely thrilled to have won the in-cosmetics Lifetime Achievement Award. It's an honor to be recognized for everything I have done in my career by my past and present colleagues and peers."
The R&D Awards honor ingredients for their innovative design and finished products for the novelty and craft of their formulation. The winners were chosen from five finalists for each of the awards. The finalists were chosen based on the ratings of ten international experts in the cosmetics industry, from a mix of manufacturers and universities. Ratings were based on significance to the industry and long-term impact.
To learn about the latest launches and happenings that took place in Paris at in-cosmetics 2013, visit Cosmetics & Toiletries.