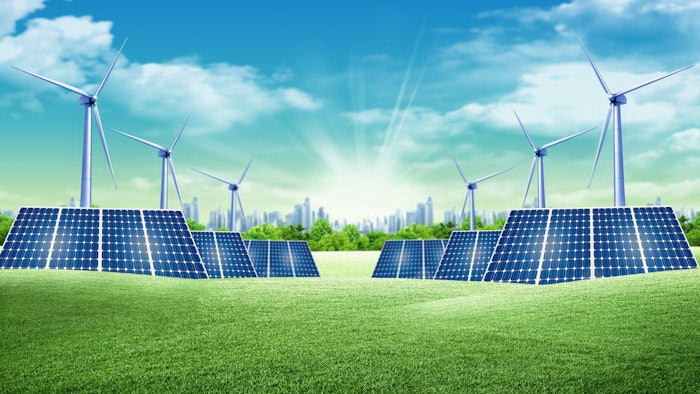 BASF has released a report updating investors on its progress toward goals set by the company related to climate change, sustainability and emissions reduction. The report indicates that BASF is on pace to reduce its greenhouse gas emissions by 25% compared to 2018 and become net zero emissions globally by 2050. The company plans to publish an annual report on its C02 emissions forecast.
Related: BASF SE Achieves Sustainable Castor Certification
In 2021, BASF reduced CO2 emissions by around 3% compared with 2020 despite significantly higher production volumes. Switching power to renewable energy will be the main driver of emission reduction until 2025. In 2021, renewable energy accounted for 16% of BASF Group's global power demand. By 2030, the company projects that 100% of its 2021 global power demand will be obtained from renewable sources.
To cover its demand for renewable energy, BASF is investing in own renewable power assets and purchasing green power from third parties. As previously reported by Global Cosmetic Industry, BASF purchased a stake in Vattenfall's wind farm Hollandse Kust Zuid (HKZ) in 2021. The project is expected to become fully operational in 2023.
BASF is working with Siemens Energy on a project that uses heat pumps and vapor recompression to upgrade waste heat to be used as steam in its manufacturing facilities. The integration of this heat pump project will enable the production of around 60 metric tons of steam per hour and help avoid around 160,000 metric tons of CO2 emissions per year, reducing the annual consumption of cooling water by more than 20 million cubic meters, per the report.
BASF aspires to reduce emissions at its Antwerp petrochemical site from 3.8 million metric tons in 2021 to close to net zero by 2030 by importing green power from offshore wind parks and deploying low-emission technologies.
BASF has signed 25-year power purchase agreements (PPAs) with Engie and Ørsted for the supply of significant amounts of renewable electricity from wind and solar power in Europe. In the United States, BASF has concluded long-term supply contracts for wind and solar power for its Freeport and Pasadena sites. In China, BASF has signed agreements with suppliers for the purchase of renewable power for its new Verbund site in Zhanjiang. BASF is further accelerating its plan to power the entire Zhanjiang Verbund site with renewable electricity and targets to achieve 100 percent by 2025—earlier than originally planned, according to the company.
Martin Brudermüller, Ph.D., chairman of the board of executive directors of BASF SE, said, "There is a brutal war raging in Europe with far-reaching consequences for both people and the economy. Nevertheless, we must not lose sight of the greatest global challenge of our time—climate change. Across BASF, we are working intensively to implement a large number of projects to further reduce our CO2 emissions significantly and achieve our ambitious climate targets. By cooperating with suppliers of raw materials we are also taking steps to reduce our product related emissions. In this way, we are driving forward our transformation and supporting customers in their efforts to reduce emissions in their product portfolios."