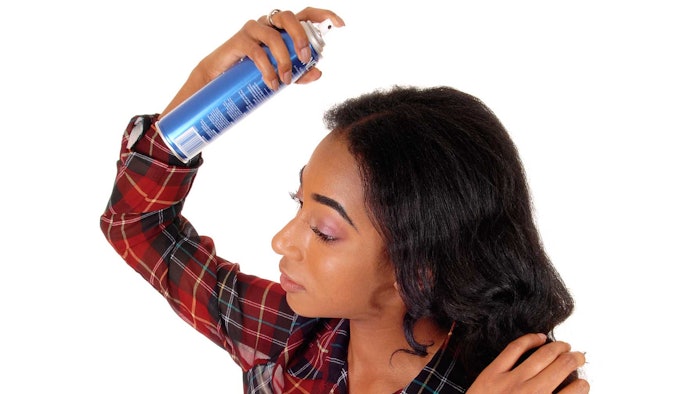 Jenny Mitchell, a 32-year-old Missouri resident who contracted uterine cancer, has filed a lawsuit against L'Oréal USA and entities that assisted in the development, marketing and sale of the company's Motions, Dark & Lovely, Olive Oil Relaxer and Organic Root Stimulator chemical hair straighteners.
See related: Urban Decay Faces Lawsuit Over Respirable TiO2 in Eyeshadow Palettes
Mitchell alleges her cancer was caused "directly and proximately" by her "regular and prolonged exposure to phthalates and other endocrine disrupting chemicals found in Defendants' hair care products," CNN reported. Mitchell, who is Black, recalled having  hair relaxer treatments as early as third grade at the age of eight, the same source reported.
Mitchell was diagnosed with uterine cancer on Aug. 10, 2018, according to the lawsuit, and underwent a full hysterectomy on Sept. 24, 2018. She claims to have no family history of cancer or uterine cancer.
This lawsuit follows the release of recent findings published in the Journal of the National Cancer Institute associating hair straightening product use with incident uterine cancer; although as previously reported, not cause-and-effect relationship was established. The study did highlight the fact that Black women could be disproportionately affected, as 60% of the 33,947 total participants who reported using hair straighteners self-identified as Black women.
See related: Report; L'Oréal Facing Lawsuit Over Collagen Products Claims
Civil rights and personal injury attorney Ben Crump and Diandra "Fu" Debrosse Zimmermann of DiCello Levitt filed a lawsuit on Oct. 24, 2022, on behalf of Mitchell. "Black hair has been and always will be beautiful, but Black women have been told they have to use these products to meet society's standards," Crump said in a statement. "We will likely discover that Ms. Mitchell's tragic case is one of countless cases in which companies aggressively misled Black women to increase their profits."
The study has gained national attention, and two other cases have been filed in California and New York against cosmetic companies including L'Oréal, Debrosse Zimmermann reported in CNN. All suits claim a connection between chemical hair-straightening products and cancer diagnoses.
Reuters added that Mitchell is accusing L'Oréal of deliberately marketing hair-straightening products to Black women and girls, and failing to warn them of the risks, despite knowing since 2015 that the products contained potentially dangerous chemicals. L'Oréal did not immediately respond to CNN's request for comment.