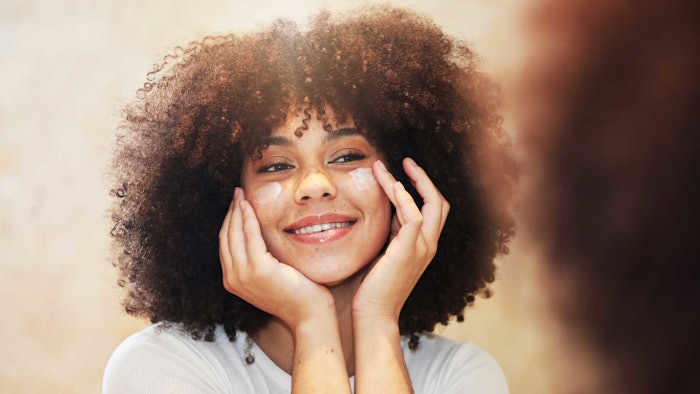 Anti-aging skin care has fallen out of favor with many beauty consumers as wellness and body positivity and inclusivity become increasingly important in modern life, according to industry consultant Deanna Utroske. As a result, products aimed at restoring and repairing skin and preventing damage are the future of this category. 
See related: What Consumers Want from Beauty in 2023
During the forthcoming 8th Anti-Aging Skin Care Conference, to be held Nov. 29-30 the the Royal College of Physicians, London, Utroske will explore this market direction, in addition to how new cosmetic ingredients and formulations that help skin function well at each age and stage of life will meet market demand. Conventional solutions, backed by clinical data, will continue to be relevant as well.
These sentiments are echoed in a recent report from Cleveland Clinic outlining 13 popular skin care ingredients and their repair/restore functions according to dermatologist Wilma Bergford, M.D.
See also: Fermented Green Tea, Nanosilver Mask and Cadaver Skin; Humectants in the Literature
1. Alpha Hydroxy Acids (AHAs)
Products including glycolic, lactic, tartaric and citric acids can diminish fine lines, wrinkles and age spots, and even reduce enlarged pores.
2. Glycolic Acid
This AHA helps to exfoliate skin and boost collagen production, clear pores, refine wrinkles and hydrate skin. Creams and lotions with this ingredient can also improve eczema; cleansers can assist with blackheads.
3. Lactic Acid
This AHA can help to exfoliate while also moisturizing skin, according to Bergford.
4. Beta Hydroxy Acid (Salicylic)
This ingredient helps to remove dead skin cells while improving texture and pigmentation in sun-damaged skin. It can also penetrate oily hair follicle openings to assist with acne.
5. Hydroquinone
Hydroquinone-containing products can brighten skin, addressing age spots and hyperpigmentation. (Editor's note: This ingredient is primarily banned in the United States; only one product is FDA-approved for use with a prescription. As a result, many innovators are exploring alternative skin brighteners, especially those found in nature. Recent examples include gomchwi extract, licorice and CBG, among others.)
6. Kojic Acid
Another anti-pigmentation and skin brightening ingredient, per Bergord, kojic acid works similarly to hydroquinone.
7. Retinol
An industry darling, retinol can improve acne and acne scarring, mottled pigmentation, fine lines/wrinkles, skin texture and tone and improve hydration levels. (Editor's note: In some users, however, it can cause irritation. Product developers have therefore sought alternatives to retinol; bakuchiol is one trending example.)
8. L-Ascorbic Acid
This form of vitamin C acts as an antioxidant and stimulates the synthesis of collagen, minimizing fine lines/wrinkles and scars and improving the appearance of sun damage. (Editor's note: The ingredient's stability, however, has been an issue for formulators. One recently proposed alternative is ethyl ascorbic acid, in addition to an HA-coated niosome system to improve the delivery of l-ascorbic acid.)
9. Hyaluronic Acid (HA)
Perhaps the hottest skin care ingredient of the moment, HA is a naturally occurring component of skin whose levels diminish with age. Its replenishment can reverse signs of aging in addition to improving the delivery of other ingredients, such as ascorbic acid.
10. Niacinamide (Vitamin B3)
This ingredient helps the skin to build keratin, improving its health and firmness, according to Bergford.
11. Dimethicone
This silicone-based material is non-toxic and commonly used to moisturize skin. It can help with scar tissue and make the skin feel soft. (Editor's note: For companies choosing to omit silicones, several ingredient developers offer natural alternatives; recent examples include upcycled polymers,pracaxi oil and other plant-based alternatives.)
12. Copper Peptide
This ingredient helps to promote collagen and elastin production, acting as an antioxidant and promoting the production of glycosaminoglycans such as HA. Its tissue-building function is also said to firm, smooth and soften the skin.
13. Glycerin
Finally, Bergford highlights glycerin, a natural moisturizing ingredient to help repair dry or cracked skin thanks to its ability to lock in moisture.