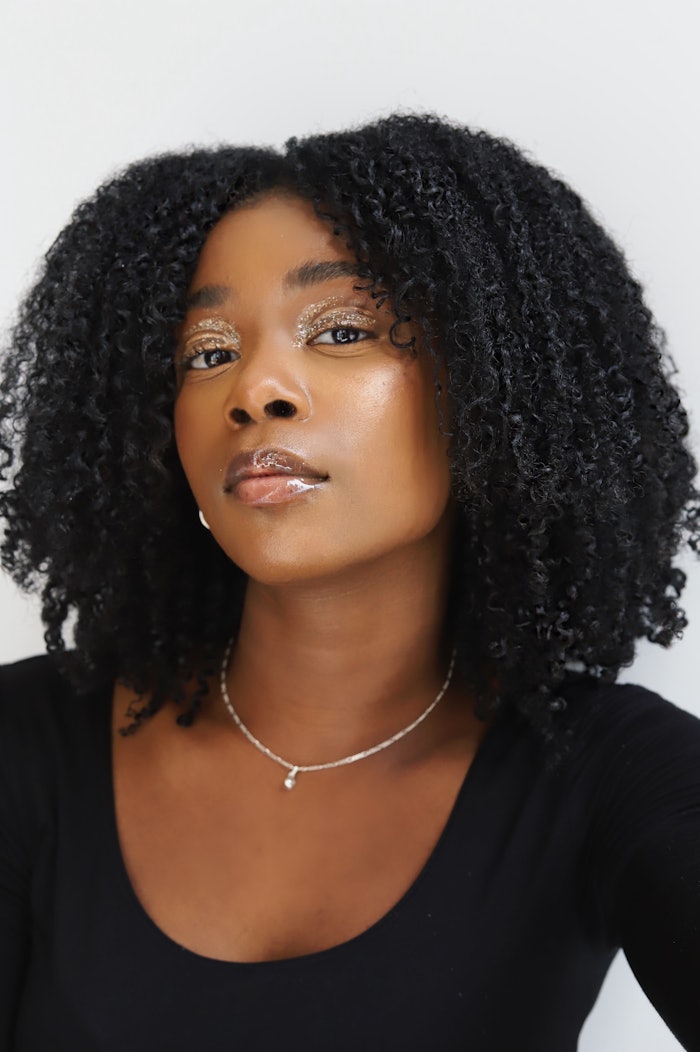 U.S. beauty consumers have rallied in 2022 to help the industry recover from pandemic lows. Seventy-five percent of U.S. beauty-buying females say that beauty buying has become as important or more important to them now, post-pandemic, than it was prior to the pandemic's onset.
Whether her buying tendencies remain as strong in 2023, despite inflation and possible recession, isn't yet clear. What is clear is that her unbridled enthusiasm to try new beauty offerings in the coming year has not been tampered by a less-than-rosy economic outlook.
The Benchmarking Company, through quantitative primary research studies spanning March to October 2022, asked thousands of U.S. female-identifying beauty buyers to share their views on new products they tried and loved in 2022, and what they're looking most forward to in 2023. This article explores these consumer attitudes and how they might correspond with industry trend expectations as a whole.
What Beauty Consumers Tried in 2022
As every beauty marketer knows, the introduction of innovative new SKUs should be alluring to both early adopters and intriguing to consumers who will wait to buy something outside of their norm once the dust has settled.
Seventy-one percent of beauty buyers said they tried a beauty or personal care product that was new to them in 2022. Our survey respondents indicated that these were products they were initially hesitant to buy because they were different than what they'd used in the past.
Facial skin care (64%), hair care (58%) and makeup categories (54%) contained the most cited novel products tried for the first time in 2022, with fragrance (29%), body skin care (27%), nail care (24%), tools and devices (21%) following.
Many of the products satisfied the requisite benefits that consumers are increasingly demanding from any cosmetic: the product should be a problem-solver, it should be personalized to the consumer's preferences and needs (when possible) and, if it lays anywhere on the skin, it should have a healthy skin care benefit.
Let's take a closer look at the three largest categories of new products tried in 2022.
Facial Skin Care
As the category with the highest propensity for "new" products tried in 2022, cited facial skin care product types varied widely. A different type of face mask (sheet or peel) topped the list of new types of facial skin care products first tried in 2022, at 17%. Products with a strong ingredient story followed, including facial skin care products containing retinol (15%), vitamin C (12%) and CBD (8%).
Fifty-six percent of those who tried a new facial skin care product in 2022 said they would buy it again, with 32% saying they might repurchase. Unhappiness with the new product tried was low, at just 3%.
Hair Care
There were many products in hair care that consumers tried for the first time in 2022. Leading were hair masks (25%), leave-in conditioners and dry shampoos (both 14%), and hair oils (12%). At-home hair color and hair growth products were also tried for the first time by 10%, along with scalp treatments, serums and shampoo bars, which satisfied environmentally minded consumers.
Fifty-two percent of those who tried a new hair care product for the first time in 2022 said they would buy the new product again, with 34% saying they might buy again. Only 3% were unhappy with the new product they tried.
Makeup
Lip plumping products (16%), lash extensions/false lashes (15%), skin-friendly foundations (13%; specifically stick foundation), eyeliner or brow stickers/stamps (11%), and brow pomade (10%) topped the list of new makeup product types tried by consumers for the first time in 2022.
Other makeup product types that were heavily cited included highlighter (9%), glitter shadow (9%), contour blush, cream shadow and brow wax.
Product satisfaction was high, with 51% saying they'd buy that brand new makeup product again. Thirty percent might buy, and only 4% wouldn't buy the new makeup product again.
What Beauty Consumers Are Excited to Try in 2023
In the coming year, the consumer is most excited to try new products from the big three areas: facial skin care, hair and makeup.
When asked what she's most excited to try from these categories (via open-ended commentary), respondents most often cited better, more innovative product types that she's already using, rather than truly disruptive product types. These include the following:
Facial skin care: A wide variety of product types that promote younger looking skin/anti-aging, exfoliators, masks, moisturizers, retinol and retinol alternatives, and serums were volunteered most often. The emphasis is on skin aging prevention for younger consumers and anti-aging/maintaining for older consumers.
Hair care: Anti-frizz products, curl products, new at-home color products, hair growth products, hair masks, oils, conditioners (leave-in and traditional) and scalp treatments were volunteered most often.
Makeup: Eye makeup products as a whole were cited most often, specifically eye shadows with innovative new palette colors, products to promote thicker/longer/fuller lashes, brow products (specifically stickers), contour products and skin-friendly foundation formulas.
T-1. features other products respondents are interested in.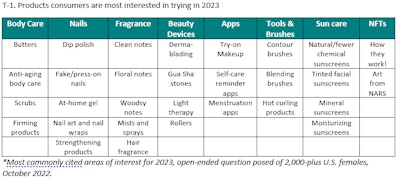 Wellness Offerings are Growth Areas for 2023
While hair, facial skin care and makeup continue to dominate respondents' beauty spend and interest areas for the year ahead, emerging categories of supplements, intimate care and sexual wellness products are promising new growth areas that tie in with consumer trend expectations of product offerings to promote wellness as a whole (F-1).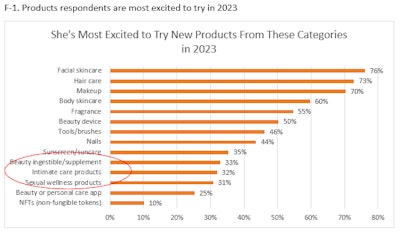 Intimate Care and the Sexual Revolution 
The taboo about sexual wellness and intimate care products is certainly history. With brands like Maude partnering with Sephora earlier this year to launch 20 SKUs, and Foria, Dame and Rosebud becoming household names, intimate care and sexual wellness have promising growth potential.
Ninety-eight percent of female beauty buyers say intimate care and sexual wellness are important parts of overall health and happiness, and 94% appreciate that brands are making products to address their intimate care and sexual wellness needs.
Thirty-two percent of females listed the intimate care category or the sexual wellness sector as categories of products they are most excited to try new products from in 2023.
The reasons are clear: 85% of buyers say they buy intimate care to make sure all body parts are cared for, with 59% saying they want those body parts to be more attractive to their partner. Eighty-six percent (86%) buy sexual wellness products because they want a more enjoyable sex life.
The type of products of interest for the coming year include stimulating gels (57% are interested in trying), sex toys (54%), lubricants (50%), cannabis-inspired sexual wellness products (54%), and mood-setting mists or oil diffusers (49%).
Intimate care and sexual wellness products satisfy the consumer's desire for a whole mind/body wellness product and not simply an aesthetic. They are also multi-generational, lifelong product needs. In fact, across generations, only 15% of female buyers said they didn't need a sexual wellness product in their life.
Supplements and Ingestibles
Sparked by health concerns rising from COVID-19 and a more pronounced focus on health and well-being, the general supplement market is expected to grow at a CAGR of 9.9% from 2021-2030. The beauty supplement market alone is expected to grow at a CAGR of 4.8% from 2022 to 2030.
Hair growth and hair health (79%) are the primary reasons respondents are taking beauty supplements now (F-2), followed by the desire for stronger nails (64%).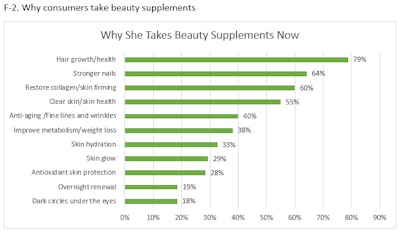 Surveyed consumers are also taking supplements for a multitude of skin care reasons, including restoring collagen/firming skin (60%), clear skin/skin health (55%), fine lines and wrinkles (40%), skin hydration (33%), glow/radiance (29%), and for additional anti-oxidant protection (28%).
If she's not already taking a certain type of beauty supplement, the female consumer definitely has an interest in doing so for a variety of reasons.
Seventy-six percent (76%) of women who already take either a beauty or general health supplement would be interested in taking another for anti-aging/reduction of lines and wrinkles (75%), to boost metabolism (73%), hydration (68%), healthier/shinier hair (68%), building collagen or managing stress (tied at 64%), or supporting weight loss or for healthy skin (tied at 63%).
Supplements represent a special growth area for existing beauty product manufacturers that consumers already trust:
92% of beauty product buyers believe the best way to attain your beauty objectives is with an inside/out approach; taking supplements to compliment an existing skin care/hair care regimen.
76% expect beauty brands to offer health supplements that complement their traditional topical product offerings such as skin care, hair care and body care.
77% trust beauty brands to create high quality supplements
Like any new product offering, proof of efficacy is often needed before shoppers will buy, with 93% of respondents agreeing with the statement: "I would expect beauty brands to market these products with consumer claims as proof points" (like skin care products, i.e., 92% experienced more restful sleep.)
Based in sun-seared San Diego, Denise Herich is co-founder and managing partner at The Benchmarking Company. The Benchmarking Company provides marketing and strategy professionals in the beauty and personal care industries with need-to-know information about its customers and prospects through custom consumer research studies, focus groups, and consumer in-home use testing for marketing claims and risk mitigation.