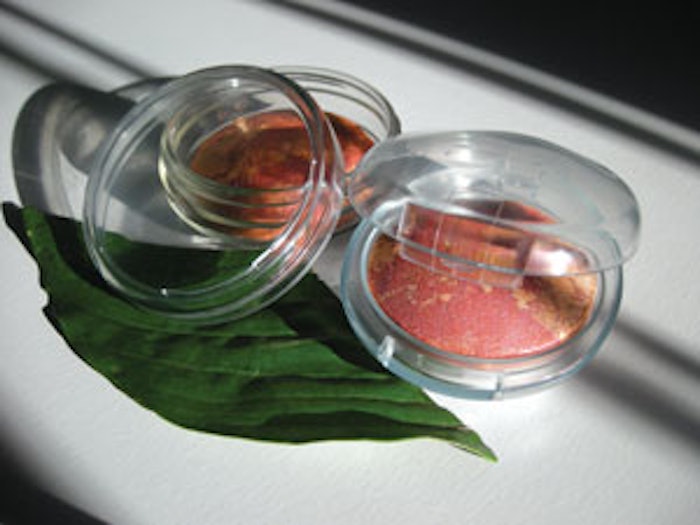 Compelling shapes, shiny surfaces, attention-grabbing colors and well-chosen graphics all combine to make an enticing package for today's color cosmetics products. But more than to be simply eye-catching, today's beauty packaging leads the charge in conveying a brand's identity. On this matter, there is no equivocation. Whether your brand is aimed at luxury, specialty or mass consumers, ignore packaging's power to define your brand at your own peril.
Unexpected, but not surprising, questions put to three companies about brand missions and identity revealed broad use of natural elements in both product and packaging. A sign of the times, perhaps, or just maybe a sign of the future? Either way, it also happens that packaging suppliers are ready with materials to satisfy every need.
Nvey Eco—an Australian luxury color cosmetics brand from Nvey le Maquillage that is manufactured and marketed globally— is certified organic by the Organic Food Chain and the Australian government. "It is critically important for our brand message to come through all aspects of our business, and this includes the packaging," says Jane Dirr, president and CEO of the brand's U.S. business, located in Covington, Kentucky. "The materials used, the graphics and the performance must reflect our commitment to the health of our clients and of our planet." For Dirr, the real challenge is to reflect the brand's mission while maintaining its luxury look, feel and performance—a big goal that she thinks has been achieved. Matching an earth-friendly ideal with the visual elements of packaging is a concern of brand owners across sales channels.
Maria Sansotta, marketing and sales manager for New York's Tarte Cosmetics, observes that new natural brands are launched, seemingly, every day. The 10-year old brand—which built its natural formula products under the premise "glamour can be good for you"—has worked to align its packaging with its brand mission, in part, to stand out in a crowded market.
"This often-ignored aspect of being a truly natural brand really helps us stand out in this saturated category," says Sansotta. Packaging is a cornerstone of the brand's "earth-engineered" approach to ingredients.
Cristina Samuels is vice president of sales and marketing at Mode Cosmetics, a mass brand available online and at select drugstore chains, with offices and manufacturing in Albany, New York. The brand is designed to incorporate fashion, nature and health in reaction to what she calls the all-or-nothing impression given by many natural products. "Packaging is one of the most important elements in brand identity because it tells the story and defines your brand," says Samuels. "With our focus on fashion and nature, we wanted to distance our packaging from that of the typical, creating our own distinct simple and modern style that signifies accessible luxury while simultaneously being recyclable and non-wasteful." Luxury is a position that often is realized in a brand's packaging.
A Luxury Look
Nvey Eco recently introduced a certified organic lip plumper, lip exfoliator and lip treatment, expanding and enhancing its cosmetics range. Packaging for the latest products received the same attention as all its others, and that starts with being environmentally friendly, to carry through the brand philosophy. After that, it must function and perform at the level of traditional luxury cosmetic packaging. "Materials for our components and outer packaging must also be consumer-friendly—lightweight, easy to open and close, and attractive," says Dirr. Nvey Eco uses materials supplied by companies that support sustainable forestry methods, source reduction, recyclability and other eco-conscious efforts.
Operating successfully as a luxury, certified organic color cosmetic brand means having a standard to uphold. Nvey Eco's packaging has been completely reworked since its North American launch in mid-2006 because, says Dirr, packaging simply had to be consistent with the brand's philosophy. Original outer packaging was a frosted PVC carton surrounded by a board sleeve that Dirr calls cumbersome and over-packaged. Now, the carton is made from recycled board materials approved by the sustainable forestry association. Non-solvent inks are also used.
"The print on our packaging is critically important to us, as it provides brand recognition," says Dirr. "We have been creative in our use of graphics that clearly identify us as Nvey Eco, and we also have printed the interior of the carton with our key organic ingredient symbols. It is actually very cool. Our packaging has fantastic shelf appeal."
Primary packaging components have had a makeover as well, with a move to lightweight yet high-performing plastics with a sleek appearance to complement the brand's logo graphics. "All parts are recyclable—with the exception of the mirrors in the compacts," says Dirr. "We are still working on that aspect."
Indeed, Dirr says that because her background is primarily in the beauty and personal care packaging industry, packaging is always in the back of her mind. "When launching new products, packaging is always part of the initial discussions," Dirr says. "After all, we still rely on our packaging to sell our products to a certain degree." Packaging is instrumental in supporting carefully developed formulas and brand messages.
Good and Glamorous
"We're always on a mission to prove that glamour can be good for you, and that sentiment extends way beyond our formulas," says Tarte's Sansotta. "We're constantly evaluating and creating packaging based on several criteria—including eco-friendliness, reusability, fashion trends and functionality. Every component we produce has to strike the perfect balance of form and function."
Whether it's a mascara tube composed of postconsumer recycled aluminum or a reusable natural straw palette, the component must be of the highest production quality first and foremost. "We develop new packaging concepts with the idea that components are chic accessories that you actually want to show off and, more importantly, that you don't just throw away," says Sansotta. "Everything we create is meant to be reused or recycled to help reduce environmental waste." In 2009, the brand is boosting its initiative by marking components with composition codes to aid local recycling efforts.
Packaging is serious business at Tarte. So serious that the brand's senior manager of product development, Heather Ratushny, calls it a driving force in conceptual development. "It either dictates the formula base and product end use, or is developed as an appropriate delivery system for the working formula," she says. "In addition to the functional and aesthetic aspects of the primary package, we also take into account the various packaging materials being used to ensure that they are either repurposed materials or can be re-used or recycled to cut down on packaging waste for the environment."
Celebrating Simplicity
The story is similar at Mode Cosmetics, where Samuels says packaging is one of the first elements considered in the development process. "A package's design can inspire the creation and formulation of a new product," she says. Samuels is tuned in to what her customers are looking for, and that can play a major part in packaging design and selection. She cites a recent move to more portable packaging, as well as the importance of delivering modern packaging that clearly expresses the selling proposition of the ingredients.
Supply-side Success
While Mode and others work to utilize packaging that highlights natural formulations, suppliers such as Italy's Leoplast are working to shine a light on the science behind new environmentally friendly packaging materials. "We go well with an eco-friendly philosophy: What is good for the environment is good for health and beauty," says Marie-Laure Viellard, who handles public relations for Leoplast—which offers bioplastics as an alternative to petro-chemical packaging and caused a stir a few years ago when it introduced a compostable lipstick case made from corn-based PLA.
"Our mission is contributing to environmental good practice through the use of bioplastics and regenerated plastics, thus reducing the negative impact of our production on the planet without compromising on quality, performance and suitability of our products," says Viellard. The company plans to extend its eco-friendly range to include a renewable raw material based on pulpwood, and offers a refillable option for compacts in its Bio-Stone line.
Moving toward eco-friendly packaging is challenging for packaging buyers and for suppliers such as Leoplast. While the market appears to be ready to speak about sustainability, many concepts that could be powerful and convincing, says Viellard, are often ignored or not well understood. Leoplast's experience with bioplastics and its processing has, however, made the company something of a "reference" in the field, she says. All of Leoplast's eco-oriented customers—a number that is always growing, according to Viellard—are given all the information and documentation available with which to support their sustainability philosophies, and their marketing ideas find a basis in science.
Customers of Cosmopak U.K. Ltd also are interested in eco-friendly packaging. In response, the company is working with Closed Loop U.K. Ltd, producer of 100% British posconsumer PP and PETG, to answer demand. This is just one example of how packaging suppliers are called upon to respond to customer requirements.
"We work very closely with our customers to ensure we create a finished package that encompasses their brands," says Bernice Carr, Cosmopak spokesperson. "We design and develop new product ideas based on our clients' needs and convert these ideas into products." A recent example is the 35 mm On/Off tottle made of PP and PETG, featuring a patented shut-off valve activated by a sliding button.
The Wrap Up
Given all the thought that goes into packaging by the brand owners and their suppliers, the remaining questions is: Do customers respond to packaging? "Absolutely," says Dirr, and Tarte's Sansotta agrees.
"We see an overwhelming response from our customers each and every season," Sansotta says. "We recognize that our customers are women looking for that little piece of luxury that won't break the bank, which is why we're constantly scouring the market for chic, eco-friendly fabrics and materials that are the ultimate in green glamour." And they know when they get it right, she says, because they see its brand packaging components such as compacts being reused as business-card holders, or gift cases reused as clutches. Sansotta says this kind of nonverbal feedback is valuable. "Not only are we offering affordable glamour, but we like to say that we do all the legwork to help our customers reduce their carbon footprint by reducing environmental waste."
Finally, Samuels at Mode Cosmetics knows that her customers appreciate the brand's clean, luxurious packaging that leaves off frivolous, bulky and unnecessary excess because they tell her so. "The feedback we receive is proof positive that our marketing efforts are resonating with the consumer, and our future is to continually build on what we have already established," she says.
Whether or not your brand has an eco-friendly directive, there is little doubt that wise packaging decisions will go a long way in supporting its mission and identity.