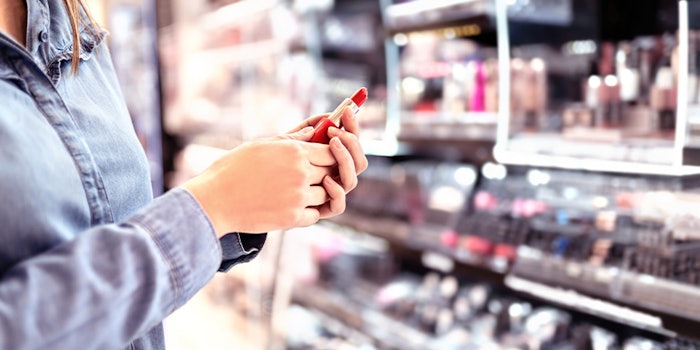 According to McKinsey, approximately 30% of the beauty industry shut down following the  first COVID-19 outbreaks. Although beauty brands and retailers alike have emerged with a new emphasis on digital channels, it's the beauty retailers that will continue to face the unique challenge of satisfying shoppers' desire for in-person experiences. 
Enduring Power of Physical Retail
Digital channels deliver education, inspiration and (of course) the product. Yet shoppers enjoy the experience of exploring and purchasing beauty products in person; the tangible shopping experience magnifies the product experience.
The McKinsey research cited above also notes that in-store shopping made up 85% of beauty purchases before the pandemic. Even younger, tech-savvy millennials and Gen Zers still made 60% of their purchases in stores. What's more, another survey taken before the start of the global pandemic, saw 41% of beauty shoppers claiming they wouldn't buy any product they had only tried on virtually.
Crisis Creates Innovation
The test-and-trial experience is still integral to beauty retail. As the pandemic ramped up, savvy retailers did their best to take advantage of in-store experts for livestreaming and real-time appointment-based consultations with their customers via Zoom. 
We've also seen the importance of sampling increase in recent years with the popularity of mail subscription services (think Birchbox and Ipsy). Many brick-and-mortar retailers have created competitive offerings to those subscription services (Sephora's Play and Luxe boxes come to mind).
Taking it further, British beauty chain Space NK follows up on virtual consultations by delivering a personal note and set of samples to the customer's door. 
Many companies are still figuring out their sampling strategy based on the new normal. Bottom line: There's no doubt that it must evolve to create a safe environment and enhanced shopping experience.
Shoppers will soon see which beauty retailers made the smart, savvy and sustainable choices post-COVID-19 that ensure they can experience beauty in a relational, safe and exciting format—all while keeping store operations practical.
Testers Go to the Graveyard
Tester products have long been criticized as unhygienic bacterial breeding grounds—even before our pandemic-induced fixation on germs and cleanliness. Certainly, some shoppers might still prefer the in-person "look at it, touch it, and test it" experience, but with pathogens top of mind during a pandemic, it's not as easy to ignore this hygiene issue.
Retail chains aren't taking chances and have taken testers to the graveyard. Likewise, they see that individually packaged samples are expensive for the environment and their bottom lines.
Although today's beauty experts are on hand in retail locations to answer any questions a shopper might have, this isn't a one-to-one replacement for experiencing the touch and feel of a new moisturizer or evaluating whether a certain shade of foundation meshes with a specific skin tone. To bridge this gap, some new innovations are being developed, including mechanical and hermetically sealed samples.
Digital 'Try-On' Gets a Clean Slate
Customers who previously avoided a digital trial experience are now giving it a second chance, often by exploring apps that utilize augmented reality for color selection in makeup and hair.
For instance, Ulta covered up its tester slots with signage directing shoppers to its GLAMlab app for an AR-based try-on experience. And Bluemercury,a retailer well-known for holding in-store events,is taking its gatherings digital.
Interactive sessions give  brand founders much broader access to the retailer's customer base for interactive sessions  to answer questions about a product's properties and benefits, and even provide use instructions.
Although these solutions provide innovative ways to connect with customers, they are experiences that can also be replicated at home. How can we enhance them at retail to draw foot traffic in stores?
Integrating Brick-and-Mortar and Digital Experiences
Although the state of our world might be painful for brick-and-mortar retail, this change could create something exciting in the long run. Now that everyone has been forced to adapt to online ordering, curbside and delivery services, the in-store environment is free to focus on delivering only what those alternatives cannot provide.
Retailers that have invested in AR applications during this pandemic should consider how to create an enhanced version of them in physical stores. When customers pick up their online orders in a store, the retailer can make personal recommendations that have been prearranged with their packages and create a safe place for in-store trials. 
Can retailers enhance the use of their apps in-store, perhaps by using QR codes to lead shoppers to a digital experience related to the products in front of them? There's also an opportunity to leverage microsites integrated into specific fixtures.
These can be activated by QR scans in stores to line up unique engagement content between the retailer, brand, and shopper and can even help set up store-level purchase tracking. 
Here's the bottom line: Retailers that can integrate physical and digital shopping—and create memorable moments that replace traditional tester experiences—will come out ahead.
New and Interesting Partnerships
Makeup purchases have trended away from prestige brands and toward mass cosmetic options because mass makeup has been available at essential grocery and big-box retailers throughout this pandemic. Likewise, consumers are consolidating their in-person shopping trips, opting for stores where they can purchase everything they need in one fell swoop.
So how can beauty retailers get in on this trend and partner with others to enhance customer touchpoints? Retailers can (and should) continue to form partnerships that get products in front of shoppers at essential retail locations, such as the partnership between DSW and Hy-Vee.
Although COVID-19 turned consumers' beauty-buying habits on their heads, it's clear shoppers are eager for a test-and-trial experience as more retailers open their doors. This is an opportunity that paves the way toward an enhanced in-store environment that builds brand loyalty and creates a broader omnichannel customer base.
When done correctly, the two go hand in hand, creating truly harmonic retail. It's time for beauty brands and retailers to rise to the challenge.
Holly Draher is a national account director at Harbor Retail, which designs, builds, and delivers fixtures and environments to activate Harmonic Retailshopping experiences. Draherhas worked with global retailers and beauty brands, activating solutions in cities such as Los Angeles, New York, London, Paris, Shanghai and Sydney. With her MaRC certification from Shop!, Draher is versed in retail fixture solutions and shopper behavior and is prepared to bring fresh, modern ideas to every market to help clients overcome individual challenges.