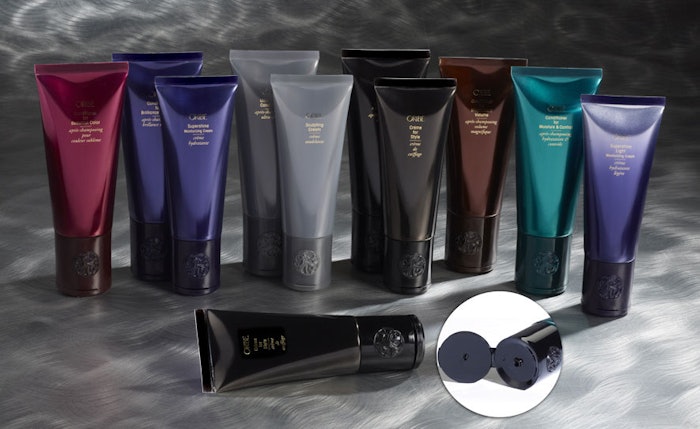 Known for creating many of the glamorous looks on magazine covers and advertisements, Oribe Canales is a renowned Miami-based hairstylist with celebrity clientele and his own hair care line. Well-versed in upgrading looks, it was determined that the time was right for select products in the Oribe line previously housed in tottles got an upgraded look to elegant and trendy tubes.
Buero New York, a boutique design and image agency, created the initial design concept, working with World Wide Packaging LLC—a provider of cosmetic packaging components and plastic tubes.
Oribe was initially challenged with producing its custom design in a tube in a timely and  cost-effective way. WWP, however, was able to produce a  first-of-its-kind foil-polymer tube (FPT), which the company called a "marriage of elegance and innovation."
A Tall Task
The design called for two tubes featuring never-before-seen closure systems that, at 45–50mm in height, respectively, were twice as tall as those normally seen on similarly-sized tubes. WWP built a custom tube head to accommodate the elevated height of the cap, as well as custom molds for the polypropylene-based closures.
Decadence was also in the details: The flip-top closure alone required three difference pieces and featured a reproduction of Oribe's signature logo—a mermaid standing on tip-toe with long, flowing hair down her back—displayed as a raised, three-dimensional embossing.
Buero New York designed the vibrant, six-color graphics with a horizontal gradation rather than vertical, which is the standard due to printing press limitations.
"It took six weeks of intense engineering to mechanically alter the machinery before we were able to fulfill Buero's vision for the gradation pattern," said Jeff Hayet, executive vice president of global sales, World Wide Packaging LLC.
Oribe, according to the company, is confident that tube will bring bottom-line results, anticipating that its upscale, unique look and feel will be a determining purchasing factor for consumers.
Shannon Payne is vice president of sales, World Wide Packaging.