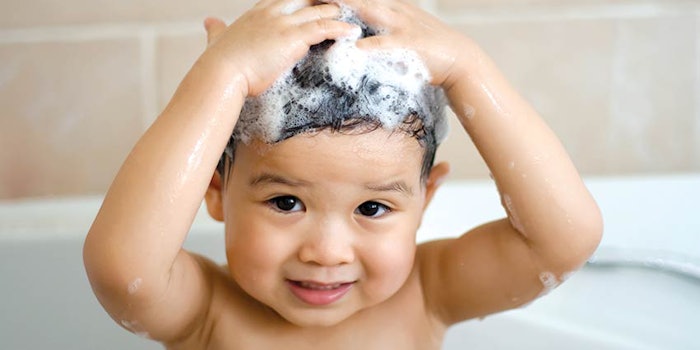 The consumer's interaction and experience with personal care products is determined by a complex range of facets, including:
Aesthetics (i.e., texture and scent);
Performance and experience (i.e., cleaning ability, speed of application for kids, ease of product control and engagement); and
Package size.
"Foam is more fun for them [small children]. … It's like playing like it's shaving cream."
The research gauged participants' interaction with each format and recorded their preferences, needs and wants, and points of satisfaction and dissatisfaction.
The resulting insights, which were shared exclusively with Global Cosmetic Industry:
Highlighted gaps between actual and desired performance and functionality
Clearly identified preferred categories; for foaming; and
Highlighted structural design opportunities for the vessel to improve consumer satisfaction and engagement
Why Foam?
The reasons behind foam's popularity are easy to understand. First, the format requires no propellants and less water compared to other categories, which boosts its sustainability profile while lowering costs for manufacturers (less packaging and formula required).
For the consumer, foam formats offer convenience in the guise of easy and rapid application (perfect for baby products) and wash-off, and less messiness compared to gels or lotions. In addition, foam products impart a fun factor for children.*
Adult applications include hand soap, facial cleansers and body wash.
As one Tricorbraun panelist noted, "Foam is more fun for them [small children]. … It's like playing like it's shaving cream."
With these factors in mind, Tricorbraun's researchers examined consumer panelists' attitudes toward foamers to better understand where the technology can best be leveraged and for whom.
Foam at Home and On-the-Go
The Tricorbraun research concluded that children and moms/women are the primary demographics for foam formats, which are mostly used in the kitchen and bathroom and in travel scenarios (travel-sized products), followed by men and teens, in the following applications:
Hand soap
Baby wash
Pet
Automotive
Children and baby applications include body wash, shampoo and hand soap, while adult applications include hand soap, facial cleansers and body wash.
Packaging Design Implications
In addition to product or category experience, consumer expectations can be shaped by experiences in unrelated segments. For example, the high functionality of a pet care product might drive a consumer's expectations in the shampoo category.
As a result, Tricorbraun's research looked across personal care categories, including hand, facial and baby care, the findings of which are applicable in other categories, such as auto and pet care.
The panelists tested gel/lotion pump, foam pump and squeeze foamer formats. The packaging facets most desired for hand soap included speed and ease of use (ergonomic/one-handed use/kid-friendly design), clean dispensation, wide finger pad and vessel base, and general visual attractiveness.
Baby wash design needs similarly focused on ease of use (one-handed use, fast and easy dispensation, stable vessel), aesthetic excitement (visually attractive and fun for kids) and performance (secure sealing, prevention of water entry).
For facial cleansers, panelists' needs included performance (vessel stability, clog-free dispensing, easy product evacuation and dose flexibility, secure sealing), compact formats and aesthetics (attractive enough to leave out on bathroom counter).
Give It a Squeeze
Panelists described squeeze-foam packaging as fun, quick and easy. The ideal applications for squeeze-foam formats include:
Facial skin care
Sun care
Kids products and baby care
Body care
Shampoo
Hair care
Personal hygiene
One panelist remarked on the packaging format's ease of use and functionality: "So for a positive, though, for shampoo or something, you can squeeze it on their head and not have it running all down before you get the soap put away."
The advantages of the foam-squeeze format, according to the panelists, included experience (fun, kid-friendly), functionality and convenience (one-handed use, controlled dose, simple application, prevention of water entry/secure sealing), and aesthetics (modern, attractive).
Based on the panelists' feedback, the ideal squeeze foam format would be invertible, feature a lock-back closure, and be available in traditional and travel sizes.
Applying the Research
Tricorbraun's research concluded that opportunities for better consumer engagement with foamer packaging exist. As mentioned previously, key needs include sturdier bottles, wider finger pads, cleaner dispensing and, in some cases, improved sealing.
By leveraging these insights, brands can better engage consumers through their packaging and enhance the overall brand experience. Tricorbraun's team has noted that these takeaways can be further enhanced with additional ethnographic research that can help brands to customize the research for particular products, lines or consumers.
Qualitative Focus Group Design
Tricorbraun's foamer qualitative focus groups were screened for the following respondent criteria:
Women age 30–55
50% Caucasian and 50% other race
30% working full time; 70% working part time or not working
30% have a child three or under; 70% have at least one child four to 10 years
*However, foams aren't without their downsides. While foam is smooth, its gentle texture might lead consumers to feel its cleaning power is relatively low. This perceived lack of substantivity might inhibit the format in facial cleansers, in which it may not feel sufficiently substantial.