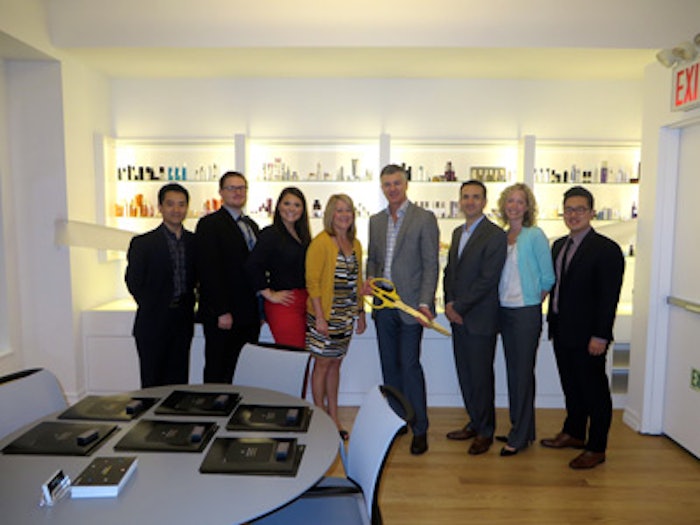 Fusion Packaging announced the opening of its showroom in New York City's garment district. This strategic expansion will serve as the company's East Coast headquarters, located at 256 W. 36th Street. The showroom will provide a collaborative environment for Fusion's sales and design teams to guide conversations on consumer needs and innovate new product development.
Topline Products expanded its global manufacturing capabilities in a move to a larger, more modern plant site in Reynosa, Mexico. The new 80,000-square-foot facility, triple the size of Topline's former site in Reynosa, now houses new injection molding and blow molding equipment, as well as an expansion of Topline's filling and assembly capacity.
The Slidissime premium airless jar from Promens won the 2014 PackTheFuture award at Interpack in the category of "Product Protection."
Disc received full certification as a Walgreens Certified Print Packaging Supplier, covering the company's lithographic and flexographic print operations.
New on the Shelves
The packages for both Garnier Fructis Style Disorder Power Wax Spray for Men and Order Power Hairspray for Men are topped with the Twist-To-Lock Moritz accessory on a VX valve from Aptar Beauty + Home. Also, Proganix Curls Agave Nectar + Silica Curling Cream + Defrizzant's 6.0 ounce package is topped by the twist-to-lock Ibis lotion dispenser from Aptar, and the Proganix Curls Agave Nectar + Silica Scrunch Finish Spray & Defrizzant's 5.1 ounce bottle is finished with Aptar's EuroMist spray pump. And the Bath & Body Works Endless Weekend Sunset Glow Body Lotion is packaged in the Bag-On-Valve system with the Wren accessory, both supplied by Aptar.
Swedish Beauty's Botanica bronzing lotions Sweet Escape and Green with Envy were introduced in November 2013 in packaging designed by TricorBraun Design & Innovation. The packaging subsequently earned a 2013 American Package Design Award from GDUSA (Graphic Design USA) and a Bronze Award in the Cosmetics & Personal Care category of the 2014 NACD (National Association of Container Distributors) Packaging Awards. Given the brand's focus on such natural ingredients and bronzing processes, Swedish Beauty wanted the packaging for these unique products to project a natural look. To achieve this, TricorBraun combined a sleek HDPE (high-density polypropylene) bottle with a modern closure design that reflects Swedish Beauty's natural intention. The design features a flip-top closure sitting atop a long collar with a wood grain finish. The wood decoration provides a direct link to the brand's natural positioning. The bottle is produced by TricorBraun vendor partner Poly-Tainer Inc. and is labeled with a shrink label carrying graphic designs by Swedish Beauty designer Christiann Cauley and produced by McDowell Label. The neck decoration was produced overseas through TricorBraun International, which also worked closely with the overseas manufacturer to create the neck mold that accommodates the long closure collar.
New Launches
Quadpack launched its new Ellipse tottle, the latest member of its Q-Line family. Ideal for mass market, masstige and OTC products, this pack offers excellent price-performance, an interesting shape and a premium finish. Made of HDP), Ellipse is resistant to aggressive formulas like sunscreen right up to SPF 100. And the reducer, made of LLDPE, reflects the elegant, smooth lines of the pack. As its name suggests, Ellipse is oval with an eye-shaped footprint. Its sophisticated look and feel is reinforced by a matte texture. Other decoration options include color matching, silk screening, hot stamping and metalizing on the cap. And an optional pearlized effect on the bottle enhances the luxury image, avoiding flow marks through extrusion blow molding.
In an effort to help maintain hygienic beauty practices, Qosmedix introduced a new collection of stainless steel instruments. Ideal for professional makeup artists, the new additions include two reusable stainless steel mixing palettes and a durable dual ended mixing spatula. The Artist Mixing Palette with Mirror Finish has a convenient thumb hole that provides a comfortable grip while mixing, blending and applying cosmetics on a sanitary work surface. The Rectangular Mixing Palette with Mirror Finish will fit into the palm of your hand and its small size makes it ideal for travel. The Dual Ended Mixing Spatula with one side flat and the other curved makes it easy to transfer cosmetic product to the palette. All of these items are easy to clean and disinfect with alcohol.
People News
Tristan Farabet was announced as the new managing director for Groupe Pochet.