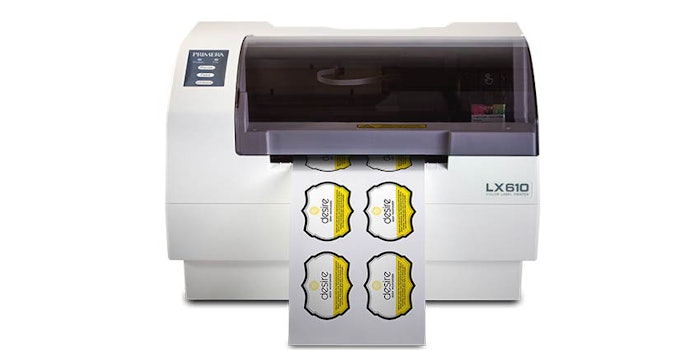 Primera Technology's LX610 high-resolution color label printer features built-in digital die cutting to produce short runs of labels in any size or shape without custom dies, according to the manufacturer. The system is designed for small-to-medium-sized business for affordable short runs of custom labels and
allows teams to produce samples, prototypes and short runs for client approval or test marketing.
Images are first printed at up to 4,800 dpi onto a variety of different label materials and then cut to the desired size and shape with a carbide steel knife blade. The printer features software (PTCreate) for laying out print and cut files. Standard pre-die-cut labels and tags can also be fed through the machine.
The LX610 can leverage dye-based and pigment-based inks onto substrates such as gloss and matte paper, PVC, polyester and polypropylene.
LX610 costs $2,495.99, while upgraded PTCreate Pro software sells for $149.99.
Need to contact the manufacturer? Contact us here.