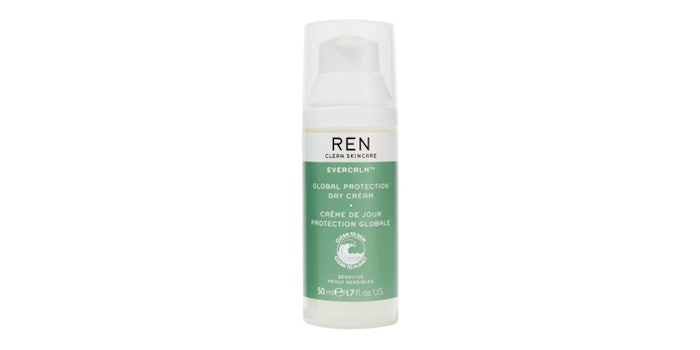 As another step toward its Zero Waste by 2021 ambition, Ren Clean Skincare has launched a recycled packaging solution for its EverCalm Global Protection Day Cream.
According to the skin care brand, the pack was created with SABIC certified recycled plastic, which has been made with technology that can recycle mixed plastic waste otherwise destined for incineration or landfill. Ren Clean Skincare is reportedly the first luxury beauty brand to support this technology, dubbing the process "Infinity Recycling." 
The technology is said to deliver certified recycled plastic that is identical to virgin plastic and may offer the possibility of indefinite plastic recycling without compromising quality or physical properties.  
Arnaud Meysselle, CEO of Ren Clean Skincare, said, "We want to champion pioneering sustainability solutions. This new technology has just come to market and we want to showcase innovations to the luxury beauty world that are realistic, honest and also ambitious. We hope our journey to zero waste inspires other beauty companies to also adopt the same solutions and technologies."