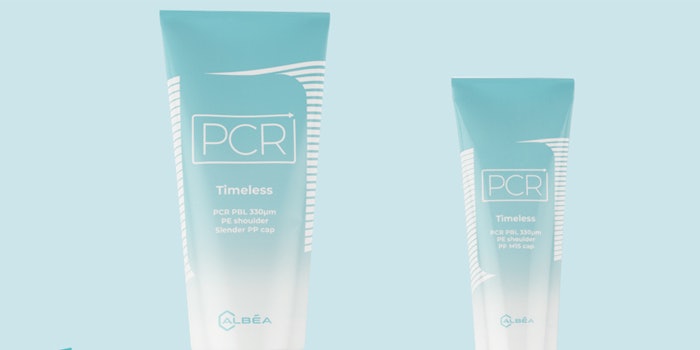 Albéa has launched its Timeless collection, a range of PCR laminate tubes for cosmetics products that are designed to minimize waste. 
Previously: FLEXcon Expands optiFLEX ecoFOCUS Line
The tubes are manufactured in Albéa's Shelbyville, Tennessee plant using less material than conventional processes and incorporating about 30% recycled material. The sleeve is made of 60% recycled plastic, reducing the carbon footprint by 17% in comparison to other recycled tubes, according to the company.
Timeless allows a high restitution rate of the formula, thereby avoiding waste, per the supplier. In addition, the high light barrier properties protect the formula while the moisture barrier makes it applicable for shower, shampoo and sun care formulas.
Caroline Hughes, marketing manager tubes, said: "Timeless is a new milestone towards our objective of lowering the environmental impact of our tubes and contributing to a circular economy of plastics. This range is the perfect blend of eco-responsibility and performance: While consumers can notice and feel the particular texture of the PCR, the tubes are specially designed to meet all the requirements of the cosmetics industry."