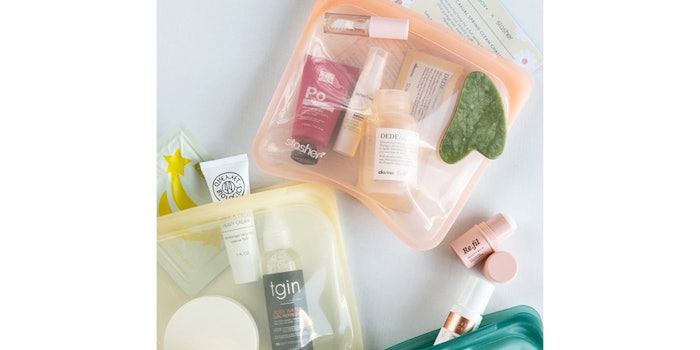 Birchbox's monthly subscription packages that will arrive in a reusable Stasher bag starting in April.
Stasher bags are reportedly the first platinum silicone bag with a patented Pinch-Loc seal for beauty essentials, food, etc. 
Birchbox's April beauty products are sustainably minded and include Magnitone Wipe Out! Eco Friendly Makeup Remover Pads, Vitamasques Hydrate Blue Agave Sustainable Sheet Mask, Comfort Zone Remedy Cream to Oil Cleanser, and Grace & Stella Rose Water Spray.
By 2025, 80+% of everything Birchbox produces will be recyclable.
Shannon Morgan Stearns, vice president of marketing at Stasher, said: "We are thrilled to partner with Birchbox to provide a reusable solution to help subscribers save what matters. We are excited to share our mission with a new audience and provide an easy-to-use alternative to single-use plastic."
Katia Beauchamp, CEO and founder of Birchbox, said: "At Birchbox, we believe in our power to build the world we want to live in, and that starts with taking care of our planet. We're on a mission to make beauty simple for our customers, and we're thrilled to partner with Stasher so we can make it easy for subscribers to incorporate sustainability into their lives, too."
Beauchamp continued, "We're partnering with experts every step of the way, working with brands like Stasher that are leading the eco-conscious space. We're excited about the sustainably-minded changes that are underway for us."