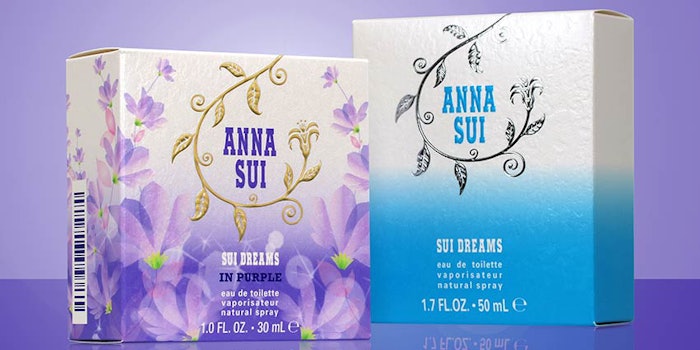 Diamond Packaging won three awards at the 76th annual North American Paperboard Packaging Competition, a competition involving concept, design, print, performance and shelf appeal of paperboard packaging.
Recently: Diamond Packaging Honored at Packaging Impressions Excellence Awards
The competition is an affirmation that paperboard is the more sustainable packaging option. Diamond's winning entries were all designed with recyclable paperboards and manufactured with 100% clean, renewable wind energy in a zero waste to landfill facility.
Winning entries:
Inter Parfums' Sui Dreams in Purple by Anna Sui (Excellence Award in the "Cosmetics" category)

FSC-certified Ecological Fibers Flexpack Lumina Pearlescent paperboard
Satin aqueous coating
Printed ombré design with purple, pink, yellow and green inks
Embossed logo and floral pattern
Artwork incorporates frequency modulated screening

Lovate's Hydoxycut Ultra Lean (Excellence Award in the "Pharmaceutical/Healthcare" category)

Clearwater Candesce SBS paperboard
UV gloss spot coating
Overall matte finish
DiamondSparkle specialty vignette glitter decorative technique
Embossed accents

Procter & Gamble's Crest 3D Whitestrips Professional White (Excellence Award in the "Pharmaceutical/Healthcare" category)

Clearwater Candesce SBS paperboard
Trapezoidal structure
Die cut windows on each side
Overprinted transparent inks over a custom "Pillars of Light" holographic cold foil
Embossed accents