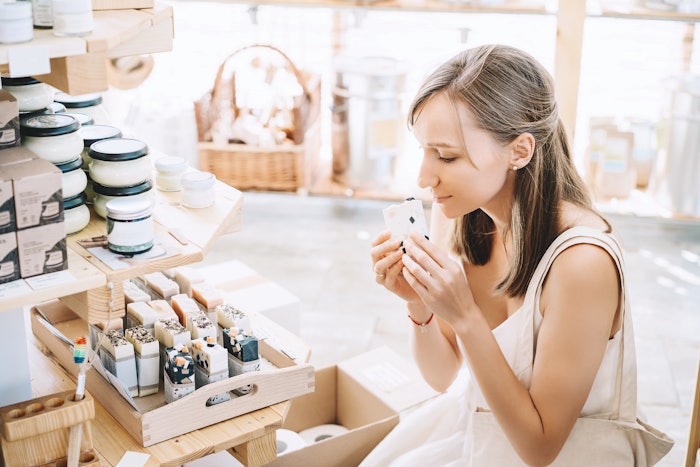 Beauty brands, packaging firms and researchers are working to reshape the future of sustainable packaging. But many sustainable innovations are already in reach.
0-gravity Packaging Research
Recently, The Estée Lauder Companies began funding projects from the International Space Station (ISS) National Laboratory's "Sustainability Challenge: Beyond Plastics" competition, which advances research that addresses the worldwide plastic waste dilemma. The winners of that competition are Stephen Meckler, Ph.D., of the Palo Alto Research Center, and Katrina Knauer, Ph.D., of the National Renewable Energy Laboratory and BOTTLE (Bio-Optimized Technologies to keep Thermoplastics out of Landfills and the Environment) Consortium.
Meckler's project seeks to improve the performance of lightweight, porous aerogels to capture and remove carbon dioxide from the air. Producing the aerogel materials in the space station's microgravity environment will allow the research team to study how the network of pores that make up the aerogel structure form in the absence of effects from gravity-driven convection and sedimentation. This information and the resulting pore structure may lead to better uniformity in the aerogels and higher carbon dioxide capture rates. Captured carbon dioxide could be used to replace oil as the polymer feedstock to produce plastics.
Knauer's project, meanwhile, aims to determine whether space radiation and microgravity influence the behavior of specific bacteria strains that break down plastics and produce polymer building blocks. The resulting process could be used in mixed-plastic recycling consisting of many different types of plastic. The project may also reveal new recycling mechanisms that could allow difficult-to-recycle plastics to be upcycled or made into materials of even higher value than the original plastics.
For the full article, check out Global Cosmetic Industry's October 2022 digital magazine.