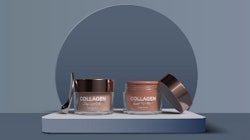 Quadpack's Regula Petit Jar brings sustainable design to the mini-sizes beauty trend, which highlights convenient, affordable and cute formats.
The thick-walled Regula Petit Jar comprises fully recyclable PET and is offered in a recycled version. The PP cap is also recyclable.
Manufactured in Germany, the pack is offered in 15 ml and 30 ml capacities, making it appropriate for lips, eyes and other specific face areas, as well as for on-the-go usage, ideal for a time of rising travel activity.
(Per NPD, the fastest growing prestige makeup sector in 2022 was lip products, with sales surpassing pre-pandemic 2019 levels by double-digits.)
A life-cycle assessment of the Regula Petit Jar in recycled PET reportedly shows a 31% reduction in carbon emissions when compared to the virgin PET version. The PCR PET jar's circularity index is also 3.5 times better compared to the conventional version.