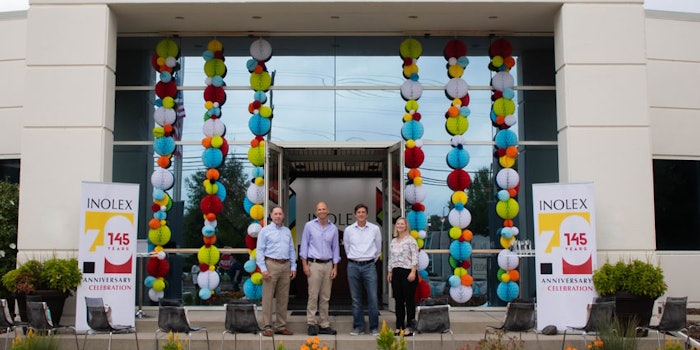 Inolex is marking its advancement as a sustainable beauty care ingredients provider with the celebration of 
the company's 145-year anniversary alongside 40 years of being independent.
Previously: Inolex Provence, ieS Labo Celebrate French Innovation
To commemorate the occasion, the company hosted a private ribbon-cutting event for its employees at its flagship manufacturing facility in Charlotte, North Carolina on September 9.
Since the start of the company, Inolex has expanded into 10 countries with a focus on plant-derived ingredients for beauty care and personal care. The company's portfolio of sustainable technologies embraces the company's principles of green chemistry and ingredient lifecycle thinking.
Recent innovations include 100% natural and sustainable amino lipid technology for hair care; 100% natural and sustainable replacements for silicones; and 100% natural alternatives for safe preservation.
"The festivity was a belated but well-deserved recognition of our team and our newly established flagship manufacturing operations, as well as our resilience as a company," said David Plimpton, CEO and president of Inolex. "We set a vision to equip the organization with the talent and the infrastructure to deliver sustainable innovation into the future and we are doing just that."
Plimpton continued, "Innovation comes in many forms. The company has transformed over the course of 145 years and our position to remain an independent firm affords us the flexibility to decide what we do next. We are incredibly energized by our people, our passion for science and technology and our direction to set a new benchmark for ingredient design."