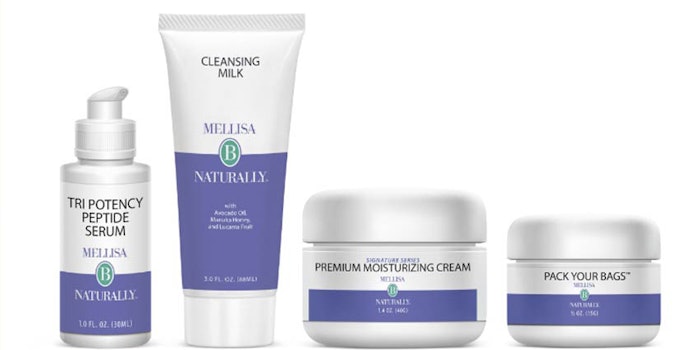 Mellisa B Naturally has entered into a distribution agreement with Select Nutrition, Palko Services and Super Natural Distributors to increase the availability of its natural skin care products in the United States.
Mellisa B Naturally's product range includes a Cleansing Milk, Microdermabrasion Scrub, Pumpkin & Coconut Exfoliating Mask, Moisturize and More moisturizer, Signature Series Pack Your Bags eye care, Signature Series Premium Moisturizing Cream, Tri-Potency Peptide Serum, and Shimmering Face & Body Primer.
"We are very excited to be working with Select Nutrition, Palko Services, and Super Natural Distributors," said Mellisa Baylis, founder of Mellisa B Naturally. "This product line is such a part of me, and I've spent enough time in the natural products industry to know that these organizations care as much about the natural health and wellness industry as I do. I know that our products will be in good hands."