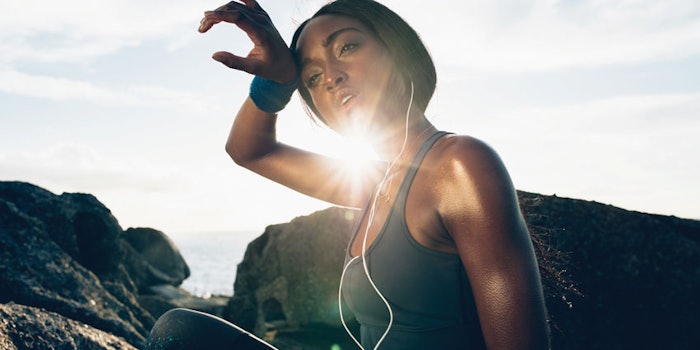 The global sun care market was valued at $9.8 billion in 2017, according to the latest Euromonitor data (see T-1 and T-2). Beyond consumer awareness of the need for safe sun practices, other category drivers include unique formats, ingredients and emerging testing methodologies.
Make It Fun & Easy
Sundots, a brand of bite-sized gummies that reportedly help to protect against sun damage, recently launched its funding campaign on crowdfunding site Indiegogo. The brand was co-developed by Dr. Emilia Javorsky, a physician and research scientist, and designed to strengthen the skin's UV resistance from the inside out.
And the taste? According to the brand, Sundots are flavored with "a delicious tropical berry combo … from 100% natural ingredients."
Sundots leverages Polypodium leucotomos fern extract as its key active ingredient to resist UV damage. A 2015 dermatology studya on the extract's safety and effects on counteracting UV radiation exposure concluded, "Polypodium leucotomos extract 240 mg taken twice daily for 60 days was a safe and effective means for reducing the damaging effects of ultraviolet radiation."
Sundots cites a 2017 studyb that "found 76% fewer new sunburned cells in patients who took polypodium."
Other brands have leveraged the ingredient for supplement-format products, including Heliocare's Sun Protection Pills, which reportedly improve the body's tolerance to UV rays to prevent sun-damaged skin.
The brand is clear to warn, however, "Although Heliocare tablets aid in preventing sun damage, they do not replace sunscreen. We recommended applying a topical sunscreen with SPF for maximum results."
Hum Nutrition also includes the ingredient in its Turn Back Time Anti-Aging Supplement, which the brand claims protects the skin against UV damage, stress and pollution.
Sundots argues that its supplements can fill in the gaps in consumers' lack of application or reapplication—as well as misapplication—of sun screen products. It also offers a solution for consumers concerned with finding natural or non-toxic products. In addition, by offering a chewable, pleasant-tasting supplement, Sundots believes it can encourage consumers to incorporate UV protection into their daily lives—not just at the beach.
While the brand is in startup mode, its funding drive is already a hit. With about a month to go in its funding window (as of press time), Sundots achieved $47,746 in funding against a $20,000 goal.
Make It Inclusive
The rise of inclusive beauty has often focused on makeup and hair care, but there are significant implications in the sun care sector as well. As consumers of every skin tone increasingly demand effective beauty products built around their needs, a new wave of innovation has hit the market.
For instance, Dr. Heather Woolery-Lloyd, a U.S. board-certified dermatologist, created Specific Beauty to help people with "melanin-rich complexions" achieve flawless, even-toned skin.
The brand's range includes a water-resistant SPF 30 Active Radiance Day Face Moisturizer, an oil-free, lightweight product that reportedly absorbs quickly. The broad-spectrum SPF 30 is intended to defend against UVB and UVA rays to prevent discoloration and dark spots. The formulation includes niacinamide, linoleic acid, and licorice and emblica extracts, as well as "light refracting, gold illuminizers" to "deliver radiance," according to the brand.
"UnSun was made specifically for people of color representing the beige to dark chocolate tones of the spectrum," founder Katonya Breaux has said. "The desire to protect our skin from the sun should not mean having to wear foundation in order to cover the white and gray film that's present after application. UnSun was specially formulated with a mineral tint to address this concern."
The brand's hero product, the UnSun SPF 30 tinted mineral sunscreen contains shea butter, vitamin E, coconut oil and fruit extracts and is "tinted to blend in with multiple skin tones that range from fair to olive to the darkest of chocolate," according to the company.
UnSun has since expanded to include a Hand Cream SPF 15 and a collection of organic SPF 15 Lip Tints in shades that range from Slay to Nekkid to Rose Gold.
MyChelle Dermaceuticals has also introduced the Sun Shield Stick SPF 50 Tinted, a mineral-based sunscreen that offers UVA/UVB broad-spectrum protection "with just enough color to enhance any skin tone." The formulation comprises avocado, jojoba and vitamin E to boost moisturization and protection.
Deliver New Performance
Improving existing formats and creating new ones is another strategy for bringing new excitement to sun care.
For example, after her own experience with skin cancer, Gillian Robson looked for a product that offered self-tanning with sun protection but could not find one. So, working with co-founder Katy Foxcroft, sun protection expert Dr. Jack Ferguson and experienced formulator JoWarren, she developed her own. The result is Tancream, "a blend of organic sunscreens, gradual self-tanning and instant bronzing" that offers SPF 50 protection, according to the brand. The premium luxury lotion, which was featured at the CEW UK product demo event, has anti-ageing properties, no odor and doesn't streak.
Meanwhile, SkinCeuticals has launched Discoloration Defense, a corrective serum that reportedly counteracts the production of excess melanin production caused by UV exposure, prescription drugs and some professional treatments. The result is the prevention of discoloration such as brown patches and post-acne marks.
Discoloration Defense is formulated with 3% tranexamic acid to minimize the appearance of discoloration and brown patches, 5% niacinamide to reduce the appearance of discoloration, 5% HEPES to boost cell turnover and 1% kojic acid to enhance skin brightness.
According to the brand, a 12-week study with clinical evaluations found that the Discoloration Defenses key ingredients generated a 60% average reduction in the appearance of brown patches, 59% average reduction in discoloration, 81% average reduction in post-acne marks and 59% improvement in overall skin tone.
On the ingredient level, Inolex has introduced LexFilm Sun Natural (INCI: Capryloyl Glycerin/Sebacic Acid Copolymer) a film former. The material is a pourable viscous fluid—as opposed to a crystalline solid—easing the process of formulating and manufacturing and, ultimately, offering consumers more even coverage in sun care products. Produced using the principles of green chemistry, the plant-based, multi-dimensional polymer can be used in skin care, hair care and color cosmetics.
Footnotes:
aMark S. Nestor, Brian Berman and Nicole Swenson, "Safety and Efficacy of Oral Polypodium leucotomos Extract in Healthy Adult Subjects." J Clin Aesthet Dermatol, Feb, 8(2):19–23 (2015)
bThe impact of oral Polypodium leucotomos extract on ultraviolet B response: A human clinical study. J Am Acad Dermatol, 77(1):33-41 (2017)