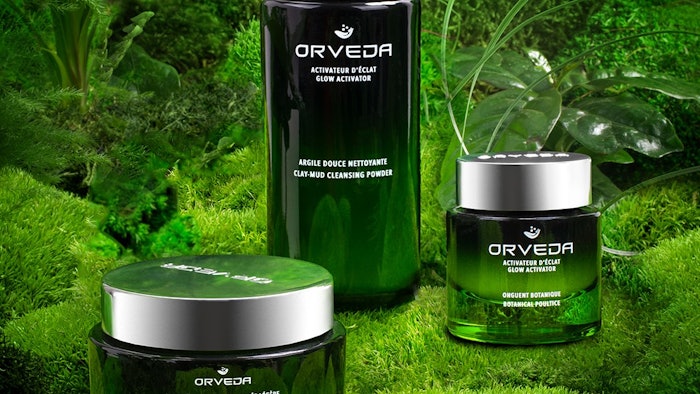 Orveda Facebook
Coty has entered into a licensing agreement with premium French skin care brand Orveda, which leverages biotechnology to produce clinical level efficacy. The brand will be folded into Coty's prestige business with the goal of expansion, including in China.
Coty will integrate Orveda into the company's prestige portfolio, with Coty developing, manufacturing and distributing the full range of Orveda products globally. Orveda's brand and product development and global marketing will be managed by Coty chief prestige brands officer, Constantin Sklavenitis.
Orveda co-founder and owner Nicolas Vu will continue to lead the company as its CEO and work with Coty on the brand's development, in addition to advising Coty on its diversity, equity and inclusion agenda. Coty CEO Sue Y. Nabi, co-founder of the brand with Vu, no longer has an ownership interest in Orveda or any formal role since joining Coty as its CEO.
Orveda was an early innovator in the microbiome and prebiotics space in skin care, per Coty. The brand comprises one home scent and 22 skin products, including cleansers, serums, eye and lash care treatments, moisturizers and masks. All are vegan, sustainable and genderless.
The brand is available at premium retailers in 15 countries.
"We are thrilled to welcome Orveda to Coty and look forward to further accelerating the industry-disrupting, high-performance skincare line that has built a cult following in just a few years," said Sklavenitis. "Building a best-in-class skincare offering is a key strategic priority for Coty and the addition of Orveda to our product lineup is a major step toward achieving our goal, in particular since ultra premium is the fastest growing category. We also see great potential for Orveda in the Chinese market, a key strategic focus for Coty."
"Coty knows that high-performance, high-quality skincare is the future of luxury beauty," said Vu. "We are excited about the support that Coty's scale and resources will provide as we continue to introduce Orveda worldwide. I would like to thank Coty's board, led by Peter Harf, for this opportunity and for choosing Orveda as a diversity-owned brand, which is also testament to the company's focus on diversity, equity and inclusion."