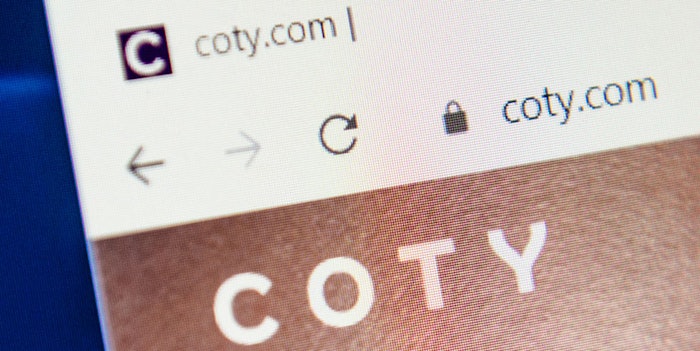 Coty has announced its Q4 2021 results that showed net revenue increased 89.6%, from $560 million in the previous year, to $1.062 billion. Coty's fiscal year 2021 net revenue was $4.63 billion, compared to $4.71 billion the previous year.
In addition, Coty noted that it is pursuing a partial IPO of its Brazil business to "advance Coty's deleveraging agenda." Coty reportedly intends to remain a controlling shareholder of the Brazil affiliate.
Q4
Gross profit for Q4 2021 was $641 million, compared to $224 million the previous year.
Operating income was $1.8 million for Q4, an improvement from a reported operating loss of $920 million in the previous year. 
Net loss was $221.1 million improved from a net loss of $696.2 million in the prior year.
All figures point to a recovery following the initial waves of the pandemic. 
Fiscal Year 2021
Gross profit for fiscal year 2021 was $2.76 billion, as compared to $2.72 billion the previous year.
Coty reported an operating loss of $48.6 million for full-year 2021, an improvement from a reported operating loss of $1.236 billion the previous year. 
The net loss of $166.3 million was an improvement from a net loss of $1.1 billion in the prior year.
Adjusted net income of $9.6 million improved from an adjusted net loss of $364.2 million in the prior year.
Prestige Sales
Prestige net revenues during Q4 were $570.2 million, or 53.7% of Coty sales, representing an increase of 159.9%.
Net revenues during fiscal year 2021 were $2.71 billion, a 4.3% increase.
Mass Sales
Mass net revenues during Q4 were $492.0 million, or 46.3% of Coty continuing operations, an increase of 44.4%.
Net revenues during fiscal year 2021 were $1.91 billion, or 41.3% of Coty sales, representing a 9.5% decrease.
Sue Y. Nabi, Coty's CEO, said:
Today marks the completion of transformational year for Coty, as we advance on our journey in strengthening Coty's position as a global beauty powerhouse. Over the last 12 months, we have built a leadership team of beauty and transformation experts, unveiled and began executing on our multi-year strategy, completed the divestiture Wella, significantly improved our leverage profile, and over-delivered on our savings, revenue, and profit objectives.
We have ended the year on a high note, with Q4 sales nearly doubling YoY. Sales in the Americas expanded in FY21, and we saw particular strength in the U.S. and China. This a true testament not only to the strength of our prestige brand portfolio, but also to our innovation capabilities, with Marc Jacobs Perfect the best performing U.S. fragrance launch in the industry over the last three years, Gucci Guilty Pour Homme and Burberry Her driving market share gains for the beauty brands, and Chloe Atelier des Fleurs solidifying its position as a leading ultra premium artisanal fragrance collection.
At the same time, we made great strides on our objectives of becoming a key player in prestige cosmetics and strengthening our skincare portfolio. Gucci and Burberry makeup are already among the Top 25 makeup brands in China overall only a couple of years post launch, and Gucci makeup now ranks in the Top 10 within the U.S. and Europe doors where it is present. We intend to capitalize on this momentum in FY22, significantly expanding both our distribution and assortment. On skin care, Lancaster is elevating its visibility with Chinese consumers, with three branded counters opening in Hainan in the last few months, while philosophy is capitalizing on its Top 10 skincare position in the U.S. by leaning into cleaner formulations and expanded distribution.
Finally, in our consumer beauty brands, we are clearly seeing CoverGirl's transformation take hold with consumers, as the brand gained market share for three consecutive months, for the first time in five years. We are excited about the path ahead for Rimmel and Max Factor, as the new brand positioning, communication and visuals are being introduced now across European markets.
This operational and strategic progress was achieved without sacrificing our financial delivery, with FY21 gross margins of 60% back to FY19 levels and adjusted EBITDA margin of 16% up over 300 bps vs. FY19, setting the baseline for further expansion in the coming years.
Importantly, with two months into the new FY22 year, I am extremely encouraged by the momentum we are seeing across the business. In the market, we are seeing strong fragrance demand across the U.S. and China, some early signs of recovery in Europe and Travel Retail, and improving cosmetics trends. And we are capitalizing on this more favorable demand backdrop with a line-up of strong launches in each core area of the business. In fragrances we are already seeing very strong market reception for our launches including Gucci Flora Gorgeous Gardenia with Miley Cyrus, Burberry Hero with Adam Driver, Calvin Klein Defy with Richard Madden, and Tiffany Rose Gold. And in cosmetics, the newly relaunched Kylie cosmetics line is seeing great momentum on- and off-line in the U.S. and across Europe, while Sally Hansen is once again disrupting the nail market with its new concept, It Takes Two.
As we continue to make tangible progress in each of our focus areas, I am more confident than ever in the growth and value creation path in front of Coty.