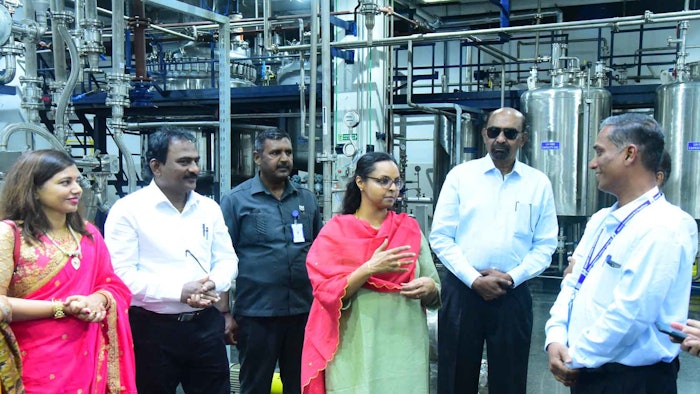 To increase the production of active nutraceutical ingredients (ANI) and active pharmaceutical ingredients (API), Sabinsa's parent company, Sami-Sabinsa Group, inaugurated a state-of-the-art greenfield manufacturing facility at Hassan in the State of Karnataka (India) on March 17, 2023. This is the company's eighth facility, which will expand production by 88 tons per year.
See related: Sabinsa Showcasing Nutricosmetic Curcumin C3 Reduct at in-cos Global 2023
Muhammed Majeed, Ph.D., chairman and founder, Sami-Sabinsa Group, inaugurated the US $18 million Unit 1 of the facility, Sami Nutraceuticals Pvt. Ltd., which covers an area of 10+ acres. It will produce 23 different ANIs, APIs and intermediates, including: calebin-A, resveratrol, SabiWhite, pterostilbene, Cosmoperine, 1, 2-hexanediol, 1,2-octanediol, diindolylmethane, indole-3-carbinol, ferulic acid, urolithins, etc.
The facility is equipped with 18 reactors (including eight glass-line reactors), two hydrogenators and other specialized equipment such as agitated nutsche filter dryers, centrifuges and Rotocone Vacuum Dryers. Another important feature of the facility is its Zero Liquid Discharge (ZLD) capability, which reportedly minimizes the production-associated ecological footprint.
"This is a milestone for the Sami-Sabinsa group," said Majeed. "With preventive healthcare gaining more prominence worldwide, Sami­ Sabinsa Group is gearing up with a new facility to support the wellness of mankind. ...The Sami Nutraceuticals facility will be one of the cornerstones of our expansion strategy, enabling the company to bring more new innovations to market."
Unit II of the facility is nearing completion and is being built on 15 acres of land. It will house three production blocks: one for curcumin production and two for multi-purpose herbal extracts.
See related: Sabinsa Breaks Milestone with Over 400 Granted Patents