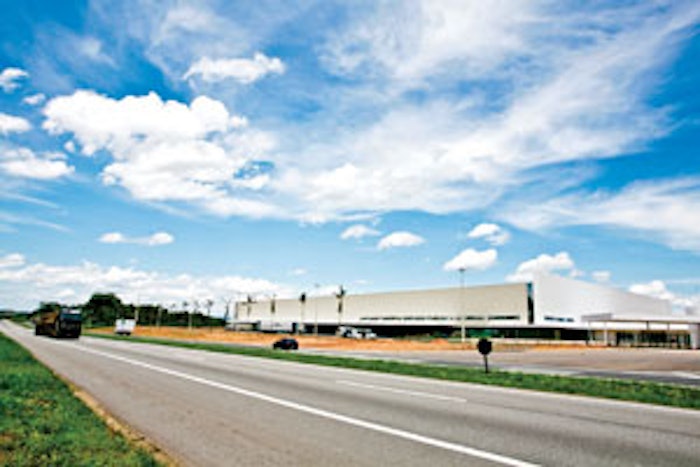 The beauty market recorded an increase of 14.75% in 2009 compared to the previous year. According to data from the Brazilian Association of the Cosmetic, Toiletry & Fragrance Industry (ABIHPEC), the average growth for the Brazilian market had been 10.5% throughout the last 14 years.
The industry was valued at R$24.97 billion, with a production volume of 1.643 million tons (4.5% more than 2008). The three segments of the market, as defined by ABIHPEC) showed similar performances in value terms, with an increase of 14.41% for toiletries, 15.72% for perfumes and 14.95% for cosmetics.
"We expect to maintain double-digit growth for the next five years," said João Carlos Basilio, president, ABIHPEC. As an example of the positive result, he highlighted the toothpaste category, which grew 17.53% in value and 8.73% in volume. "Although it's a product with high market penetration rate, toothpaste keeps increasing continuously, showing that there is potential for other categories as well."
As for distribution channels, the sales breakdown is: 33.96% via retail, 30.76% wholesale, 29.89% direct sales and 5.26% franchise. The trade balance was positive at $131 million. The dollar devaluation, however, has undermined beauty exports, which closed 2009 with a drop of 15.5% in volume, totaling $587 million. Imports also fell 9%, reaching $456 million at the end of 2009. However, in January 2010, there was an increase of 17.8% in exports, compared to the same month of 2009. "If we keep this pace of growth until the end of the year, we may overcome our [export] forecast of $700 million" said Basilio.
Procter & Gamble Creates Strategies to Grow in Brazil
Since its purchase of Gillette in 2005, Procter & Gamble has gained momentum in Brazil, with a growing product portfolio. Nevertheless, Brazilians' annual spend on P&G's products is not even half of Mexicans' and a tenth of Americans'.
The low consumption compared to other markets can be explained by the fairly recent entry of the company in Brazil in the late 1980s. P&G's biggest rival, Unilever, has maintained a far more significant presence since 1930. Nevertheless, Brazil figures among P&G's 15 largest markets, and the potential for the company in the Brazilian market is recognized by the company's executives. "Our position oscillates between the 11th and 14th place due to exchange rate variations," said Tarek Farahat, chairman, P&G in Brazil.
Approximately 80% of the company's sales in the country are produced in P&G's factories in São Paulo, Amazonas and Rio de Janeiro. Brazilians' growing interest in beauty products has encouraged Farahat to create new strategies for competing. "Even during hard economic periods, nobody quit bathing or brushing their teeth. Brazilians love to purchase products," he said.
In the oral care segment, for example, the introduction of alcohol-free mouthwash Oral-B Pro-Health in 2009 demonstrated the sales potential. It is estimated to have already snapped up 10% of the market in northeast Brazil. An Olay skin care launch is also eagerly awaited, and even without official confirmation, there are rumors that acceptance research is already being conducted in Brazil.
High Fragrances Sales Intensify Retail Competition; E-commerce
The perfume industry is working to bring its exponential growth in recent years to the attention of retailers. In 2008, Brazil gained a 60.3% market share of fine fragrances in Latin America. According to research by Givaudan, sales of perfumes and fragrances in Brazil are expected to reach $ 11.3 billion in 2012, reaching a market share of 64.4%. Due to the strength of this market, increasing competition among perfumeries, drugstores and supermarket chains has created new alternatives for fragrance sales.
With six stores in São Paulo, for example, Opaque perfumery aims to accelerate its expansion. Its goal is to open two more outlets by mid-2010 and invest in overhauling its e-commerce site. But, according to its general director Sun Chul Kim, traditional perfumeries are declining numerically due to the relative expense of the stock. "The segment is seeking new channels like the Internet. Today, our Web site has about 50,000 users, but we want to quadruple that number in the next 12 months."
With 115 outlets in Brazil, department store Renner bets on a similar strategy, and entered into an e-commerce strategy in 2010, retailing watches and perfumes online. According to president José Galló, the network is already one of the largest sellers of perfumes in Brazil, with more than 20 imported brands, some of which are sold exclusively through the site.
Drugstore chains have also turned to the beauty segment in an effort to increase overall sales, featuring more skin care products and fine fragrances. The performance of Onofre, with five megastores and 34 smaller retail outlets, stands out in this shift, and the retailer also offers beauty services for customers. Approximately 20% of its total sales are now "non-medicinal."
According to the Brazilian Network of Pharmacies and Drugstores (ABRAFARMA), the fragrance segment has stimulated industry sales as a whole. From January to September 2009, sales of non-medicinal products accounted for 23.9% of total sales in these channels.
O Boticário Opens New Distribution Center
Famous for its nearly 3,000 franchises in Brazil, O Boticário exceeded 2009 revenue forecasts, and reached a growth of 20%. Anticipation of better than expected results led to the opening of its new distribution center near São Paulo, which will double the company's distribution capacity. With investments of $46 million and 130 square meters of space, the facility is ready to quickly and efficiently answer the demand from O Boticário across the country.
The opening of new franchises in 2009 exceeded previous expectances by 50%, totaling 150 new points of sale. In 2010, the goal is an increase of 17% in revenues and the opening of 110 stores in cities where the brand already operates—as well as in new cities.
In 2009, O Boticário also launched 362 new products, followed by a 40% increase in marketing investment. According to company president Artur Grynbaum, the domestic market will continue to be the company's priority in 2010, as its exports dropped from 3% to 2% of the company's revenue.
"We will strengthen our investments in research, innovation and technology," said Grynbaum. "Above all, we will focus on customer relationships to continue marketing products that exceed their expectations and needs."
Nivea Launches Sunscreen Inspired by Brazilian Consumers
Behavioral research on Brazilian women inspired Nivea to create its Protect & Bronze line, which includes sunscreen to tanning lotion. According to Beiersdorf's marketing director Pieter Nota, it is the first time the company has launched a product in Brazil that will then be marketed worldwide.
And there is a strategic implication in the move. According to Nota, the country, the third-largest market for skin care products, has become a priority for Nivea, as Brazil only ranks seventh globally for Beiersdorf's sales.
To reduce this gap—which was actually much larger just four years ago, when Brazil was Nivea's 11th largest market in value sales— acquisitions are being considered. According to Nota, the latest of which occurred in China, where a local manufacturer of hair products (a category in which, at this time, Nivea no longer operates in Brazil) was purchased.
But to continue steady growth, Beiersdorf is betting on the launch of products developed for the local market. "Brazil is one of Nivea's main focuses at the moment. The ideas and products developed in the country are very successful," Nota said. And in the third quarter of 2009, Nivea recorded greater growth in Brazil than the global market overall (global sales fell 3%, while Brazilian sales grew 12.3%).
Lutèce Fragrances Launches
After decades working in major fragrance houses, Tarcizio Candelaria and Antonio Carlos Paulino announced the opening of Lutèce Fragrances, which enters the market as Symrise's exclusive distributor in Brazil.
"Our intention is to offer high quality services to customers, helping Symrise to serve a market with great growth potential," said Candelaria, who had headed Symrise's commercial department in Brazil since its founding in 2003.
According to Candelaria, besides distributing the German company's products, Lutèce is also structured to create its own fragrances based on Symrise's raw materials.
Fernanda Bonifacio is a Brazilian journalist who focuses on the beauty industry, and has been published in the U.S. and Europe. During 2002–2008, she represented ABIHPEC and its member companies globally.