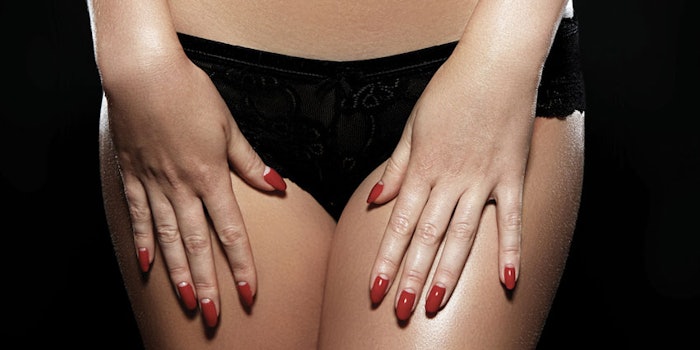 Gone are the days of clichéd marketing for feminine care products. Commercials featuring a woman waltzing along a beach while holding a bouquet of flowers is a thing of the past. These tropes simply don't resonate with the 21st-century woman. At the same time, innovations in intimate skin care concepts, frank and educational marketing, and emerging distribution channels such as vending machines and subscription boxes are creating new opportunities for the feminine care/hygiene category.
Intimate Skin Care & Cleansers
The topic of intimate skin care, like the use of feminine cleansers, is a controversial one. Articles like "I Tried The Perfect V's Vagina Skincare Routine So You Don't Have To" from InStyle and "No, You Don't Need Skin-Care Products for Your Vulva" from Self speak to a strong skepticism among many women that they require special products to maintain themselves "down there."
Yet, according to researcha published by Denise Herich of The Benchmarking Company in the November 2017 issue of Global Cosmetic Industry, "More than 50% of women are interested in purchasing organic/natural feminine hygiene products for personal issues, such as dryness or odor, as well as natural/organic tampons, lubricants, and vaginal cleaners or moisturizers."
Typical of the new wave of feminine care is Summer's Eve's free-from range, launched in 2017, which includes Cleansing Cloths ($2.99) and Gentle Foaming Wash ($4.99). The range is formulated to help wipe away odor-causing bacteria and maintain the natural pH of the body. The products come in Mandarin Blossom and Coconut Water scents. The cleansing cloths are individually packaged and gynecologist tested. The Gentle Foaming Cleanser lathers into a wash that clears away odor-causing bacteria.
On the more premium side of the market, Sweden-based Deo Doc offers a range of gyneacologically and dermatologically tested feminine personal care, including the Pre-Shave Intimate Oil (e23.20), which reportedly softens skin and hair before shaving to reduce irritation. The brand's Daily Intimate Wash is suitable for everyday use, according to the brand, maintaining natural pH and offering a fresh and smooth feeling that lasts. The wash features the brand's signature Honolulu Breeze fragrance. DeoDoc, true to its name, has introduced its Deospray Intimate, which it declares offers "refreshment in a bottle" by preventing unwanted odor and sweat from "the intimate area."
SweetSpot Labs is decidedly more Gen Z-friendly, offering brightly designed On-the-Go Feminine Hygiene Wipettes fragranced in variations such as Grapefruit Verbena, Neroli Mandarin and Vanilla Blossom. The small-format wipes are biodegradable, Forest Stewardship Council-certified and boast 98% natural ingredients like aloe, cucumber, pineapple and cranberry extract.
All About Eve Blossom Inner Cleansing Mousse offers a unique format in the feminine hygiene segment. Retailing for $12, the mousse comprises cleansers such as lotus and chrysanthemum water, and fragrant extracts, including Artemisia vulgaris, coix seed, Houttuynia corda and Dioscorea japonica root.
Additionally, Summer's Eve has added its Liquid Cleansing Wash formula—in all the Simply scents: Coconut Water, Cucumber Lily and new Lavender + Chamomile—to the Simply Summer's Eve range, a botanical, free-from product offering. The new Lavender + Chamomile scent includes Summer's Eve's Liquid Cleansing Wash, Gentle Foaming Wash and Cleansing Cloths (pictured above).
Finally, the aforementioned Very V Luminizer from The Perfect V Specialties retails for $43 and reportedly serves as a highlighter for the skin in the vicinity of women's bikini line. The brand appears to be battling the perception that the product is intended to highlight the genitalia directly, which has caused some online confusion and backlash. According to the company, the highlighter boosts the youthful and fresh appearance of the skin, minimizes the appearance of skin imperfections and imparts a "luminous glow." The formulation comprises vitamin E for dark spots and elderflower for skin soothing.
Feminine Care Subscriptions
The subscription box model has exploded and matured rapidly since the launch of Birchbox less than eight years ago. As the struggling early innovator is sold off for a fraction of earlier valuations, new players are expanding the model into ever more categories, including feminine care.
Most subscription models in the category cost about $10 to $30 per month, depending on the plan, and include both branded offerings and Birchbox-like sampling. Most offer a mixture of tampons, pads and associated items, paired with personal/feminine care products.
For instance, Ellebox's The Comfort Box offers subscribers a monthly shipment of organic tampons and/or pads, chocolate and tea, and two "self-care" items, typically skin care. The subscription notably does not offer intimate personal care or washes. Similarly, Pink Parcel, which operates in the US and UK markets, offers a monthly supply of tampons and pads paired with cult beauty and skin care items for $17 per month.
The Lotus Box, which ships globally, retails for $15/month and can be shipped to customers on the first or 15th of each month, depending on the individual's cycle. The company's offerings draw from brands that support women's access to education, healthcare and feminine products around the world.
Lola takes a more comprehensive approach to women's reproductive and sexual health, declaring, "From your first period to your last hot flash (and beyond!), we'll have you covered." The company's more premium offerings include tampons and pads, as well as the Cramp Care roll-on essential oil blend, retailing for $26, which comprises 17 pure essential oils, including chamomile and geranium, to relieve premenstrual tension, in addition to capsaicin to help calm menstrual cramp pain, according to the brand.
Lola's Cleansing wipes ($10/box) are made of bamboo soaked in a purified water solution that includes gluconic acid, sodium benzoate, Lonicera japonica (honeysuckle) flower extract, Lonicera caprifolium (honeysuckle) flower extract and lactic acid. The brand's personal lubricant offering ($13), meanwhile, comprises organic Aloe barbadensis leaf juice, xanthan gum, agar, lactic acid, potassium sorbate, sodium benzoate, and "a touch of organic vanilla and organic lemon for naturally infused flavor."
On the "clean" end of the spectrum, Kali offers products such as the Kali Chemical-Free Tampons and Kali Wipettes, which are individually wrapped pre-moistened towelettes made with organic cotton to freshen up "your V, face or underarms," according to the brand. The wipes are reportedly 99.98% organic and natural and are formulated with ingredients such as organic Aloe barbadensis and Chamomilla recutita extract. The wipes are formulated with 0.02% fragrance, compared to levels of 3-5% fragrance found in conventional wipes, according to the company.
The brand's hydrating Kali Mist is a rosewater facial toner formulated with organic aloe leaf juice and designed to "Spray the Meh Away," according to the company. Kali Virgin Coconut Sugar Scrub & Exfoliator, meanwhile, is designed for the body, rather than the face, and comprises cane sugar, organic virgin coconut oil, vitamin E, rosemary leaf extract and organic neem seed oil. Kali also offers a Lavender Infused Bath Salt and Essential Oil Blend.
4 Ways Feminine Care Marketing is Changing
The way feminine care is being marketed is changing, too. In the past year, three feminine care marketing campaigns have gone above and beyond with out-of-the-box thinking.
1. Smashing the Period Taboo
According to some of the biggest names in feminine care, a brand can stand out and be strengthened by humor, candor and practicality. Most of all, being direct about what the product can do for the consumer is key.
"For a lot of people, women included, periods are shrouded in mystery," says Maeve Roughton, head of content, Thinx, which produces "period-proof" underwear. "The more we can break down those barriers and smash those taboos, the better we'll all be for it."
2. Play On, Players: The Playtex Vending Machine
The youngest generation of feminine care consumers—teens—have grown up with all things digital, electronic and computerized. So, how does a brand stand out from the crowd, and go a step further to integrate social media and an in-person brand experience?
In mid-2017, Playtex launched its Sport Compact. As the most compact tampon on the market based on length before extension, the product holds appeal for both teens and athletes, and so a campaign that focused on this market was created. The launch mimics beauty's expansion into athleisure beauty care, which offers convenient, multifunctional and durable products for active girls and women. To support its campaign, Playtex revealed its first Playtex Sport Vending Machine installment at Chelsea Piers in New York City in January 2018.
The machine was designed to dispense an 18-count Playtex Sport compact box once the user shared sports advice with the hashtag #playon on Instagram, tagging @playtexsport. For those not near the machine, which traveled to select women's basketball games at the University of Connecticut and the University of Texas, users could share their online advice with the same tags, and select users would receive a free box of Sport Compacts in the mail.
The campaign was also bolstered by the brand's partnership with Olympic gymnast—and role model to many teen athletes—Aly Raisman, who was on-site for the vending machine's New York City launch. Inspirational quotes from Raisman decorated the boxes for several months, giving further credibility to the brand.
3. Thinx Differently About Feminine Care: The PMS Truck
Going completely outside the box is Thinx, a pioneer in period-proof underwear. Depending on the style, each pair of underwear can absorb between one-half tampon to two tampons worth of liquid, and then be rinsed and laundered in the washing machine for reuse.
The brand has a strong appeal for those looking for an eco-friendly option, as there is no packaging waste. Moreover, the reusability factor can keep costs down for those on a budget. However, it's the brand's direct, no-nonsense attitude that truly brings customers into the fold.
"Our bold voice and provocative approach have always attracted a millennial audience," says Roughton. "But, we know that our community is much broader than that. We have active communities around the globe—particularly in the United Kingdom, Canada, Australia and South Korea—and last year, we led a tour across America to meet real people with real periods."
According to Roughton, the Thinx PMS—Period Medical Service—Truck was an immersive experience, including a showroom, educational center and concept store all in one. The truck started in New York City and made stops in Chicago, Denver and Dallas to educate consumers in an innovative way.
"Discovering, buying and trying a product is an experience, and when it comes to menstrual hygiene, for too long that experience has been full of shame and confusion," says Roughton. "We like to think we're changing that by providing people with periods the resources they need to take pride in their bodies and get leak protection they can trust. The spectrum of period products is broadening, and we're really proud to be a solution that can work for everyone."
4. Jenny Mollen and Stayfree Go with the Flow
Marketing feminine care to mothers is a little different from other groups—but not that different. Mothers may not have the same motivations as a teen athlete or a childless young millennial, but they appreciate humor and candor, as evidenced by the huge followings of sardonic and relatable mommy bloggers and vloggers.
In May, Edgewell Personal Care's Stayfree brand announced its partnership with New York Times best-selling author and comedian Jenny Mollen in connection with its campaign for the new Stayfree Ultra Thin pad. The pad is designed to protect women from leaks of all kinds, and the campaign surrounding it takes an honest, lighthearted look at motherhood and the physical changes accompanying it.
The first video, created in partnership with Awestruck TV, launched on Stayfree's social media channels in May 2018. "Go With the Flow" featured Mollen and other comedic moms joking about the moments that cause leakage, and reinforced Stayfree's solution for this common situation. Within its first two weeks, the video had close to 1 million Facebook user views.
"There are so many unpredictable things in the juggling act of life—periods and unexpected leaks included—and sometimes the best way to deal with these surprises is to share them with friends and laugh it off," says Danielle Duncan, Stayfree brand manager. "Through her humor and candid relatability in her writing and on social media, Jenny fully embraces this idea, creating an open dialogue around the things we go through, which make us human, and turning them into matters we can all laugh about."
__________________________________
Lisa Doyle was formerly the associate editor of Global Cosmetic Industry and is a freelance writer in the Chicago area. Her work has also appeared in Skin Inc., Salon Today, Modern Salon, Master Barber and Writer's Digest.
Footnote:
aRead "The Future of Beauty is Personal" from the November 2017 issue at www.gcimagazine.com/magazine/pastissues/2017/