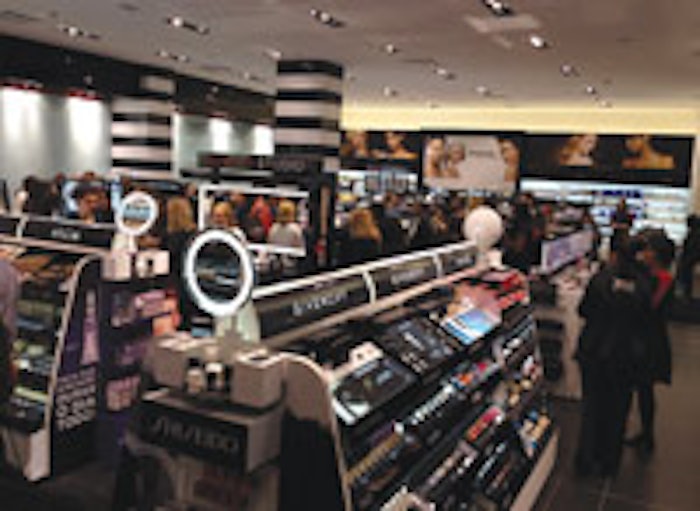 After opening its first Brazilian retail brick-and-mortar in July 2012, Sephora is aiming to open an additional 39 stores in the country over the next five years.
São Paulo's JK Iguatemi Mall (home to the first Van Cleef & Arpels, Lanvin and Topshop stores in Latin America) was chosen as the site for the first location, and near-term plans include the opening of two more locations in São Paulo and another in Rio de Janeiro—all in shopping malls.
By 2017, the LVMH group, which owns Sephora, expects Brazil to be among the brand's top 10 markets. "We decided to invest in Brazil four years ago," said Christopher de Lapuente, global president and CEO, Sephora. "And in 2010, we took the first steps to enter the market. Our goal is to expand sales in the country to offset the downturn experienced in most [of Sephora's] traditional markets."
The brand does not intend to start manufacturing in Brazil as yet, and the products will continue to be imported from France and the U.S. Brazilian import taxes for cosmetics (18–35%), as well as currency fluctuation, have resulted in significantly higher prices than those in the U.S., but according to Lapuente, the Brazilian consumer is willing to invest in high-quality products. He has not commented on the possibility of expanding other LVMH brands in Brazil, but the group also currently owns 70% of Brazil-based online beauty retailer Sack's (see "LVMH to Acquire Leading Brazilian Online Specialty Beauty Retailer.")
Beauty Grows 10.3% First Half of 2012
Data from the Brazilian Association of Cosmetics (ABIHPEC) showed the Brazilian beauty market recorded sales of R$15.4 billion in the first half of 2012, an increase of 10.3% over the same period last year. The market is predicted to grow about another 2% by the end of 2012, ending 12% up.
According to João Carlos Basilio, president of ABIHPEC, the industry's deficit should increase to US$180 million. In 2011, imports exceeded exports by US$126 million. "Imported cosmetics are increasingly growing in popularity and the domestic industry struggles to offer competitive products," said Basilio. The adverse trade balance is not a concern, though. "All multinationals are investing in Brazil, and they need to consolidate their operations here before they start manufacturing locally," he said.
Basilio believes better income distribution is one of the driving factors for the success of the Brazilian beauty market. "Cosmetic sales represented 1.7% of GDP in 2011 and are expected to reach 2% this year," he noted.
Shiseido Expands in Brazil
With an average annual growth of 11% in Brazil, Shiseido plans to increase its revenue by 60% by end of 2012 and 100% in 2013 with the launch of two new brands, Nars and Bare Minerals, in the market. The Japanese multinational's strategy is to strengthen its penetration in the Brazilian makeup segment, as more than half the company's revenue is generated by its skin care lines.
Although it has operated in Brazil since 1995, Shiseido still imports its entire product range. According to Hideki Okada, president of Shiseido Brasil, the company intends to tap into the changing Brazilian market where consumers are actively shifting their interest from mass to prestige brands. Bare Minerals has opened two stores in São Paulo and invested in the multi-brand segment (e-commerce and retail stores), and in 2013, the brand plans to expand to Rio and the northeast of Brazil, with the opening of 15 exclusive shops. Nars products will be sold exclusively at Sephora locations.
Ikesaki Opens Brazil's Largest Cosmetic Store
Retailer Ikesaki has opened its fifth cosmetic store in the city of Santo André, located in the São Paulo metropolitan region. With 2,800 square meters and approximately 20,000 beauty items (including equipment and accessories, in addition to products), Ikesaki's new outlet is the largest cosmetic store in Brazil. Known for offering a wide range of products at affordable prices, the Ikesaki expansion demonstrates that mass, as well as prestige, is expanding in Brazil.
Like other Ikesaki stores, the new hyperstore targets both wholesalers and consumers hungry for new trends. In September 2012, Ikesaki also launched a new training center that offers courses and workshops for hair stylists and beauty therapists.
Coty Renewing Attempts to Acquire Jequiti
Coty has renewed its interest in acquiring Grupo Silvio Santos' Jequiti Cosmeticos brand, which is valued at around US$500 million. According to Bloomberg, Jequiti has hired Barclays PLC to sell the brand, which has also drawn the interest of L'Oréal.
In June 2012, Coty raised roughly $700 million to make an initial public offering, but delayed it until early 2013. However, the company has been working to boost revenue by entering new regions and reinforcing its presence in emerging markets. At press time, Jequiti, Coty, Barclays and L'Oréal declined to comment on the situation.
Roger & Gallet Opens its First Store-in-store in Latin America
Rio was chosen by French perfume house Roger & Gallet for the opening of its first store-in-store in Latin America. The concept store, located on the second floor of Drogaria Venancio, reflects the brand's plan to strengthen its presence in Brazil's drug store channel.
With furniture inspired by French apothecaries from the early 19th century, the new boutique recreates a vintage atmosphere to celebrate the brand's 150th anniversary. Until 2010, Roger & Gallet's products were found only in selected perfumeries and duty-free shops. The brand can currently be found in 550 pharmacies throughout Brazil.
Fernanda Bonifacio is a Brazilian journalist who focuses on the beauty industry, and has been published in the U.S. and Europe. She represented ABIHPEC and its member companies globally from 2002–2008.