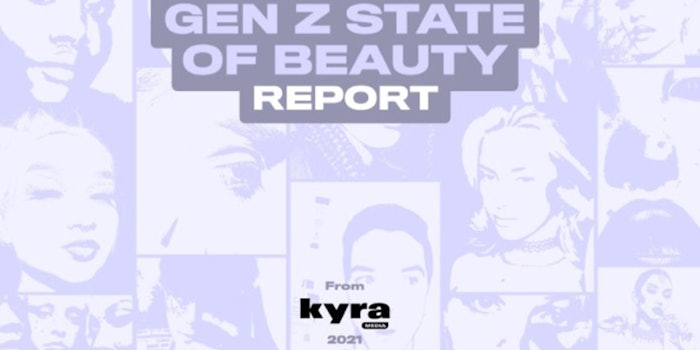 Kyra Media has released its first Gen Z State of Beauty Report, which identifies the demographic's attitudes toward the beauty industry, its brands and products. 
Previously: AARP Releases 2021 Women's Reflections Survey
The Gen Z State of Beauty Report was conducted in May and June 2021 across the United States and the United Kingdom via Instagram with 3,500 participants aged 13-25.
The report showed that skin care ranked as the leading segment in the beauty category for Gen Z. Dove is reportedly the top skin care brand among the demographic. 
In addition, Gen Z cannot live without a skin cleanser, per survey responses. 
The report also showed that Gen Z's favorite makeup product is mascara, with Maybelline as the top-ranking brand. Foundation ranked the lowest as a product Gen Z consumers cannot live without.
Values are also at the forefront of Gen Z shopping habits; 27% of respondents have actively bought a beauty product in the last six months because of its sustainable initiatives. 
Trust is also at the forefront for Gen Z's when making a beauty purchase. Respondents were more likely to add a new cosmetics product to their collection based on a recommendation from a Tik Tok influencer rather than YouTube or Instagram.
Overall, Gen Z is the most open generation with two-thirds of respondents looking to beauty influencers who are a different gender identity than their own.
Marina Mansour, Kyra Media's global head of beauty partnerships, said: "Gen Z is literally changing the face of the beauty industry to be more transparent, socially responsible and inclusive. All of these forces will impact the way products are made and marketed—it's a very exciting time for the industry."