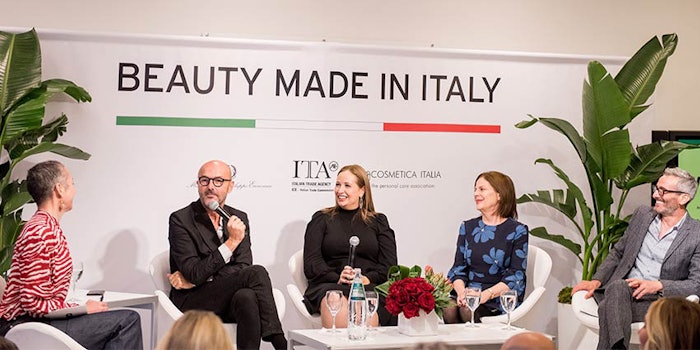 The country that gave us Leonardo da Vinci, pizza and Vespas is looking to add beauty to the list of its most famous global contributions.
Beauty Made in Italy and the Italian Beauty Council (IBC) hosted their inaugural panel discussion, The Rise of I-Beauty: Heritage, Creativity & Innovation, at the Italian Trade Commission in New York City.
Moderated by WWD & Beauty Inc. executive beauty editor Jenny B. Fine, the panel included hairstylist and Coty global ambassador Rossano Ferretti; Linda G. Levy, president of the Fragrance Foundation; celebrity makeup artist Vincent Longo; and Meredith Kerekes, head of the U.S. Beauty Desk at the Italian Trade Commission. Topics ranged from the history and innovation of I-beauty to the country's noted manufacturing prowess and the unique challenges its brands face when entering the U.S. market. Here are three key takeaways from the event:
I-beauty is everywhere—even if consumers do not quite realize it yet
"The majority of the world actually makes their cosmetics in Italy. You may not realize that, but if you look at the bottom of that mascara or your compact, you're going to see that it's most likely made in Italy," noted Kerekes. "It's intentional, it's glamorous and it's all about creativity."
Indeed, Italy's golden triangle—a geographically small area including Milan, Bergamo and Crema—is home to many of the cosmetic industry's leading manufacturers. Though the country is known for its meticulous design and dedication to quality, its brands still face challenges entering international markets.
Launched by the Italian government in 2017, the Beauty Made in Italy program—a partnership between the Italian Trade Commission and Cosmetica Italia—aims to solve that marketing problem, with the goal of increasing the awareness and availability of I-beauty brands to American audiences.
"The most beautiful products are made in Italy. Can the storytelling be improved, is there an opportunity for that? Absolutely, especially when you talk about the Made in Italy brand in beauty. I think that's what part of the goal of this Italian Beauty Council is. We don't have a luxury conglomerate like LVMH … this is an effort to try and create a consistent and cohesive message as to what is Italian beauty," said Kerekes.
The brands who succeed will be confident in their story and identity…
However, what Italian brands lack in corporate might, they make up for in not just quality, but also in the stories they tell and the unique points of view they bring to the market. One of the key challenges is getting those stories to the consumer.
"I think social media plays a huge role in telling your story and helping that marketing side of things," said Longo. "If you combine the proper marketing with the story and the authenticity … and you [bring those] to a retailer whose looking for something that is very unique or boutique, you'll have a success story. ... We have way more tools than we did a decade ago."
"It's a different world today. Now we have social media, and social media gives us this opportunity where you can tell your story… and people can turn it on if they really want to listen," said Levy. "And I believe they want to listen, and they want to hear that story."
… but will know how to adapt that to a U.S. audience  
With a wildly diverse population (in every sense of the word), it is crucial for Italian brands to hone in on who they are targeting when coming to the United States, noted Longo. "I feel like a challenge for an Italian brand is understanding the demographic. Understanding who is their customer, who they're going for."
"The biggest mistake that many Italians and French [people have made] … is that they came here thinking European," said Ferretti. "Bring your authenticity, but forget you are Italian."
That diversity also provides brands with the unique opportunity to get their products in front of one of the most varied customer bases in the world. "It's scary, it's a big frontier, there are a lot of different people," said Levy. "But if you really use the data that you understand who is buying your fragrance, it will allow you to be a success somewhere else. It'll let you know if you'll make it in South America, if you'll make it in other Western European countries, and it makes a big, big difference."
And there are a few unifying characteristics when it comes to the American shopper. "I think the U.S. consumer is more open to newness, innovation, consistency in the quality, and I think that U.S. market truly prizes those things," he noted, while the European consumer is "way more conservative."