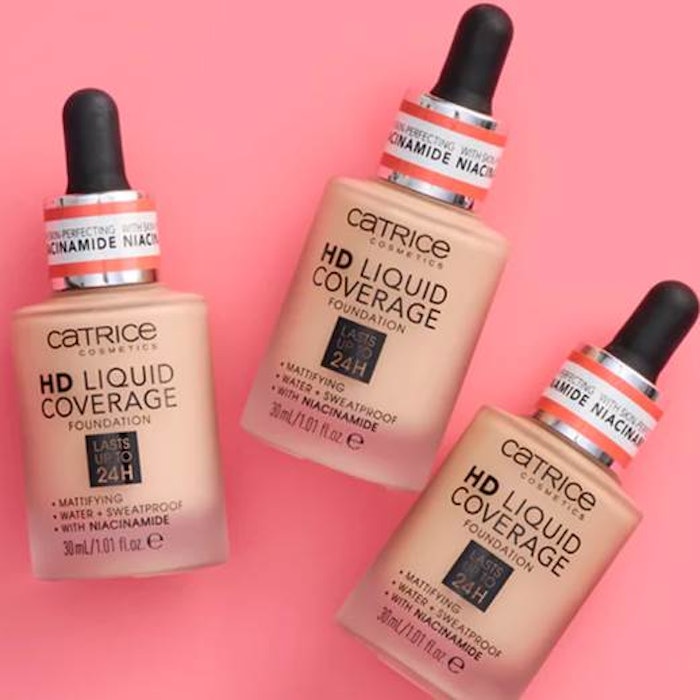 In are recent guest column, Wizz Selvey, founder of Wizz&Co, noted, "To protect their margins in this economic downturn, many beauty brands have raised their prices over the past year." In many cases, this has led to a rise in dollar sales and a decline in unit sales.
However, one brand, Catrice Cosmetics, is bucking the trend by lowering prices of its best-selling products, effective November 2022, including the recently reformulated HD Foundation and True Skin Foundation (both of which will be lowered from $11 to $10).
In addition, an array of the brand's 2023 product launches will enter the market at lower prices ($5, compared to a typical rate of $6).
The shopper-friendly strategy was reportedly made possible by Catrice's new digital direct-to-consumer (D2C) approach, which the brand adopted at the start of 2022. This flies in the face of many brands that have actually pivoted away from D2C models, which were once popular among upstart indie brands. 
Under this new D2C model, "a substantial portion of [Catrice's] business was directed toward Amazon sales, which gave the company the capability to re-strategize their launch timelines and pricing structure."
"When Catrice shifted to a DTC-approach at the start of 2022, the goal was to become more connected and engaged with our loyal users, while being able to reach a new consumer without the limiting factor of being present in physical retail," says Jill Krakowski, chief marketing officer of Cosnova Inc., Catrice Cosmetics' parent company. "We were hopeful that the shift from brick and mortar would be successful, but we have been thrilled to see that it exceeded our initial expectations."
She continues, "With the success of driving our business towards Amazon and our website, CatriceCosmetics.com, we were able to refocus our marketing spend, which afforded us the ability to decrease the price of our product offerings moving forward. We're happy this came at a time when consumers need it most."
Krakowski notes, "[B]y refocusing our marketing efforts to a 100% digital plan, we were able to improve our online sales and outperform our estimations. The DTC strategy has also allowed us to deepen our relationship with our consumers and gain more fans. That, coupled with the news of our price decrease, has allowed even more beauty lovers to discover our products thanks to maximum affordability and accessibility, which we are confident will sustain us moving forward."
Krakowski acknowledges the price decreases defy the direction of the general market.
"It's no secret that many brands have been experiencing price increases—with inflation and massive supply chain issues, it has seemed almost inevitable," explains Krakowski. "Luckily what we've been seeing throughout the industry are very slight increases, that seem only absolutely necessary. It's evident brands don't want to raise prices any more than consumers want them to, which I think is bringing a more human aspect to this new reality we're all facing together."