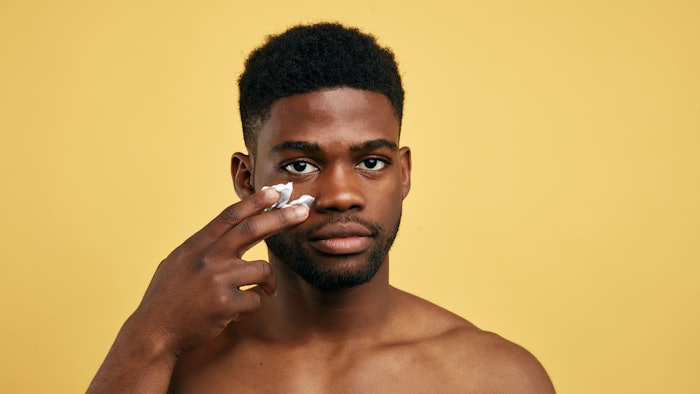 A survey conducted by OnePoll, on behalf of CeraVe revealed that Gen Z and millennial men would rather go on a bad date than take care of their skin. 
The survey of 2,000 men, ages 18 to 26, aimed to discover men's habits and attitudes towards skin care. A key insight from the survey reported that 42% of men claimed they need someone to confront them about their skin care regimen. 
According to the report, 42% of men first started practicing skin care between the ages of 15 to 17, but only 35% wash their face, 19% moisturize and 33% have no skin care routine at all. When begging the question of what sparked an interest in the need for a skin care routine, the survey found that 50% of men were influenced by a first date and 48% by their first job. 
Half of the men polled reported they would rather go on a bad date, or a doctor's appointment (49%) than practice a skin care regimen. 45% of men even prefer to clean out their e-mail inbox, and 41% would do their laundry by hand for a month than take care of their skin. 
Related: 5 Protocols Tailored to Men's Skin Care Concerns
The survey also revealed that 76% of men in relationships slowly use more of their significant other's personal care products. These products include hair shampoo or conditioner (43%), moisturizer (41%) or cleanser (32%). 71% of men are more likely to borrow their partner's skin care products than purchase their own. 
As for a possible reasoning for this lack of skin care usage, 21% of men reported that they don't know what ingredients to shop for and 17% said there are too many products to choose from. 
"This research shows many Gen Z and millennial men are familiar with aspects of skin care but haven't necessarily formed habits around them," says Jasteena Gill, VP of Marketing at CeraVe, as reported in an article by Practical Dermatology. "However, we know that there are certain motivators for taking care of their skin, which is why people deserve skin care staples in their daily routines that are effective and easy to use."
For the men who do have a skin care regimen, 49% used an all-in-one product when they first started their skin care journey, but 92% reported switching to a more specialized skin care product at some time.