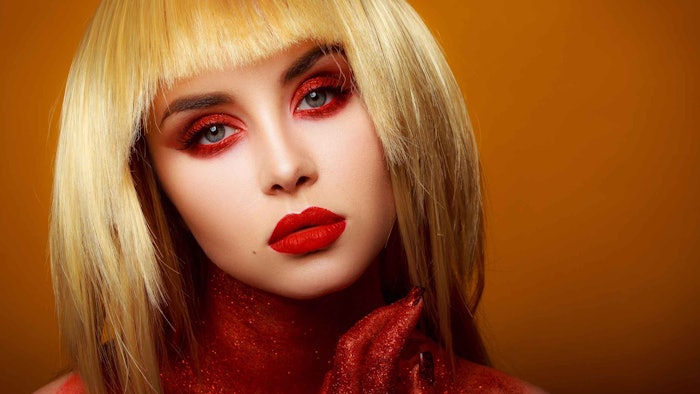 Inthrblvck
Our weekly Consumer Pulse reports on LinkedIn and Facebook cover the latest trending topics related to cosmetics as reported by Google Trends, Exploding Topics and TikTok. Here's our latest batch.
1. Raldh Cosmetics (+900%)
Topping our Google Trends search this week, "Raldh Cosmetics" recently featured an Instagram "unboxing" of its Halloween-inspired "Vampire" line of makeup. The lipstick and eyeliner duo come in the same reddish tone and are packaged in a mock biomedical blood bag. The bag itself, complete with fake blood, can be refrigerated and used as a cold pack to apply to inflamed skin (the bag as a whole, not the blood). The lipstick is formulated for lasting wear.
2. Elective Cosmetic Surgery (+300%)
Searches on "elective cosmetic surgery" made the Google Trends top ten list, too. This obviously delves deeper than our industry does, so we'll just mention it.
3. Lisa Barlow No Makeup (+300%)
Also a stretch from our industry, Google searches on "Lisa Barlow without makeup" also landed in the Google Trends top ten list. This reality TV star of the Real Housewives of Salt Lake City made recent headlines when she refused to dress in drag for an on-location shoot, instead flying in her own "glam"; aka makeup artist. Spin-offs from this drama reported she spends some $60K/year on "glam" — the retainer for her makeup artist.
4. Taylor Swift No Makeup (+230%)
Beloved musician Taylor Swift, in this case without makeup, rose in interest on Google Trends searches. No apparent news reports indicate why, so we'll just mention it, too.
5. Moira Cosmetics (+90%)
Google searches rose on "Moira Cosmetics," which could be fueled by the Trendspotters report on the Top 100 Cosmetics in September that mentioned the brand; namely, its Loveheat Cream Blush. The product is said to balance cost and performance but was especially touted for its packaging, which is transparent and makes the product itself visually pop. The brand promises sustainability to its patrons. The formula is reportedly light and features coconut oil and aloe vera to nourish skin and "contribute to a dewy and flushed finish."
6. Ceramide Serum
Exploding Topics reports "ceramide serum" has gained dramatic ground with consumers. Designed to strengthen and repair skin, ceramide serums are gaining popularity thanks to the DTC brand Cocokind, the firm notes, adding that "ceramide serum" is part of the larger "ceramide skin care" trend.
7. Rosemary Shampoo
Another trend Exploding Topics highlights is "rosemary shampoo." Said to moisturize the hair and scalp, rosemary shampoo's growing interest is attributed to the Mielle brand. TikTok videos on this shampoo have garnered some 15 million views, too, per the firm. Notably, Cosmetics & Toiletries previously discussed the popularity of rosemary for hair growth in an interview with Instagram influencer @TheMelaninChemist, Esther Olu.
8. Cottagecore Beauty
Lastly, per The Zoe Report, "Cottagecore Beauty" is an easy-to-achieve makeup look trending on TikTok. The look is described as enhancing one's natural beauty while "channeling ethereal charm," and feeling like "a countryside fairytale character." The "romantic yet wholesome" look portrays a feminine, glowy and subdued appearance; aka the "no makeup makeup look."