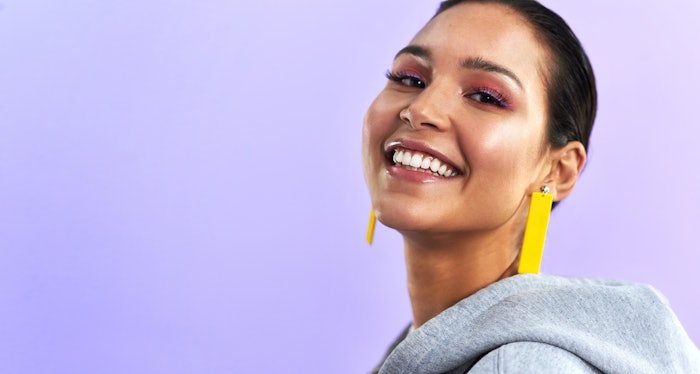 Emil Lime/peopleimages.com

U.S. prestige beauty industry sales revenue grew by 14% year-over-year for the first nine months of 2023, according to Circana, while mass grew by 8% in the same period, signaling continued strength in the industry. Average prices across nearly all categories increased during the period.
(Review Q1 and first-half 2023 mass and prestige beauty sales results here.)
"We expect the resiliency of the beauty industry to extend through the last quarter of the year," said Larissa Jensen, global beauty industry advisor at Circana. "This holiday season, we anticipate growth for the prestige beauty market, despite the consumer pull back we are seeing in other general merchandise industries. But as consumer spending power is squeezed, they will make choices that reflect what is important to them. Beauty brands that effectively tap into this emotional connection will be in a position to succeed this holiday season."
Skin-forward formulations drive makeup
Makeup spend per buyer on makeup increased by 10% so far in 2023, while purchase frequency rose by 4%.
For these reasons and more, makeup was the fastest-growing sales revenue performer in prestige beauty, driven by skin-forward lip product formats like balms and oils, as well as lip gloss, which has outperformed lipstick. (Read our deep dive on the phenomenon in "Hydrating & SPF-powered Lip Color.")
Face makeup's segments all grew in the first nine months, while eye makeup sales posted soft growth.
Skin care units on the rise
Skin care posted the fastest-growing unit sales in prestige beauty and was the only category with flat average prices.
Face serums grew 21% in dollar sales for the first nine months of the year, while face cream jumped12%.
Notably, body skin care continued to outpace the overall category.
Value dominates fragrance
Consumers are pivoting toward lower-priced prestige fragrance products, leading to slower demand for high premium luxury scents, which increased in units by just 1% in the first nine months of 2023. This has led to soft increases in the category's average selling prices. 
Fragrance sets continued to benefit from the value-focused trend, increasing "more than double the rate of juices," per Circana.
Prestige hair care dominates
Prestige hair care demand has remained elevated, led by double-digit growth in most care and styling segments.
Conversely, mass hair care units sold varied by category.