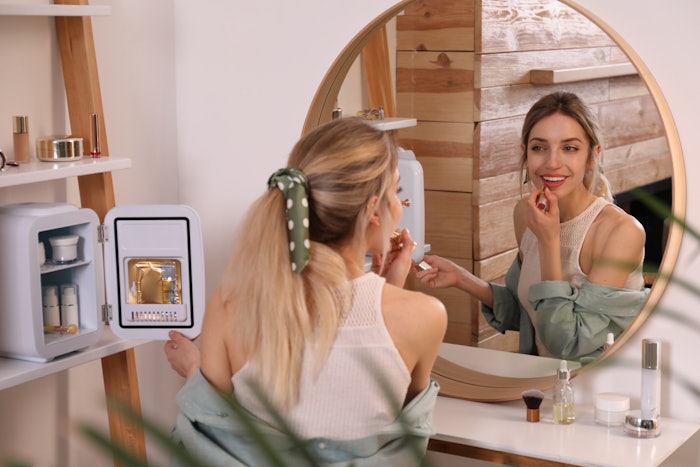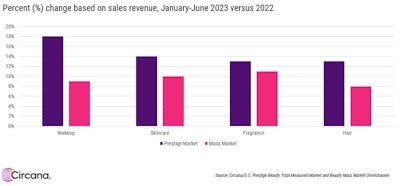 Q2 2023 U.S. prestige beauty industry sales totaled $14 billion in the first half of 2023, a 15% increase versus the same period in 2022, per Circana. This is roughly in line with the 16% growth witnessed in Q1.
Mass beauty sales grew at half that pace, 9%, in the first half, totaling $28 billion. That, too, is roughly in line with the 10% growth rate of Q1.
Notably, beauty is the only sector tracked by Circana that has grown based on units sold. 
Makeup Leads Growth
Prestige U.S. makeup sales grew 18% in the first half of the year, faster than any other category, while mass sales grew 9%. While impressive, those rates are somewhat down from the growth rates seen in Q1 (prestige: 24%; mass: 15%).
Growth is being driven by a 3% rise in consumer makeup usage, according to Circana's 2023 Makeup Consumer Report.
As in Q1, lip products were a highlight; in the first half of 2023, lip makeup was the fastest-growing product category across the prestige and mass sectors.
Skin Care Leans Clinical
Prestige and mass skin care grew at about 14% and 10%, respectively, representing a slight gain in pace for prestige and a level growth rate for mass, versus Q1.
Per Circana data, 67% of surveyed consumers say that "skin care brands at drug stores or mass merchandisers are as good as higher priced department store brands." This represents a rise in such sentiments, year-over-year.
Global Cosmetic Industry previously reported on prestige skin care's premiumization challenge, which is driven by accessibly priced brands that are increasingly delivering effective, clean and even sustainable formulations at easily manageable price points.
Top skin care performers in the first half included prestige face serums, body sprays and facial cleansers, though clinical brands reportedly brought in the majority of the prestige skin care sales gains. The strength of clinical brands is in line with a trend seen in Q1.
Facial skin care sector sales are flat year-over-year, with usage remaining steady. That said, makeup-skin care hybrid products are ascendant in the category.
Fragrance Driven by Value
Prestige and mass fragrance sales grew at about 13% and 11%, respectively, in the first half of 2023, compared to 15% and 13% in Q1 alone.
Value was the watch word, giving a boost to gift sets (up 26% year-over-year), higher concentration fragrances and mini sizes (accounting for 38% of total juices sold), the latter of which allows shoppers a taste of pricier scents at an accessible price point. All of these value categories are outperforming the overall prestige fragrance market, per Circana, a trend that continues from the start of the year.
Despite popularity of these categories, eau de parfums and parfums were the only formats to experience a year over year increase in units sold.
Prestige Hair is Booming
Hair care prestige and mass sales grew 13% and 8%, respectively, in the first half of 2023, a modest uptick from the 11% and 7% charted in Q1. 
Mass leads sales revenue for the sector, yet Circana notes that "hair product sales continue to grow at a faster clip in the prestige business, with online capturing about half of the sales." Styling represented the fastest-growing segment in prestige hair for the first half of the year.
Notably, the hair category has had the highest average price increase in the prestige beauty market, growing at three-times the rate of the overall industry.
Beauty is an Outlier
"Beauty continues to be the darling of retail through the first half of 2023, maintaining its position as the only industry to grow based on units sold across the general merchandise and consumer packaged goods categories Circana tracks," said Larissa Jensen, beauty industry advisor at Circana. "The beauty industry is hitting the right notes, meeting consumers' emotional needs through new and existing products, which is especially welcomed at a time when spending power continues to be squeezed."