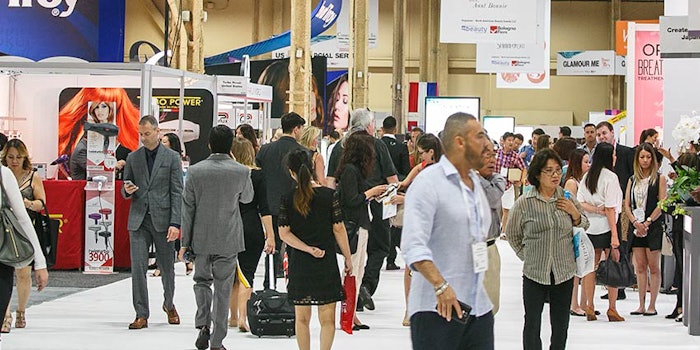 Cosmoprof North America (CPNA), taking place at the Mandalay Bay Convention Center in Las Vegas, Nevada, July 9–11, 2017, prides itself on being the only trade show of its kind to feature more than 1,100 exhibiting companies covering all facets of the industry under one roof.
While that number may seem daunting, small up-and-coming brands have a strong voice and stand out in the carefully crafted special areas throughout the show. Whether introducing new special areas or offering leading educational sessions, the event is full of trend directional initiatives.
The Digital Path to Purchase
There are two extremes in retailing today, one where technology rules and the other where the human touch is at the forefront. Sephora is a great example of a retailer that has successfully incorporated technology into its business.
This goes beyond traditional e-commerce methods to in-store experiences. Through the ModiFace-powered Sephora Virtual Artist applications, consumers use interactive mirrors to try on a plethora of makeup shades, access tutorials from leading online influencers and much more.
MatchCo, on the other hand, uses its digital prowess to customize makeup. Users download the company's app and take images of various parts of their skin. MatchCo scans and analyzes these images to create custom blends of foundation that are unique to each user.
During a CPNA conference session titled "Beauty + Tech = A Beautiful Marriage," the founder and CEOs of MatchCo and ModiFace will join the industry manager of Kline Group's consumer products practice to discuss the best non-intrusive ways to use technology to help move more products and connect with consumers conference session at CPNA.
Moderated by WWD's Critical Mass reporter, Faye Brookman, attendees can expect to gain key learnings from these leaders.
"One of the biggest challenges, especially in stores without service, has been finding the right shade," said Brookman. "Too often, women get home and are disappointed, which reflects poorly on the brand and the store. Technology is answering the need, offering easy ways to see beauty looks. And while it may seem [the technology] would take customers out stores, it is more of a discovery that still drives shoppers to physical stores for purchase."
Global Cosmetic Industry editor in chief, Jeb Gleason-Allured, will moderate a session, "Disruptive Beauty," which will focus on the underlying consumer and tech trends driving the latest market innovations and their future implications. Attendees will hear from Google, which will address beauty trends derived from its data, as well as executives from Madison Reed and HiMirror.
Gleason-Allured explained, "Silicon Valley-style thinking is reshaping the beauty industry with an increased focus on innovation, the consumer experience and all-mighty data."