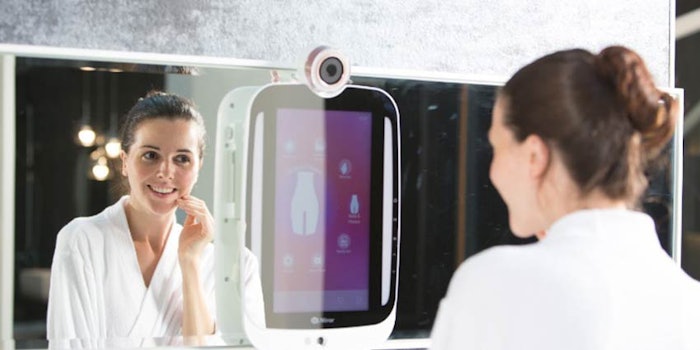 Earlier this year, SimpleHuman launched a stainless steel, wifi-enabled Sensor Mirror Pro Wide-View, which featured side panels and retailed for $400. Now, HiMirror has upped the game by launching a product that can offer personalized skin care analysis based on a user's skin condition over time. It can also offer feedback based on weather conditions and other expernal factors.
As shown on the brand side, beauty is getting more connected.
The steep price tag ($259) means that HiMirror won't exactly become ubiquitous, but it portends the impact of the smart home movement on personal appearance and grooming.
HiMirror measures approximately 11" x 16.5", is humidity-resistant and is intended to be affixed to bathroom mirrors, closedts or walls.
The mirror "sees" with a high resolution camera that can analyze makeup-free photos of users and produce what it calls a Skin Index Synthesis repport focused on firmness, brightness, texture, clarity and other aspects. The facial recognition tech can recognize multiple people, meaning it can be a family resource.
It can also detect dark spots, red spots, dark eye circles, wrinkles, pores, fine lines and other complexion elements.
The mirror is WiFi-connected and Bluetooth-enabled and can be synced with weather sites, a Google Calendar and Spotify.
"We are excited to bring to market the first-ever smart beauty mirror, truly revolutionizing the modern beauty routine," said Simon Shen, CEO of Taipei-based New Kinpo Group. "HiMirror is a technology-driven tool that will become indispensable for consumers – an essential part of their daily beauty routine helping them evaluate their skin and what works for their individual skincare needs."