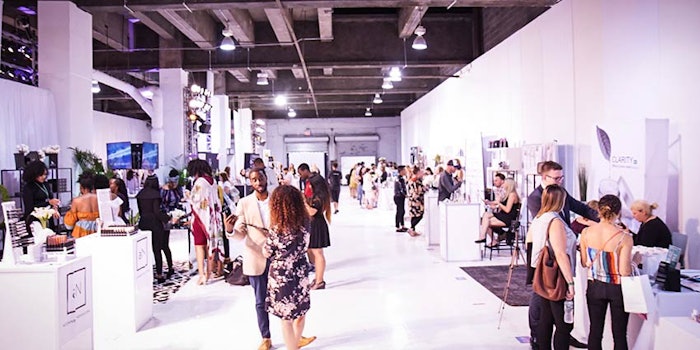 Indie Beauty Expo returned to New York in August with more than 220 exhibitors, displaying a range of trends that are disrupting the industry. Among the highlights was the confluence of high-design eco-luxury brands and food-inspired concepts. In every case, a focus on recognizable ingredients and transparent sourcing were key. 
Listen: What it's like to start an indie brand.
Read: Jillian Wright discusses indie beauty.
Feed Your Lips
Cindy Luken, CEO of Lük Beautifood, is an Australian food scientist and product designer. Her brand, founded in 2012, is expanding in the United States and comprises 12 natural sheer lipsticks with creamy, soft and nourishing formulations.
Highlighting "the beauty of food," Lük Beautifood's Lip Nourish is formulated with avocado, sesame oil and cacao butter for moisturization, ginger and spices for anti-inflammatory activity, citrus to combat free radicals and beeswax and lecithin to lock in moisture. Shades include Tea Rose, Nude Cinnamon and Tangerine Pomegranate.
"Our products aren't tested on animals and are proudly made in Australia following the guidelines for Cosmetics Europe and TQM and Australian Certified Toxic Free," according to the brand.
The brand retails in several U.S. outlets, including Anthropologie online. The lipsticks are packaged in soft-touch packaging featuring a magnetic cap for a luxury feel and are wrapped in soft cloth wraps instead of boxes.
Listen: Indie brand Florapy channels K-beauty.
Fresh-faced Smoothie Skin Care
Stephanie Peterson, founder, Smoothie Beauty learned K-beauty recipes from her grandmother and translated this knowledge into a range of organic skin care products in a food-grade kitchen in New York. Smoothie Beauty, which is effectively one step removed from DIY, offers refrigerated facial masks packaged in squeeze packs, similar to some baby food and health products.
The edible Fresh Face Masks feature brief ingredient lists and include the anti-aging Goddess, comprising whole milk Greek yogurt, olive oil, Manuka honey and lemon juice, the stimulating Awaken, featuring raw cacao powder, almond milk, maple syrup, coffee granules, and unrefined coconut oil, and the hydrating Jungle, featuring avocado, raw honey, avocado oil, coconut water and lime juice.
Smoothie Beauty also offers Smoother Boosters that can be added to masks for a dose of customization, including energizing Maca, detoxifying Charcoal and anti-aging Matcha.
The availability if SKUs varies depending on the season and can be shipped or retailed chilled. Vendors will need to use a refrigerator to offer consumers the experience of shopping for a fresh product, which has a relatively brief shelf life, which Peterson views as a point of authenticity and differentiation.
Listen: The front lines of the clean beauty revolution.
Wild Beauty
Girl Undiscovered—"straight from the wilderness and close to the heart"—offered Balinese coconut oil-infused skin care from New Zealand. The Stumbled Across Paradise face mask (120 ml; $33) features thanka from Burma, coconut oil and wild kanuka honey to polish, plump, soothe and moisturize the skin.
The Stars Aligning Elixir Oil (50 ml; $48) comprises coconut oil, thanaka, kanuka honey, calendula, bergamot oil, argan and raspberry seed oil, and camellia oil. The elixir reportedly offers antibacterial and antioxidant protection, calming and lifting properties, and moisturization.
Topical Fasting for Your Skin
Tathiana Cornejo is the co-founder of eco-luxury skin care brand Ayuna, which was developed in Spain and launched in January 2017. In line with broader cultural shifts and a recent op-ed from Allure magazine, Ayuna focuses on less-is-more beauty and touts well-aging, versus anti-aging.
The brand recently introduced its Ayuna Ceremonies products and treatments for the spa channel. The goal, says Cornejo, is to make the consumer an active participant in their own highly sensorial and emotional green treatment experience. The four-step regime amounts to "topical fasting for your skin," she explained. The brand currently retails in the United States and Mexico.
Ayuna's 50–80 minute rejuvenating facial experience focuses on aroma, sound and touch. The ritual begins with a cleansing, followed by the inhalation of "aromatic vapor." Next is a carboxygenation process, followed by Ayuna's exclusive Well-Aging Geometric Massage "based on the golden ratio," and, finally, the application of a mask, cream and aromatherapy.
The treatment contains botanical cell factors from cotton, green carrot and pomegranate, and phyto peptides from tumeric root and Centella asiatica. The result, according to Ayuna, is a calming effect and brighter and firmer appearance for the skin.
Ayuna's Volcano Lift is designed to "firm and detoxify" using volcanic glass and activated carbon. The ritual includes hand and foot reflexology and a facial lymphatic drainage massage. The 50-minute ritual comprises cleansing, brossage, a mask, the application of a cream and, finally, aromatherapy.
The 25–55 minute volcanic sleep mask offers a rejuvenating eye contour and a three step massage preceded by cleansing and exfoliating. The volcanic glass sleep mask is applied along the eye contour to provide soothing and firming effects.
Ayuna's 25–90 minute Revitalizing Body Experience offers a buffing with hand-crafted luffas infused with a "beauty elixir," as well as directed breathing techniques "to create awareness of the present moment" Allow yourself the time to disconnect and achieve long term emotional and overall wellbeing benefits.
Watermelon Seed Skin Doping
Dope Naturally is a plant-based protein beauty-from-within brand that recently launched in New York. Its signature Melonaid (14.8 oz; $45) comprises whole live, sprouted watermelon seeds, which are rich in arginine and lysine, which promote collagen formation, improve metabolism, support toned skin, and generally contribute to a youthful and vibrant appearance, according to the company.
The formulation also contains beets for energy, oxygen flow and anti-aging properties, dragonfruit for healthy skin and weight management, mangosteen for anti-aging and anti-inflammatory properties and energy, strawberries for flavor and anti-oxidant content. Melonaid, which is organic, vegan, paleo, gluten-free and raw, can be sprinkled into yogurt, granola, pancake mix or incorporated into a smoothie.
Dope Naturally, which claims to be "Tested on New Yorkers—not animals," also offers Beet Force ($35), an "energy, stamina and beauty boost," which contains beets, dragonfruit and mangosteen, as well as mulberries for improving blood circulation and the "glow" of skin and hair.
The formulation can be mixed into water, coconut water, lattes, smoothies and even yogurt. The brand's Beet Bliss ($35) comprises beets and mangosteen, as well as raw cacao for cell rejuvenation and a youthful complexion and baobab, to promote collagen formation,
Food for the Skin
Sanre Organic Skinfood offers a range of USDA-certified organic beauty and personal care products formulated with well-known ingredients. SKUs include the C~Love moisturizer featuring acerola cherries, the Bright Eyes makeup remover, featuring cold-pressed olive oil, rosehip seed oil and Bulgarian rose essential oil.
The Eye of Youth eye cream features baobab oil, safflower oil, prickly pear seed oil and vegan hyaluronic acid, while a new line of body creams comes in Rose, Lavender, Orange or Vanilla Sensation. 
Back to Botanicals
Jennifer Botto, founder and perfumer for Thorn & Bloom botanical perfume, grew up on farm and created her fragrance line to reconnect with scents as an agricultural product.
Listen: Jennifer Botto discusses Thorn & Bloom.
Thorn & Bloom focuses on the terroir and seasonality of ingredients and includes best-seller Bird of Paradise, featuring top notes of ginger and lemon, middle notes of jasmine sambac, and base notes of frankincense, sandalwood and an ambergris accord, as well as Savage Garden, featuring top notes of mint, middle notes of ylang, tuberose and palo santo, and base notes of vetiver, orris and sandalwood.
The fragrances are formulated with triple-filtered USDA organic grape alcohol and retail for $12 (sample) to $200 (30 ml atomizer).
Read: Indie Beauty's Authentic Revolution
Harnessing Nature's Vibrations
Max and Me takes the focus of naturals to a spiritually leaning, eco-luxury positioning. Focusing on rituals, mindfulness, healing and wellness, the brand, co-founded by husband and wife Tanja and Max Gruber, produces a range of small-batch skin care. The brand is best known for its trio of facial oils—Enchanted, I Am the Light and Purity & Grace—which offer pampering, skin radiance and spiritual benefits.
Max and Me positions its natural ingredients by both benefits and vibrational qualities. The brand claims, for instance that immortelle promotes "inner peace and inspires how to overcome difficulties," while ylang ylang "imparts joy of life and deep relaxation."
Climate-built Skin Care
Pour Moi, a climate-designed skin care brand, debuted at the Indie Beauty Expo. The Réponse du Climat collection includes eight SKUs, including four Day Creams, two Serums, a Hydrating Balancer and a Night Cream.
The Day Creams comprise Climate Energized Beautifiers, which reportedly respond to climatic, geographic and seasonal changes. For instance, the Polar Day Cream contains squalane oil and shea butter to act as a barrier against harsh winter winds and frost, and white truffle to address fine lines, wrinkles and dull skin.
"Rather than the typical 'skin type' model, Pour Moi bases their regimen on climate, a brilliant way to approach self-care," says Indie Beauty Expo co-founder Jillian Wright. "Whether you spend year round in one climate or are the globetrotting traveler, Pour Moi helps you achieve healthy skin anywhere you go."
"When skin is in harmony with its environment, skin care ingredients work at their optimum levels, penetrating deep for maximum hydration, youthfulness and glow, meaning our users can have a truly happy face, anyplace," says Ulli Haslacher, founder of Pour Moi.