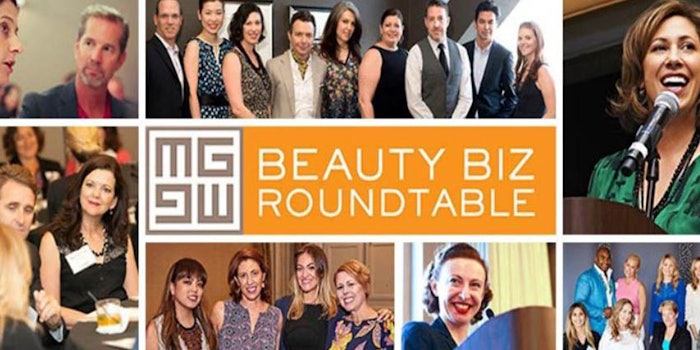 Global Cosmetic Industry magazine will be sponsoring Mazur Group's bi-annual Beauty Biz Roundtable 17 (BBR17).
The event will feature executives from brands including Algenist, Sephora Collection, Ouai Haircare and more, discussing topics related to influencer marketing, app development, clean beauty and more.
Additionally, the event will present leaders from the natural and organic beauty space—which is expected to reach $13.2 billion by 2018—including Beautycounter, Moon Juice and Youth to the People.
Related: Youth to the People Receives Minority Investment from Strand Equity
"Our BBR series is the only platform that truly offers a sense of community and idea-sharing in the beauty industry. When we are given the opportunity to come together in this forum where speakers connect directly with their peers, the ideas that are sparked – from marketing innovations to essential steps when scaling a business - are incredible," said Mazur Group CEO Frances Mazur. "Our goal is to provide invaluable connections for the beauty industry as a whole. After every BBR event, we see both current and new businesses flourish and powerful partnerships form."
Roundtables, and their industry expert facilitators, include:
Trina Albus, founder and president, the Magenta Agency - "Breaking through the Noise with Influencer Marketing"
Elizabeth Ashmun, president, Moon Juice - "Developing and Maintaining a Purpose-driven Culture"
Nimrod Basri, founder and CEO, Make USA - "Day 1: The Operational Perspective of Building a Company"
Joe Cloyes & Greg Gonzalez, co-founders, Youth to the People - "Looking Beyond the Influencer and the Micro-Influencer to The FOTB's (Friends Of The Brand)"
Amy Denoon, CEO, Beach House PR - "Socially Savvy - 5 Things to Build a Better Beauty Brand on Social"
Jill Dunk, partner, The Pienza Collective – "How to Build your Army in a Gig Economy"
Jessica Goldin, SVP of marketing, Beautycounter - "The Trend Towards Clean Beauty – Where is the Industry Headed"
Annie Jackson, COO, Credo Beauty – "Who Shops for Clean Beauty and How to Meet their Demanding Standards"
Margaret Kress, CEO, Toppik – "From Labor of Love – To Ready for Sale"
Sasha Plavsic, founder and creative director, ILIA Beauty – "Clean Beauty – A Dialogue on What It Means to Be Clean"
Thomas Rankin, co-founder and CEO, Dash Hudson – "How the World's Best Beauty Brands are Dominating on Instagram"
BBR17 will be held Wednesday, April 25, 2018 from 5:30pm – 9:00pm at Le Méridien Delfina Santa Monica Hotel.