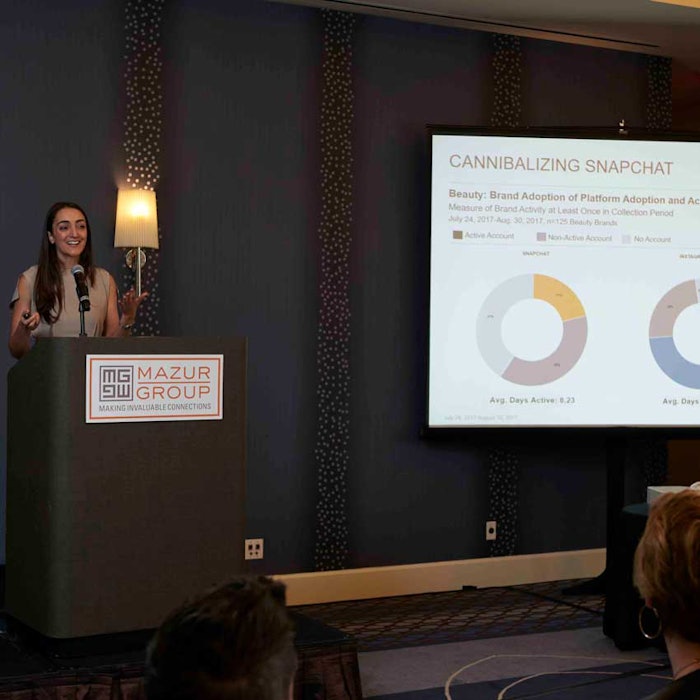 Elizabeth Maul, EVP of brand development at Luxury Brand Partners, which has had success with beauty brands such as Oribe, Smith & Cult and R+Co, recently spoke at the Mazur Group's BBR16 event in Santa Monica.
There, she focused on the cultivation of internal innovation culture and echoed the Harvard Business Review's insights that CEOs who innovate spend vastly more time on discovery activities compared to their conventional counterparts. Maul noted that organizations need innovation "nourishment" and should focus on five key elements: observing, questioning, associating, experimenting and networking.
L2's Giulia Prati, meanwhile, discussed the difficulty the fragrance category has faced in engaging consumers visually on social platforms such as Instagram, as well the challenges it faces due to seasonality. Because there are few fragrance influencers, Prati suggested that brands promote around smaller gifting occasions and gifts with purchase, rather than placing all their focus on the marquee holidays.
Skin care, meanwhile, has picked up steam on social media, with Instagram engagement on the rise via transformational and demonstrational videos. In addition, the merging of skin care and makeup products has also assisted this transition, she said.
"When the beauty community is given the opportunity to come together in this intimate forum, the ideas that are sparked—from marketing innovations to essential steps when scaling the business—are incredible," said Frances Mazur, CEO of Mazur Group. "More importantly, we give our speakers the opportunity to directly connect with their peers in a smaller, more intimate setting, which is rare in the beauty industry."
BBR16 also featured roundtable presentations from Shasta Blaustein (ColourPop), Laura Chisholm (Becca Cosmetics), Lizzie Francis (Brilliant Ventures), Brian Freeman (Heartbeat), Shannaz Schopfer (Anisa International), Ryan Sieverson (Seven Haircare) and Jonathan Weiss (Freeman Beauty).