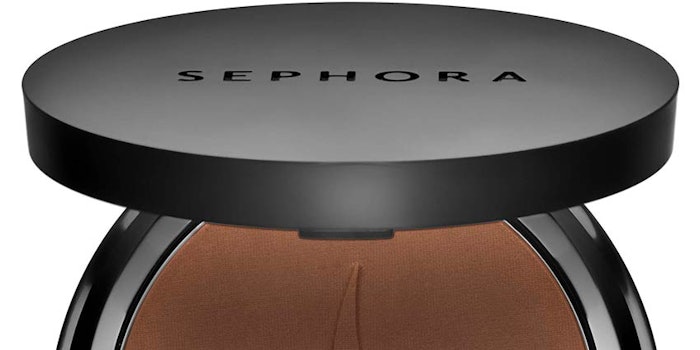 A Massive SKU Range
Last fall, Sephora Collection launched an assortment of new products designed to uncomplicate beauty for their clients. In complexion, the brand launched Matte Perfection Powder Foundation (pictured), which is a buildable powder foundation available in an extensive range of more than 35 complexion tones, ensuring a shade for all.
Other new product launches included Sephora Collection Lashcraft Length & Volume Mascara (pictured), a jet black mascara featuring a dual sided brush, and Sephora Collection Pro Airbrush Perfector #51 (pictured), a foundation brush that works with a multitude of formulas for an all over flawless finish.
In addition to core and seasonal launches, Sephora Collection also seeks out and creates unique partnerships with other brands. Partnerships have included Alexis Bittar, Karen Walker, Mara Hoffman, and House of Lashes, a line of exclusive, luxe false lashes.
To keep up with the pace of trends, insights and launches, the North America Sephora Collection team has grown in recent years, said Brooks, allowing it to meet the emerging needs of the market.
Today, said Brooks, beauty is a conversation, or dialogue—not a one ways street. Social media has forever changed beauty and beauty knowledge via consumer recommendations, inspirational and sharing platforms such as Instagram, Snapchat and video tutorials from influencers. Being a part of that conversation, both as a listener and provider of content, is important for any brand.
Rapid Innovation
Restlessness and speed to market is critical to Sephroa Collection's success. For more trend-driven SKUs—the latest highlighting product, color correction solution or matte metallic lip powder—the group might fast-track a project in under 12 months. 
Communication is Everything
Brooks noted that "communication is critical" when working on a small team, so she spends much of her time on the phone and in meetings. While no day is "typical," Brooks said that she often begins her day with calls to the Paris team regarding global projects, products and packaging, and brand and supplier strategy.
What's Next?
When asked about emerging trends she's most focused on, Brooks highlighted:
Makeup-to-skincare bridge products
High-performance ingredients
Smog and pollution protection trends
Customized multi-format products
Travel-sized products
About Molly Brooks
Director of Product Development, Sephora Collection
How She Got Her Job
A born beauty junkie, Brooks, moved to LA to begin her career at Smashbox (acquired by Estée Lauder in 2010). She worked across multiple tasks, including purchasing, sourcing, market assessments, product conceptualization and project timelines.
Brooks did a brief stint with a personal care contract manufacturer, which taught her about the manufacturing side of the industry, before joining the ranks at Benefit Cosmetics in San Francisco. There, she received a crash course in product marketing, while LVMH honed her strategic skills.
These experiences led to an opportunity to work for Sephora Collection in product development.
Career Advice
1. People want to work with flexible people. When entering a new organization, it is critical to observe and learn the needs of the business, with an all-hands-on deck mentality, said Brooks. This disposition speaks volumes about one's potential.
2. Trust yourself. People do things differently, said Brooks. There are many ways to accomplish the same goal, many paths to the same solution. She added that no one has all the answers, and that much of the beauty business is about hypothesizing, and making educated guesses and estimations.
Young professionals may be prone to doubting themselves. Brooks' advice: Take risks, push yourself and be a little uncomfortable, you'll gain trust in your decision making over time, and so will others.
3. Celebrate and create. Brooks said it is important to celebrate the creativity and successes of others. By doing so, teams will thrive. Brooks explained that being overly critical can stifle creativity, resulting in less innovative and disruptive thinking.