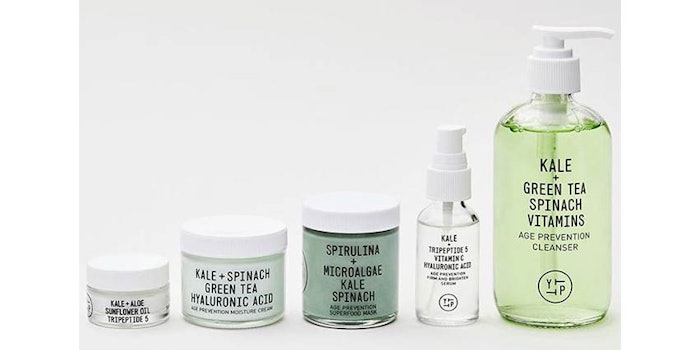 @youthtothepeople/ via Instagram.com
Youth to the People (YTTP) has received a minority investment from Strand Equity, reports Forbes. Details of the transaction have not been disclosed.
Read more about the brand in: Natural Market Moving from Niche to Norm
YTTP, which specializes in vegan, superfood-based skin care, is expected to triple its revenue in 2018 according to the publication. The brand plans on being stocked at more than 800 Sephora stores across North America by the end of the summer; it began selling on the Sephora website in late 2016. (It can also be found at Nordstrom and Anthropologie.) 
Brands in the Strand Equity portfolio include Zoeva, HUM Nutrition and Vita Coco.
Related: [special report] Natural, Sustainable & Clean Beauty 2017-2018
"I think the biggest trend that we are seeing in food and beverage is 'better for you' clean ingredients – and clearly beauty is piggy-backing on this trend," Strand Equity co-founder and managing partner Seth Rodsky told the publication. "When we connected with Youth to the People and really dug in we discovered they are a category creator. Leading with superfoods, skincare and simple packaging gives the brand distinction and makes it a breakthrough brand."
Strand plans on playing an active role as investor, including occupying a seat on the board of directors. Added Rodsky: "We will be the consigliere. We will help with the team build-out, marketing, brand building, and corporate supply chain. We think the brand has permission to play horizontally in other categories. We want to build a great and durable brand; we are long-term players."