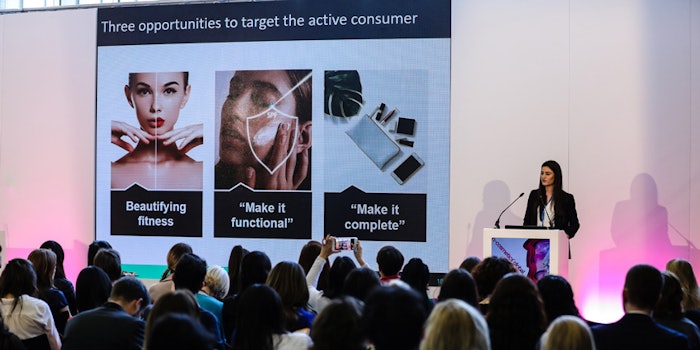 During the upcoming in-cosmetics Global 2020, in Barcelona, event attendees will be given the opportunity to attend the free Marketing Trends Theatre and Technical Seminars. 
The event, which will be held on March 31–April 2, 2020, will provide sessions focused on "the most up-to-date insight into the trends influencing the global personal care industry, as well as exclusive hints and tips for new product development over the next 12 months."
Marketing Trends Theatre
"From A-beauty to K-beauty: a tour of the world's beauty hotspots." Gabriella Beckwith, senior analyst–Beauty and Fashion at Euromonitor, will discuss the country-branded beauty movement.
"C-Beauty is a market to watch and get inspiration from." Alice Li, senior research analyst of Beauty and Personal Care at Mintel, will highlight products, core categories and consumer findings to better understand how China is impacting the world of beauty and how brands can make their mark in this "complex yet rewarding" market.
"

Developing an effective omnichannel distribution strategy as a new beauty brand

." 

Co-founders of BYBI Beauty, Elsie Rutterford and Dominika Minarovic, will discuss 

how they built their distribution platform through Boots and Sephora globally, and how they avoid their multichannel strategies from competing with one another.
"Indie beauty—Panel discussion." The panel will include Lorraine Dallmeier, CEO of Formula Botanica; Quentin Higham, managing director of Byre Bodycare; Laura Rudoe, director of Good Ventures; and Kate Porter, founder of Harborist.
"Trending and emerging ingredients in skincare innovation." Yamina Tsalamlal, associate analyst at GlobalData, will discuss how brands can learn which ingredients tell the stories that consumers want to hear.

Technical Seminars
"Skin models for personal care research: types and their applications." Vivek Joshi, applications and market adoption manager at Merck, will talk about 3D skin models based on cell culture and differentiation for irritation studies, as well as a synthetic membrane model—Strat-M membrane—that is reportedly useful in diffusion and trans-epidermal water loss studies.
"Diving into your skin's microbiome to unlock anti-aging properties." Silvia Pastor, 

Ph.D.,

 head of Scientific Research & Business Development at LipoTrue S.L, will reveal a unique—and only recently discovered—active ingredient with anti-aging properties.
Pastor will also present "Hydrastasis from outer space to keep your skin's hydration," where she will showcase Marsturizer, a bacterial ferment extract obtained from Rio Tinto, a Spanish river known as "Mars on Earth."
"Mixing technology in cosmetics and how to adapt mixing tools to cosmetics processes." Nesrin Hesso, process engineer at VMI, will address how the mixing processes in any formulation must be very carefully studied for optimum results.
"Garbage upcycling and how the cell's power plant goes green," presented by Emina Besic Gyenge, R&D manager Cosmetic Actives at RAHN AG.
For the full list of sessions and seminars, please visit www.in-cosmetics.com.