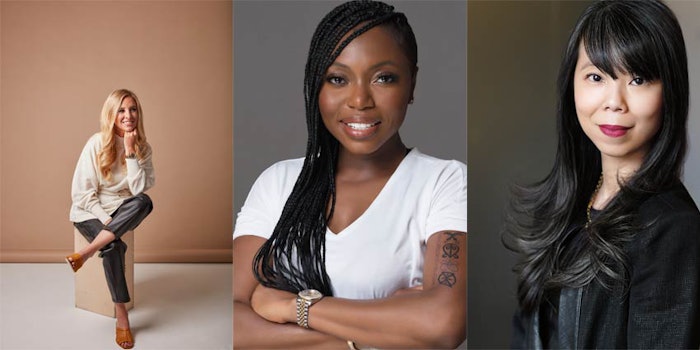 UPDATE: For a limited time, Beauty Accelerate's educational sessions are available for on-demand viewing for current and new registrants. Log in or sign up now for access through December 20, 2021.
Registration is now open for Beauty Accelerate Virtual 2021, which will take place October 18-21, 2021, offering four days of thought leader discussions, market data briefings, cosmetic technology presentations and small interactive roundtables for face-to-face conversations. This year's event, centered on the theme of "Beauty Resurgent," will focus on where beauty trends, technology, marketing, ethics and values will take the industry next.

Sessions will highlight expertise from top brands, retailers and data firms, including:
The Honest Company
Deciem
Macy's
UOMA Beauty
Ulta Beauty
Olaplex
Euromonitor
Brown Girl Jane
Beekman 1802
BFA Industries/Ipsy
Nielsen IQ
Johnson & Johnson
Grove Collaborative
Ellis Brooklyn and many, many more.
All sessions will feature live Q&A's, allowing attendees to pose questions to a wide array of beauty thought leaders.
Monday, October 18, 2021
Data Briefing: Beauty 2022 and Beyond
The consumer and market trends reshaping the industry.
Day one will focus on data-backed trend presentations and beauty technology talks, offering insights into where beauty will head next. The day will conclude with a special fireside chat with Macy's chief merchandising officer.
Talks include:
The Road to Normality: Beauty Re-emerges with an Omnichannel Focus | Tara James Taylor, NielsenIQ
Roaring 20s: Shifts in Consumer Beauty Behaviors for 2022 | Yarden Horwitz & Olivier Zimmer, Spate
Waterless Beauty: Making Products Better | Jim Perry, TaikiUSA 
Personalization of Wellness and Beauty | Irene Chang, Euromonitor International
Next-Gen Hair Shine Active from Green Chemistry + In Silico Modeling | Cristiane Pacheco, Chemyunion Inc. 
Beauty Beyond COVID | Lauren Goodsitt, Mintel
Beauty in the Next Normal | Jennifer Famiano, The NPD Group
Fireside Chat: Macy's the Future of Beauty Retail | Nata Dvir, Macy's & Jeb Gleason-Allured, Global Cosmetic Industry
Tuesday, October 19, 2021
Beauty Tech Briefing: On-trend Beauty R&D
Connecting the dots between innovation and the market.
Day two will focus on the latest technical know-how driving and responding to today's market demands.
Formulating Clinically Effective Products | Ruandro Knapik
Clean Science—Clean Skin Care | Paul Lawrence, Biocogent, LLC 
Ethical Beauty: Waterless Bars, Upcycled Ingredients and Circular Product Strategies | Jo Chidley, Beauty Kitchen
Inclusive Design for Universal Beauty | Iain McKinnon, Global Disability Innovation Hub; Trishna Daswaney, Kohl Kreatives; Gabriela Daniels, London College of Fashion; and Kaho Oishi, International Caremake Association
Embracing Diversity with Innovative Hair Care Solutions | Farahdia Edouard, Croda
Customizing Skin Care | Dianne Rossetti, Johnson & Johnson
Wellness and Care Through Cholesterols | Frank Schmidtmann. Evonik Corporation
Product Design for Stronger, Healthier, More Resilient Skin | Simon Craw, Sytheon
Digitalization in Modern R&D Labs | Will Tashman, Uncountable
Psychodermatology and Skin Aging: The Mind-Skin Connection | John Koo, University of California at San Francisco School of Medicine
Tales From Plants and Mushrooms | Alissa Frontauria and Melissa Padua, RAHN USA Corp. 
Wednesday, October 20, 2021
Values-led Beauty

Discussion Sessions

How principles drive growth. Innovation, sustainability, diversity and inclusion are at the core of the most innovative, high-growth companies in beauty.

On day three we will hear from cutting-edge, mission-first, newsmaker brands, retailers and incubators to learn how the intersection of ethics and transformational practices is reshaping the future of beauty.
Driving Growth in Complex Times | JuE Wong, Olaplex; Nicola Kilner, Deciem; Malaika Jones, Brown Girl Jane
Inclusive Beauty: Sharon Chuter x IPSY/BFA | Jenna Habayeb, BFA; Sharon Chuter, UOMA Beauty
Mindful Growth | Tina Hedges, Loli; Bee Shapiro, Ellis Brooklyn; Don Frey, The Honest Co.
Next Gen Beauty | Luana Bumachar, Grove Collaborative; Julian Reis, SuperOrdinary
Conscious Beauty Upstarts | Cary Lin and Angela Ubias, Common Heir; Brad Farrell, Beekman 1802
How Conscious Beauty Embraces Brands on Clean, Sustainable Journeys | Annie Jackson, Credo Beauty; Laura M. Beres, Ulta Beauty
Thursday, October 21, 2021
Beauty Educational Roundtables
The closing day of Beauty Accelerate Virtual will feature opt-in face-to-face sessions hosted by industry experts on an array of topics, including marketing strategies, psychodermatology, clinically effective products and more.
To offer a well-rounded conversation each roundtable is limited to 10 virtual attendees. Registration is first come, first served.
Psychodermatology and Skin Aging: The Mind-Skin Connection | John Koo, University of California at San Francisco School of Medicine
Formulating Clinically Effective Products | Ruandro Knapik
Inclusive Design for Universal Beauty | Gabriela Daniels, London College of Fashion
Roaring 20s: Shifts in Consumer Beauty Behaviors for 2022 | Yarden Horwitz, Spate
"While 2019's debut event was all about speed to market and 2020 was focused on the impacts of the pandemic, Beauty Accelerate Virtual 2021 is all about where the resurgent beauty industry is heading next in 2022 and beyond," said Jeb Gleason-Allured, content director of Global Cosmetic Industry. "This incredible collection of founders, executives, technical experts, forecasters and retailers will provide us with a wide-angled view of beauty's next phase, led by key values of inclusion and accessibility, sustainability, safety, ethical practices, and performance and efficacy. Truly, there has never been a more exciting time to be in this industry."
Register now to get the best rates for this can't miss event. Registrants will receive access to live and on-demand access to all sessions (roundtables excluded).
See you in October!