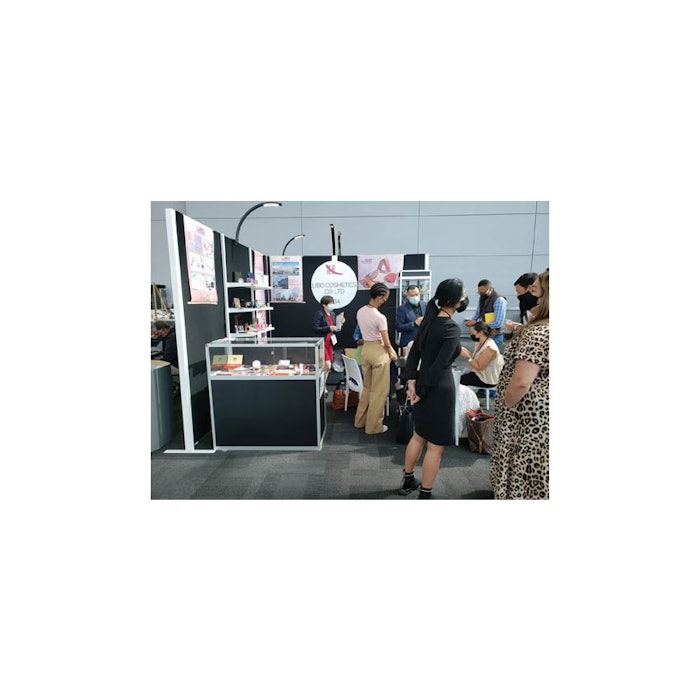 Check out our photos from MakeUp in New York. Click here for photos from Cosmoprof North America.
After 18-plus months, beauty industry events have staged a gradual return, featuring a hearteningly robust exhibition and attendance participation. Present at the events were companies such as Elcos, FM Brush, Lady Burd, Baralan, Accupac, Cosmopak, LiquiGlide, APR Beauty and Pure Beauty Labs.
Here, we round up just a few sights and highlights from a trio of recent shows: Cosmoprof North America, MakeUp in New York and the California SCC. Keep track of upcoming shows on our event calendar here.
Sustainable Packaging, Front-and Center
Libo Cosmetics Co., Ltd. took part in MakeUp in New York, highlighting its cosmetic packaging solutions, including 100% aluminum; refillables; PCR PP, PET and aluminum; bio-based (CPLA); rice husks, 100% PET; and FSC-certified paperboard. Its aluminum multi-stick, for instance, comes in three sizes and can be reprocessed endlessly. Its PCR collection, meanwhile, uses 35-100% of recycled materials that are consciously sourced.
FusionPKG was also on hand. The company recently introduced several new packaging offerings featuring Eastman's Cristal One, a portfolio of Resin Identifi¬cation Code 1 (RIC1) resins engineered to meet the demands of thick-walled packaging for luxury cosmetics. The Eastman Cristal One products are the first RIC1 materials that enable production of transparent jars up to 12 mm in thickness.
FusionPKG is launching five of its custom packaging creations in Eastman's new Cristal portfolio, including the Max Out series within its "merchandising-friendly" Space Max collection. The Space Max collection features an airless bottle, a modern ampule dropper, an atmospheric bottle and a doe-foot bottle in Cristal Renew, as well as a skin care jar in Cristal One.
Naturally Derived Beauty Innovation
During the California SCC event, Grant Industries is presenting its100% naturally derived Gransense elastomers and its ECHA-compliant Granpowder BBP-700 microsphere. The elsastomers offer enhanced compatibility with polar materials such as natural oils and organic sunscreens. They also have a more moisturizing-feel and provide a luminous appearance.
They are appropriate for natural and COSMOS formulations but can be used in combination with Gransil silicone elastomers to create new textures. The elastomers can be formulated into all cosmetic vehicles, including anhydrous systems, waxes, o/w and w/o emulsions, and powders. Applications include skin care, hair care, body care, color cosmetics and sun care formulations.
Grant Industries' bio-based and ECHA-compliant Granpowder BBP-700 comprises a fused fermentation and amino acid derivative composite. It is GMO-free, COSMOS-approved and has proven biodegradability via ISO standards. Granpowder BBP-700 provides sensory improvement to all formulations, according to the company, with effective use levels of 1-5%. The technology has a particle size average of 2-10 um.
For sun care, it can remove the greasy feel from organic UV filters and offers soft-focus properties in anti-aging products.
Multifunctional Wellness
Purple Raina was on hand for Cosmoprof North America, highlighting its CBD Balm Wand, a 2.2-oz twist-up eco-friendly plastic tube comprising 275 mg of hemp-derived CBD. The wand is said to sooth muscles and calm skin irritations, sunburns and tattoos.
It can also moisturize "ashy" skin on the feet, hands, knees and elbows, and moisturize the under-eye area and lips. It can also be applied as a hair and beard pomade, according to the brand, and as an "edge control" to smooth and nourish the hair line.
Forthcoming from the brand is the Olixer Potion for skin and hair, featuring a soothing aroma. The PH-balanced multifunctional potion can also be used as a sensual enhancer and lubricant. The Mind's Eye: Crown Aura Mist, meanwhile, can reportedly be used as an aftershave or facial toner.
Bioactive Beauty & Novel Concept Formulas
During the 2021 California Suppliers' Day trade show, BASF Care Creations is presenting a range of technologies, including its fucoidan-rich Seanactiv bioactive, which is based on the marine algae Fucus vesiculosus (commonly known as bladderwrack). The bioactive fights dark circles, reduces the appearance of wrinkles and enhances skin luminosity around the eyes in as little as one week of application.
The company is also presenting a quartet of hair styling concept formulas, including the medium-hold Clearly Natural Styling Gel to support curl retention; the Algae Styling Gel for long-lasting curl definition, even in high humidity; the Strong & Smooth Styling Gel, which offers strong hold, a flowable texture and extra conditioning benefits; and the Strengthening Styling Jelly, featuring a microprotein that strengthens hair fibers. Key ingredients include BASF's Rheocare XGN (xantham gum) and Hydagen 558P (algin).
BASF is also highlighting novel natural textures, including a Jammin' Jelly Body Wash, Moisturizing Soufflé, Pudding Cream and Yogurt Smoothie.
Unique Formulations
iLabs was present at MakeUp in New York. The company recently launched a pair of retinol concept products—a serum and an eye cream—designed to help smooth skin of fine lines and wrinkles without irritation. Retinol can also assist in correcting skin tone and acne. iLabs' Retinol Serum combats the signs of aging, brightens dark spots and moisturizes the skin.
The formulation comprises: encapsulated retinol; niacinamide (2%) to shrink the appearance of pores, control sebum production, and even skin tone and brighten dark spots; upcycled bio-based betaine to balance the skin's hydration and reinforce the epidermal barrier; shea butter ethyl esters to condition, moisturize and soothes the skin; Crithmum maritimum (sea fennel) extract to smooth skin, decrease wrinkles, decrease the appearance of pores, brighten complexion and boost the benefits of retinol without causing irritation; and Pongamia glabra (Indian beech) seed oil and Dunaliella salina/Haematococcus pluvialis microalgae extracts for protection against UVA and UVB radiants and prevention of sunburn cells, as well as minimization of redness and soothing of skin irritation.
The Retinol Eye Cream, meanwhile, hydrates the skin, while helping improve signs of aging without irritation. Key ingredients include: encapsulated retinol (0.10%); niacinamide (4%); upcycled betaine; and shea butter.
Skin Care on Display
My Brown Skin, "a luxury spa grade skin care [brand designed] to close the gap in the skin care market," exhibited during Cosmoprof North America. The brand features a range of skin care solutions, including the Everyday Brightening Toner, the hydroquinone-free Luminate Bright Corrector Serum, Everyday Bright Eye Rescue, the non-comedogenic All Ready Brown Tinted SPF 30 lotion, the sulfate-free Everyday Foaming Cleanser, the Detox The Day Away Purifying Clay Mask featuring allantoin and coconut, the Everyday Dose Weightless Moisturizer featuring vitamin E and antioxidants, and Mini-Micro Exfoliating Scrub.
Prebiotic Beauty
Ultra is taking part in CASCC Supplier's Day, highlighting a prebiotics line with clinical trials that reportedly demonstrate a positive effect on the microbiota. Offerings included preBiulin AGA, a natural prebiotic designed to help rebalance the skin's microbiota and hydrate the skin to a greater degree than hyaluronic acid.
Ultra's Bicoalgae ω3 is a delivery system with targeted delivery of two microalgae extracts rich in omega-3 fatty acids that are reportedly clinically proven to support barrier function, instill melanin reduction and soothe chronically inflamed skin.
Finally, the company's K3 Vita-C was a stable water-soluble vitamin C derivative reportedly effective in collagen synthesis at low usage levels. The technology does not discolor formulations, per the company. outperforms other vitamin C derivatives in stability and residual activity upon formulation into finished products.
The company is also displaying concept formulas comprising technologies from Jojoba Desert, GoBiotics and Bicosome.
Hair Care Expansion
Joon Haircare took part in Cosmoprof North America just as the brand announced expanded distribution with Sephora Southeast Asia, as well as Sephora online in Australia and New Zealand. The brand has also broadened its distribution in the United States via partnerships with salons.
"We are confident in the steps we are taking to expand both our international and domestic footprint," says founder, Shiva Tavakoli. "Sephora has been an amazing partner for us internationally and domestically we always saw Joon growing organically in the salon market. My brother and I grew up in the salon industry, so we have seen firsthand the power of that channel."
Japanese-inspired Hair Care
Masami took part in Cosmoprof North America. The clean premium hair care brand features the hydrating Japanese ocean botanical, mekabu. Masami works on nearly every hair type and is vegan, cruelty-free and gender-neutral. The brand features shampoo, conditioner, a shine serum and styling cream. Meanwhile the Masami Institute supports ocean education and research in northeastern Japan. The brand is distributed via its own e-commerce, as well as in all Spoke & Weal and DreamDry salons.
Biotech Beauty
IMCD Beauty & Personal Care has launched seven biotech beauty prototypes at the SCC's California Suppliers' Day. The collection leverages biomimetics, artificial intelligence, hybridization and sustainable solutions.
The collection comprises:
CBD Skin Calming Pearls, comprising an encapsulated cannabidiol serum.
A water-free, crushable Cleansing Cubette-to-Crème Shampoo.
My Skin True Biotic Crème, a probiotic single-dose body cream.
AgeRepair Serum Bär, an anhydrous serum with several well-aging benefits.
Instant Amino Shampoo powder, featuring dissolvable packaging.
A high-foaming Smoothing Shampoo Bär, featuring minimal packaging.
Smoothing Conditioner Bär, featuring minimal packaging.
"As sustainability continues to evolve, we strive to shape tomorrow's beauty though our technical expertise and the development of trend-forward formulations," said Danielle Wheeler, Americas technical director at IMCD. "We want our booth visitors and customers to explore the evolution of sustainability through our new Biotech Beauty concepts that offer improved efficacy, reduced package waste, minimalized or no water use, and more, for a truly sustainable experience at our first major show on the West Coast in nearly two years."
UPDATE: Wellness Meets Beauty
You&Oil presented its wellness-oriented personal care at Cosmoprof North America. 
Anti Aging + Regeneration (Botoks) Face Mask With Liposomes + Aromatherapy Effect
The brand's best-selling Botoks Oil anti-aging solution is available both as a standalone serum and infused into an aromatherapeutic face mask (Aging + Regeneration).
You&Oil has also launched a range of mood-boosting toothpastes, including a pair of aphrodisiac products. Aphrodisiac Toothpaste For Her features jasmine and mint, while Aphrodisiac Toothpaste For Him features cardamom and mint.
Per the brand, "Main ingredients featured in both types of toothpastes work in synergy with each other and create a unique bonding formula that acts as a sex stimulant for him and her. When used together, these toothpastes make a stimulating aroma, decrease sexual anxiety, relax muscles, arouse and increase euphoria during the act."
You&Oil also offers essential oils for kids and adults. The blends reportedly create a synergistic effect when absorbed through the skin or inhaled when diffusing.
Finally, the brand's OMG-YES! organic intimate gel is lightweight, moisturizing and protects against irritation. The formulation comprises natural plant extracts that preserve the pH of sensitive areas.