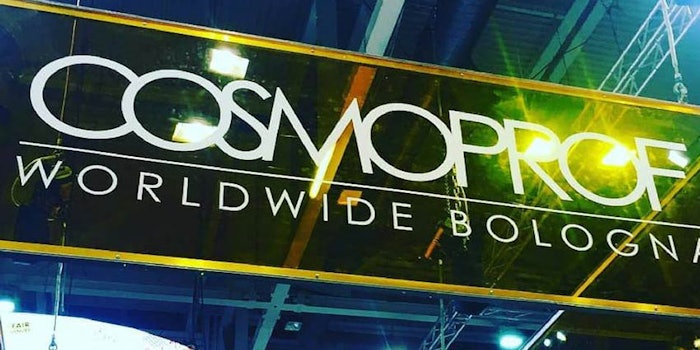 Cosmoprof Worldwide Bologna 2019 plans on taking guests on "A Journey into the Cosmetic Universe, Between Past Tradition and the Future Avant-Garde." Here's a by-the-numbers look at the event:
2,900 exhibitors and 250,000 professionals—coming from more than 170 countries—are expected to attend.
26 country and group pavilions, representing countries includes Austria, Indonesia, Israel, Japan the United Kingdom and many, many more.
30—Number of sessions scheduled as part of CosmoTalks, which will welcome 200 international speakers.
500th anniversary of Leonardo da Vinci's death; the Service Center will host an exclusive exhibition dedicated to the artist and inventor's innovations, a collaboration between Cosmoprof, Cosmetica Italia and Accademia del Profumo. The display will include a selection of reproductions of his extraction techniques which are still used today in the fragrance industry, as well as the hairstyles he recommended for Renaissance women.
20%--The increase in exhibition area for the beauty salon and spa sector, representing the segment's growth. Event features will include The Beauty Forum Gallery, hosting companies in the sector participating in the Beauty Forum events; SPAce99, an emotional wellness path aiming to reproduce the experience of the spa; and the UBS-United Barbers Show.
Also on the schedule:
Cosmopack, March 14-17. Programming includes:
20x2021 Colors & Materials, an installation on the colors and materials of sustainability; WGSN will present a study on the materials which will be available in the industry in the near future;
The S.M.A.R.T. (Solution, Manufacturing, Automation, Research and Technology) area showcasing the excellence of automation solutions presented by international brands;
The Cosmopack Factory project, which will present the production process of NO.CO.-No Compromise, a scalp oil made with environmentally friendly industrial solutions and techniques
Cosmoprime, dedicated to the future of perfumery and offering Italian and international retailers a glimpse at the segment's latest trends. Cosmoprime will focus on sustainability in particular, including Green Prime (companies with products for the retail channel with natural ingredients) and the Extraordinary Gallery's Green Gallery, focusing on green and organic beauty.
Cosmo Perfumer & Cosmetics, featuring companies, buyers and distributors for perfumery and cosmetics
Cosmoprof Worldwide Bologna will be held March 14-18.
Related: The Biggest Beauty Trends from Cosmoprof Worldwide Bologna 2018