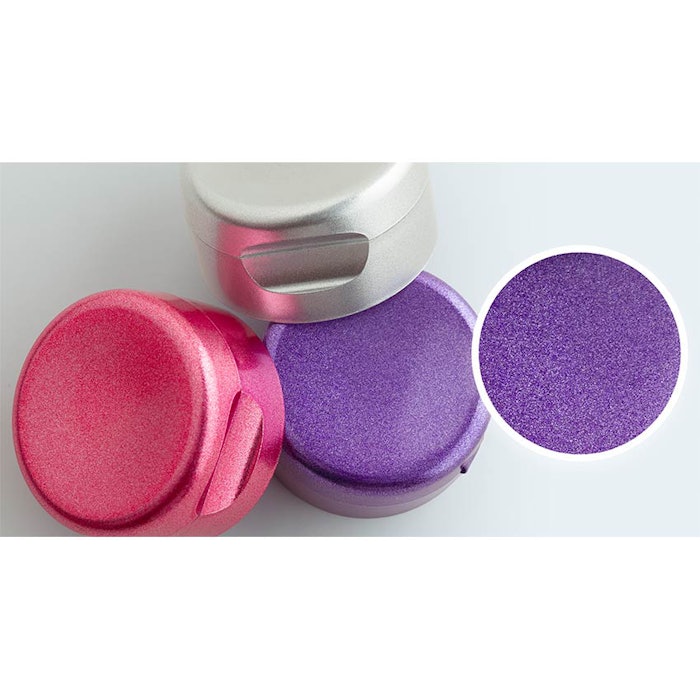 The number of companies offering low minimums, quick turnarounds and enhanced services was notably larger at this year's MakeUp in LA/Luxe Pack LA event in Santa Monica, reflecting the rise of indies and overall speed-to-market boom.
Further reading: Beauty's Fast Future
Makeup and More
APC presented a soft launch of color cosmetics components for masstige products, including compacts, loose powders, lipsticks, mascara wands and eyeshadow pans. The company's minimums are 25,000, which is relatively low, even for an indie brand. The company is also boosting its manufacturing sustainability and has a forthcoming hush-hush sustainable packaging project forthcoming (more to come).
A New Indie Boutique
Aptar unveiled its Indie Boutique service, which features 5,000-piece minimums and four-week lead times. The online service, available in North America, features stock packaging, including airless and minis, for fragrance, skin and sun care, makeup, body care and hair care, as well as samplers for fragrance. Indie brands can order samples directly from the company, learn about Aptar's services and browse the company's full collection.
"The Indie Boutique is something the entire company stands behind," says Philippe Erhart, president, beauty and home, North America. "We want every brand owner to have accessibility to high-quality dispensing systems and be able to provide the same quality experience for their consumers."
Flexible Metallization Effects for Packaging
Anomatic has unveiled a new flexible metallization technique for seamless hinged closures. The result is a metallic finish that is flexible without flaking, peeling or delaminating. Brands can add sparkling finishes on metal and plastic, using the company's technologies, which offer different flake sizes for various effects.
Anomatic is able to add effects such as double anodization and screen print deco. These effects can be offered to Anomatic's stock offerings, which offer speed to market and minimums of 20,000 pieces—ideal for some indie brands.
Anomatic notes that some clients are looking to get products to market in less than 10 weeks (on the extreme end of things), which has led Anomatic to increase its stock packaging with decorator techniques in-house.
Anomatic has also introduced stock anodized aluminum lip balm packaging solutions that can have a range of customized effects applied to both weighted and non-weighted variants. Effects include debossing, screen printing, embossing, double anodizing, hot foil stamping and gradient anodizing.
Customizable Tubes
Pack-Tubes presented its range of tubes for personal care, cosmetics and pharmaceutical applications. The company has introduced 500-count minimums for customized tubes in order to service indie brands, as well as customers working with small batch projects.
Expanded Skin Care & Clean Beauty Turnkey
Fusion PKG presented a vastly expanded array of turnkey innovations, including 200 stock formulas for skin care, color, powders, and pressed and loose powders. Debra Lowe, executive director of product development, noted that the company's library has tripled, with 35-40 stock formulas for color cosmetics alone. These formulations can be tweaked and customized to meet customer needs for the market.
Lowe explained that the color space has expanded, particularly in the face category, where shade ranges for products such as foundation and concealer have expanded in response to the Fenty effect.
Fusion is also adding in skin care-type ingredients to makeup formulations for an enhanced marketing angle. At the same time, the company continues to draw on its traditional strength in skin care to leverage airless packaging for clean beauty formulations with limited preservation systems.
Lowe explained that clean beauty once meant simply removing parabens from formulations. Today, however, brands are leveraging the term to characterize formulations that include natural preservation systems or which eschew talk, silicones and other conventional materials. That said, performance remains critical.
Meanwhile, she said, fast-moving indie clients are speeding to market in six to nine months, if very aggressive and making few modifications to turnkey formulations. Larger brands, meanwhile, typically feature more layers of approval and validation. Therefore, "fast" for them is relative, clocking in at as little as 18 months.
A New California Beauty Innovation Hub
Cosmetica, the Toronto-based beauty contract manufacturer, is opening an innovation hub in Woodland Hills, California, in 2019. The company specializes in color cosmetics, particularly slurries, for categories such as lipsticks and mascaras, but has also introduced capabilities that infuse skin-friendly ingredients such as squalanes and hyaluronic acid into new hybrid makeup concepts.
The new site will focus on clients such as indie brands and launches from makeup artists and will feature a sales office and chemist staff to foster innovation in Southern California. This will enable Cosmetica to host clients to collaborate in-person on shade-matching and small batching locally. The goal, according to the company is to foster speed-to-market.